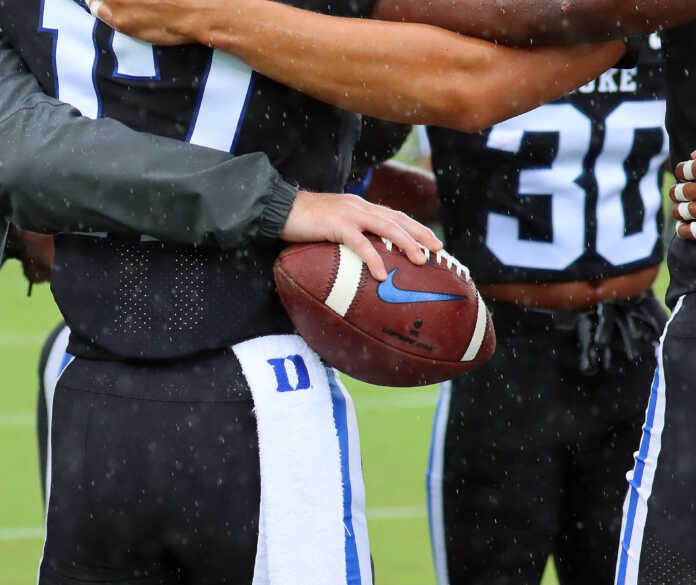 When the Duke Blue Devils and Clemson Tigers took the field for their Week 1 contest on September 4, the eyes of the college football world were on Durham, NC and junior quarterback Riley Leonard. The multi-sport prep star attended AHSAA Class 7A's Fairhope High School, where he competed in football, basketball, and track. While phenomenal in the latter two sports, Leonard played at another level altogether in football.
One of Alabama's top quarterback recruits in the 2021 class, Leonard was rated as a three-star prospect and the state's No. 28 overall player, according to the 247Sports Composite. He also held offers from Nebraska, Ole Miss, Vanderbilt, and more, but he ultimately elected to take his talents to Duke. In Durham, Leonard has continued the impressive play that he showed with the Pirates as a high schooler.
As a freshman at Duke in 2021, Leonard primarily saw a backup role. He did, however, appear in seven games that season, completing 59.7% of his passes for 381 yards and a 1:1 TD:INT ratio, while also rushing for 173 yards and 2 touchdowns on 47 attempts.
The 2022 campaign marked a breakout season for the former Fairhope star: As the Blue Devils' full-time starting quarterback, Leonard completed 63.8% of his passes for 2,967 yards and a 20:6 TD:INT ratio. He also made a huge impact on the ground, rushing for 699 yards and 13 touchdowns on 124 attempts, and he ranked in the top-5 in multiple ACC statistical categories.
Entering the 2023 season, Leonard was one of the ACC's top-rated quarterbacks, and he has been impressive in his first two games. Against Clemson, which was ranked ninth in the country at the time, Leonard helped lead the Blue Devils to a 28-7 upset win. While he didn't have the greatest passing game – 17-for-33 for 175 yards – Leonard rushed for 98 yards and a touchdown on 8 attempts.
Having also impressed last Saturday night against Lafayette, the former Fairhope star clearly is becoming a household name – not just at Duke and in the ACC, but in college football overall.