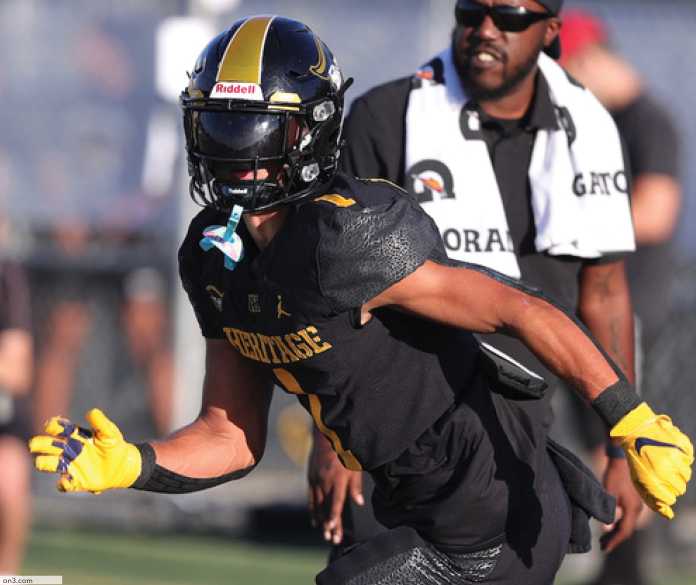 It's never too early to look ahead to the 2022 Florida High School Football season right?
Yes, even despite the 2021 season having concluded not too long ago, the anticipation and hype surrounding the 2022 season is already starting to build. How about we accelerate that hype by taking a look at some of the state's top returning talent next season?
Florida High School Football overall has consistently churned out numerous five-star recruits year-after-year across recent history, and as you'd likely expect, that will continue in 2022. Let's look at the nine current five-star recruits (rankings courtesy of the 247Sports Composite) that will return next season.
CB Cormani McClain – Lake Gibson
The nation's No. 4 overall player and top cornerback, McClain is a two-way player for the Braves who is coming off a phenomenal 2021 junior season in which he totaled a school record 10 interceptions. 
OT Francis Mauigoa – IMG Academy
The first of multiple IMG Academy five-stars returning in 2022, Mauigoa is a versatile lineman at 6-foot-6 and 325 pounds, rated as the No. 7 overall player in the country.
WR Brandon Inniss – American Heritage
Despite starting at quarterback for a majority of the 2021 season, Inniss is an elite wide receiver who is currently rated top in the country, and should return to that position for the Patriots. 
ATH Samuel M'Pemba – IMG Academy
The top rated ATH in the country, M'Pemba is a versatile athlete at 6-foot-4 and 230 pounds who has seen time on both sides of the ball throughout his high school career. He is also the No. 15 ranked player nationally.
RB Richard Young – Lehigh
The top running back nationally, Young will return for Lehigh next season coming off a phenomenal 2021 season in which the junior rushed for 1,755 yards and 19 touchdowns while averaging nine yards per carry.
WR Carnell Tate – IMG Academy
As the No. 3 wide receiver in the country, Tate is a bigger wideout at 6-foot-2, as well as  ranked nationally at No.20. He will headline a deep and talented group of receivers for the Ascenders next season.
DE Malik Bryant – Jones 
After spending the 2020-21 season's at IMG Academy as an impactful edge rusher, Bryant is transferring back to Jones where he totaled 78 tackles and 14 sacks as a freshman. 
DE Keon Keeley – Berkeley Prep
The 6-foot-5 Notre Dame five-star commit will return for Berkeley Prep as one of the top edge rushers in the entire country. 
WR Jalen Brown – Gulliver Prep 
The final in-state five-star at the moment, the two-sport athlete is one of the fastest players in the state, and will return for a talented Gulliver Prep team in 2022 as the Raiders top receiver.