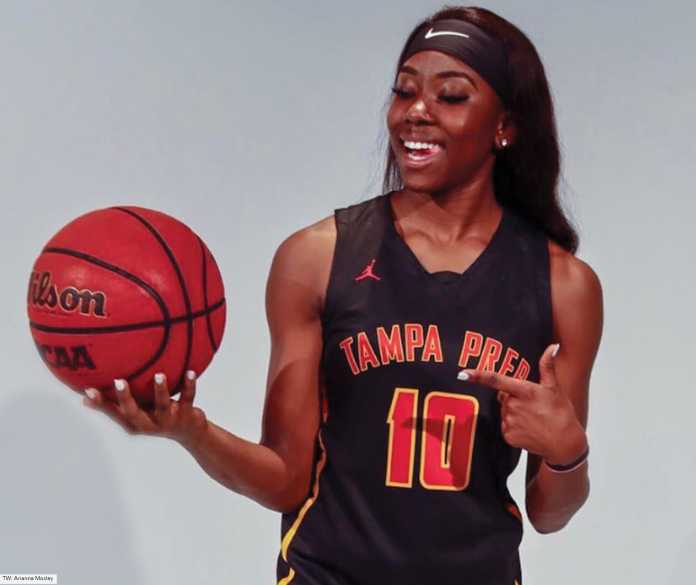 Tampa Prep Basketball Player Arianna Mosley Voted ITG Next Florida January Female Athlete of the Month
As we inch closer to the midway point of the 2021-22 high school basketball season in the state of Florida, you won't find many players, if any, who have had a bigger impact for their team so far than Tampa Prep junior guard Arianna Mosley. 
One of the top overall players in the state of Florida, Mosley has been a walking bucket since the opening tip of the 2021-22 season. Beginning the year with four consecutive 30 plus point games, this would only be a sign of what was to come for the junior, with that success carrying over to the month of December and now January. 
Before looking at Mosley's start to the new year, however, it is impossible to ignore what the junior guard did during the month of December. Due to her impressive month, Mosley was named our ITG Next Florida Female Athlete of the Month for January, receiving 48.90% of the votes.
Despite struggling offensively during her first game of the month with a season-low 8 points, Mosley would quickly get back to her scoring techniques with a 35-point performance only days later against Keswick Christian. Dropping 30 points in her next game against LaBelle, Mosley would go-on to enjoy a phenomenal final game before Christmas as the junior added a season-high 42 points in a 63-45 road win at Sickles on Dec. 18. 
Returning after the holiday break, Mosley would conclude the month with two more 30 plus point games (36 and 30) against Palmetto and Denmark (GA), and would finish December by averaging 30.2 points per game (PPG) overall, as well as scoring her 1,000th career point for the Terrapins on Jan. 1. 
I'm extremely proud and grateful to have reached 1️⃣0️⃣0️⃣0️⃣ career points! I can't wait to accomplish and achieve many more goals! Thank you to my mom, family, coaches, teammates, Tampa Prep Community, and trainers for helping me get to where I am today! Go Terps!🐢❤️💛 https://t.co/JkzogAKhTu

— Arianna Mosley (@AriannaMosley12) January 2, 2022
As mentioned at the start, it has already been a phenomenal 2021-22 junior season overall for Mosley as she currently leads the state of Florida in scoring with 32.4 PPG, as well as being ranked Top 10 nationally in the same category.
While it's unknown if that same success will continue for Mosley going forward, it's clear that the junior guard is easily one of the top overall players on the floor each time she steps on a court. Congratulations to Tampa Prep guard Arianna Mosley, our ITG Next Florida January Female Athlete of the Month.