Kalvarez Bessent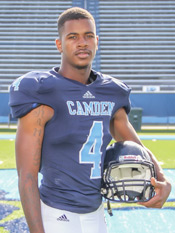 Camden County's Crimson Tide
By John Wood
When every college football fan was watching Alabama take on Johnny Manziel's Texas Aggies in mid September, a future Tide defensive back watched with an eye as critical as 'Bama defensive coordinator Kirby Smart's."Alabama gave up too many points on defense. The defensive backs gave up too much cushion to the A&M receivers. I think if I keep working hard I could be able to help the Alabama secondary next year," Camden County defensive back and Alabama Class of 2014 commit Kalavarez Bessent says.
Bessent originally committed to Florida early, but once Alabama came calling, it was only a matter of time before Crimson Tide head football coach Nick Saban landed Bessent.Bessent isn't the first Camden County Wildcat to receive the attention of the Crimson Tide and most notably Nick Saban. Saban spent 90 minutes two springs ago on Skype trying to convince former Wildcats standout quarterback Brice Ramsey to abandon the Hedges of Sanford Stadium for Tuscaloosa. Ramsey, along with teammate J.J. Green, were at Georgia enrolled in classes and going through drills with the Bulldogs on Signing Day 2013.The media picked up a catch phrase that resonated in the college football atmosphere, the "Sabanization" of college football. Many teams try to copy the drills, techniques, and habits that have made the Crimson Tide so dominant. Ultimately, the players that make the difference for 'Bama, and southeast Georgia is producing a bumper crop."Alabama showed a lot of interest in me. They came to see me at practice twice, including Blue Dawn, which is an early morning practice before school that we start before spring practice," Bessent says.Signing Bessent was an added bonus for Alabama. Saban had already landed Yulee, Florida, speedster Derrick Henry. Alabama is also targeting ESPN Top 150, number 17 linebacker Raekwon McMillan of Liberty County and Ware County's Dedrick Mills.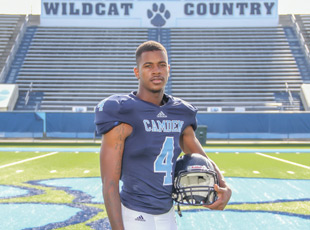 "Kalvarez has certainly been an asset to this program. Kal has had to grow up faster than normal due to circumstances in his personal life. I've had him in class and he is a great young man and a very talented athlete and academics are very important to him, which is going to be important to him being successful at the next level on and off the field. I believe he will take the foundation Camden County [has given him] and be able build on that to have a successful college career at Alabama," Camden County Wildcats head coach Welton Coffey says.Bessent has been playing football for Camden County Schools since he was in middle school. As with most Camden County football players, because of the sheer size of the program, Bessent had to wait for the opportunities that came in a limited role during his sophomore year. He had an explosive junior season.His junior year, he grabbed six interceptions, four pass breakups and 41 tackles. On the offensive side of the ball, he had 13 receptions for 244 yards and rushed for 481 yards and four touchdowns.
A double threat on both sides of the ball, Bessent has had several scouts compare him to Green, the former Camden DB/RB who signed with Georgia and took some snaps at running back in the LSU victory.Bessent's first name is derived from Calvary, the mountain upon which Jesus was crucified. "My dad is a Pastor and he was the one that came up with the name," Bessent says.Camden County is a nationally-ranked football powerhouse playing games nationally televised by ESPN every season. The Wildcats won three GHSA titles under current Prince Avenue head coach Jeff Herron from 2000-2010, and were named the AJC AAAAA team of the decade.Strong athletes are recruited from the program not only because of the winning, but also because Camden County Wildcats have an understanding of the importance of work ethic in the weight room and on the practice field. Even ulta-athletic players realize they have to make the most of every rep because there is always someone one rep or play away from taking your spot."Camden County is a great place to play and go to school. The community support is amazing. This place just shuts down on game night, everyone is watching the Wildcats under the Friday Night Lights," Bessent says.The Wildcats remain a power but GHSA realignment put them into the toughest region in the state with Colquitt, Valdosta, Lowndes, Brunswick, Tift, and Coffee County. Herron's retirement from Camden County, and eventual move back to the Athens area to assume the head coaching duties at Prince Avenue Christian, sped up the recruiting process for Bessent."It has truly been a pleasure to watch [Bessent] grow and mature as [a] young man. Kal also has the athletic ability to be [a] great player for Alabama," Herron says.
On February 23, 2013, Bessent attended Junior Day at the University of Alabama. "It was a great experience but we also found that Camden had prepared [me for] what a school like Alabama would expect from a potential player. We went through a workout in the indoor facility and I thought I was going to die but it was great.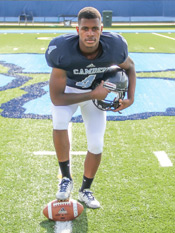 I knew that's where I wanted to be," Bessent says.The national search for the next Camden County head football coach ended up much more local when Herron's offensive coordinator, Welton Coffey, ended up getting the job. Coffey, who won his own state championship at his alma matter Raines High School, assumed the head coaching job of one of the greatest programs in the state.Bessent is focused on his senior season and getting the Wildcats back to the state title game. "This season is about proving [the] point that we are still the same Camden. People think that we aren't the same team because we don't have Brice and J.J….Our goal here is always to compete for a state championship. Coach Coffey is doing a great job. We didn't play our best against North Gwinnett in the Corky Kell [Classic], but we are playing better now. We open the region against Valdosta and we are excited about that. Valdosta has shirts that say 'Beat Camden.' We beat them 14-10 after having two weeks to prepare and they are a good football team so I think that helps us a lot going into region play," Bessent says.
Kalvarez Bessent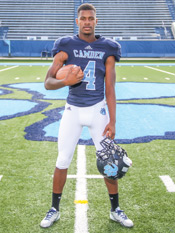 Senoir, 6'1", 175, 4.5
#4 Camden County CB/RB
Rising Seniors Game 2012
Athlon High School All Georgia Team
FNF Magazine Georgia First Team
Under Armor All American
ESPN 300 #44 4 Star recruit
#5 cornerback in the state of Georgia
Committed to Alabama 3/12/2013
"I see the ball thrown to my side and I am going after it all night. Every time it's thrown to my side I am going to make a play on it. The interception is great but even better when the quarterback goes back to the huddle or sidelines. He is going to have to come with another plan than throwing to a receiver on my side."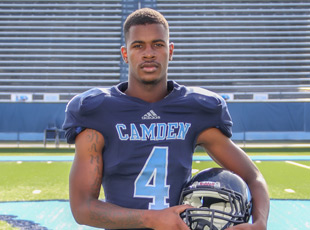 https://itgnext.com/wp-content/uploads/ITGNext-logo-Black-and-Cyan-300x186.png
0
0
admin
https://itgnext.com/wp-content/uploads/ITGNext-logo-Black-and-Cyan-300x186.png
admin
2013-10-01 16:33:00
2013-10-01 16:33:00
Player Spotlight - Kalvarez Bessentse - October 2013