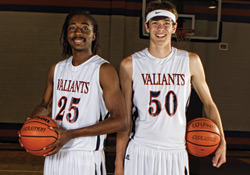 You've perhaps heard of Deandre Lambert. In March 2012, In the Game featured Lambert in a Sophomore Spotlight article. Back then, it was for basketball. The 6'4", 200-pounder is also a pretty good soccer player. In 2012, Lambert was a forward on the basketball team. Then 6'4" and 185 pounds, he figured he would eventually end up playing center. That didn't happen, mainly because of teammate Carter Elliott, a 6'7", 185-pounder who was always about three inches taller than the Valiants' tallest opponents. Elliott's presence meant that Lambert could remain at forward. Elliott also plays soccer; he's a keeper for the Valiants. With Lambert, who is primarily a defensive specialist on the pitch, the two of them do their very best to keep opponents from finding the back of the net.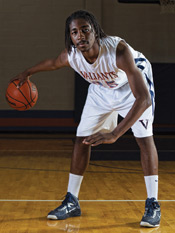 Lambert has matured into an excellent player. He averaged 13 points and eight rebounds a game this season. And last year, he figured prominently in the Valiants' region championship. Playing Southwest Georgia Academy in the region semifinals, Lambert found himself at the foul line with two seconds remaining. Valwood was trailing by one. Previously, Lambert hadn't had a lot of luck with his free throws. "A senior captain came over to me and told me he believed I could do it," recalls Lambert. He said a prayer as he headed to the line. That calmed him down and helped him shoot with confidence. "I went through my routine at the line and let the first shot go. It went in. I did the same thing on the second shot and it went in, too." The team went nuts, picking Lambert up and carrying him off the court. That set up a showdown with Terrell Academy for the region title, which Valwood won.
This season was a little different. The Valiants struggled a bit but made the playoffs in spite of a difficult season. They entered the playoffs as a fifth seed. Two upsets later, they were playing for a region title against Sherwood Academy of Albany. The Valiants came up short and Sherwood left the arena with a region title. As Lambert's basketball career came to an end, he looked back and had no regrets. He made All-Region as a sophomore, junior, and senior, and he played in the GISA All Star Showcase this year. "I gave everything I had. I gave my all and I left everything I had on the court. I did my best," he says.
Once basketball season ended, it was time to focus on soccer. Last year, Lambert was named All-Region in soccer and he has been the defensive MVP for Valwood each of the last two years. At the time of this writing, the Valiants had one more regular season game and were sitting in second place in the region. Last year, Valwood won region. "I love soccer because I get to compete. It fun to get out there with my friends and play," he says. Heading into his senior season of soccer, Lambert wanted to score a goal (yet to happen), win region again, and make a run at a state championship. With the season still in progress, he feels like there's still time for Valwood to make some noise. "We can still get it done. I believe that," he says.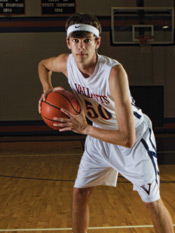 Elliott has a slightly different vantage point. He's a keeper for the soccer team and center in basketball. He and Lambert are good friends and play well off each other. Since halfway through his freshman soccer season, Elliott has been the Valiants keeper. With his height, he takes up a large portion of the net. "I take a lot of pride in what I do. I take it personally when someone scores a goal on me. I think I stay well positioned in the goal and I know how to use my size to cut off angles. If I get in the right position, [I] can block the whole goal from one spot," he says.
The moment he remembers most is a bittersweet game he played in the semifinals as a sophomore. Valwood was playing Gatewood on the road and lost, 5-2. Just days before the game, Gatewood had tragically lost one of its players. The player's death hung over the field like a black cloud and affected everyone. "The atmosphere was strange. It was also the last game I would play with a lot of my friends. So it was difficult on me for more than one reason. It was emotional for everyone. It remains the toughest game I've ever played," he says.
Since then, the Valiants have enjoyed happier days. And this year, they have improved steadily as the season has worn on. "It's been a good year. We've gotten better over the last few months. We lost both of our games with Brookwood. We don't like that but they were just better than us this year. But we should get a home playoff game, at least for the first round," he says.
In basketball, Elliott averaged a double-double – 14.5 points and 10 rebounds per game – as he helped anchor the Valiants down low. Just like in soccer, he used his size to neutralize his opponents. "Nobody had anyone as tall as me. I tried to use my length to the best of my ability. I tried to get rebounds and play tough defense. I knew if I played my hardest, I had a huge advantage," he says.
Elliott has helped the Valwood basketball and soccer teams contend for region titles throughout his career. But he will leave Valwood with at least one state championship. Elliott also plays football. He's a wide receiver and the Valiants placekicker. And of all the big moments he's had in sports during his time at Valwood, none have been bigger than a long field goal he kicked in Week 4 this year. The opponent was Memorial Day – the team that eventually defeated Valwood in this year's state championship game. With eight seconds left, the Valiants were trailing by two and had stalled on Memorial Day's 25-yard line.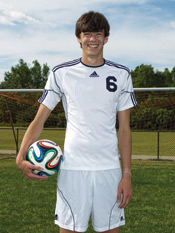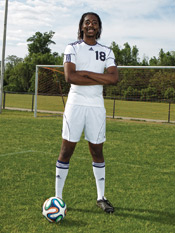 Head coach Ashley Henderson sent Elliott out to try a 42-yard field goal. "Our winning streak wasn't even in my mind. I was just thinking about that game. The pressure was incredible. My holder looked up and told me that our uprights looked mighty wide," recalls Elliott. Unfortunately, that pre-snap moment would be the last time he would see the uprights until after the game. When the holder received the snap, Elliott kicked the ball and watched it sail toward the uprights. He actually thought he had missed the kick. Then one of Memorial Day's defenders steamrolled Elliott in an attempt to block the kick. "He just annihilated me," laughs Elliott. The ball went through the posts while Elliott was on the ground. "I looked at our tight end. He was jumping up and screaming. Then I looked at the crowd. They were going crazy." He knew he had made the kick. The officials threw a flag on Memorial Day for roughing the kicker. Elliott sent the kick-off flying out of the stadium and the Valiants held Memorial Day for a slim 13-12 win.
Lambert and Elliott have spent a lot of time together over the last few years. So what do they say about each other? "Carter is very athletic and he's a great basketball player. He never gives up and he always practices hard. He pushes others and he's a leader in a way that I'm not. I'm quiet and shy. I feed off his energy to be a leader myself," says Lambert.
"You can see the determination on Deandre's face when he's playing. He makes me want to play harder because he plays so hard. He does a lot of stuff with a basketball that I just can't do. When he gets the ball in the paint, nobody can stop him. I always hated playing defense against him in practice because I knew he was always going to beat me," says Elliott.
As both Deandre Lambert and Carter Elliott prepare for college, they are doing so with different goals in mind. Lambert would like to play basketball in college and is talking with St. Thomas University in Miami about possibly playing for them. Elliott isn't interested in playing anything. He had some offers from smaller schools to play football but decided against it. Instead, he's going to Mercer where he will focus on academics. "Since the sixth grade, I've played three sports a year. I'm kind of getting tired of everything. I'm just worn out," he laughs.
Favorites: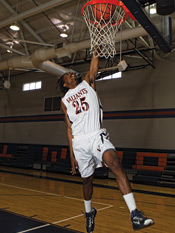 DeAndre Lambert:
• Subject: Spanish
• Least favorite: English
• Sport you wish you could play: Baseball
• Last movie: Robocop
• Person to meet: Chris Bosh
• Pepsi or Coke? Coke
• Superpower: Fly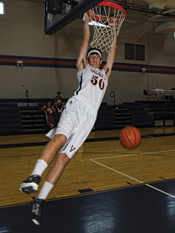 Carter Elliott:
• Team: Atlanta Braves
• Player: Freddie Freeman
• Subject: Calculus
• Least favorite: English
• Superpower: Fly
• If someone gave you $1 million, you would…: "Buy a house"
• Person to meet: Bobby Cox
• Place to travel: Scotland
• Sport you wish you could play: Golf
---
Player Spotlight/South Georgia/May 2014
Deandre Lambert and Carter Elliott
Valwood School
Valdosta, Georgia
Robert Preston Jr.
Photos by Micki K Photography
Valwood duo lead Valiants on hardwood, soccer pitch
https://itgnext.com/wp-content/uploads/ITGNext-logo-Black-and-Cyan-300x186.png
0
0
admin
https://itgnext.com/wp-content/uploads/ITGNext-logo-Black-and-Cyan-300x186.png
admin
2014-04-30 14:09:37
2014-04-30 14:09:37
Valwood duo lead Valiants on hardwood, soccer pitch