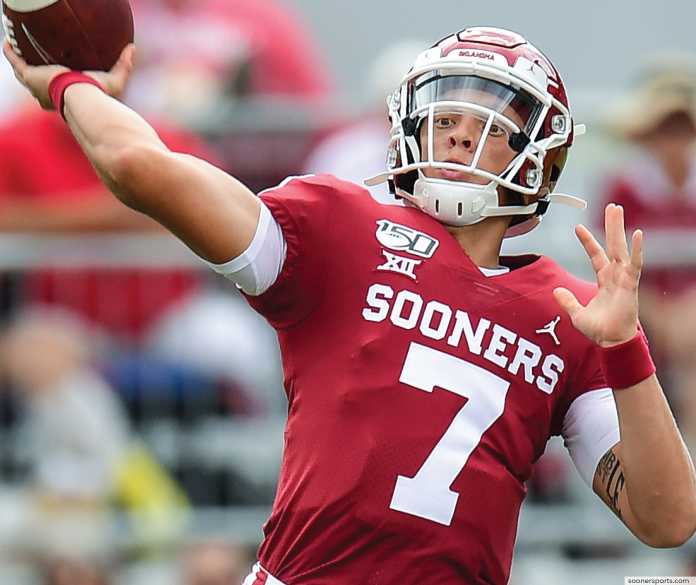 Origins of the Best 2021 College Football Players
Week 0 of the 2021 college football season is in the books. With the majority of teams beginning play Saturday, it's time to look at ESPN's top 10 players for this season. Instead of examining their collegiate accomplishments, let's look back at their high school careers and discover what lies hidden in history for the best 2021 college football players.
10. Will Anderson Jr. (LB, Alabama) 
As a 5-star prospect out of Dutchtown High School in GA, Anderson was compared to Dante Fowler Jr. for his pass-rushing abilities. He was named to the 5A Defensive First Team in 2018 and never took a step backward. 
9. Breece Hall (RB, Iowa State) 
Ranked as the 2nd-best RB in Kansas when he graduated from Northwest HS, Hall stuffed stat sheets with an impressive 2,127-yard senior campaign. He chose Iowa State in the summer of 2018.
8. Marvin Mims (WR, Oklahoma) 
Mims was a 4-star WR at Lone Star (TX) and caught the eye of football enthusiasts everywhere. He even broke the national record for receiving yards in a season with 2,483 yards in 2019. Enough said here.
7. Kyle Hamilton (S, Notre Dame) 
Hamilton had a composite score of 0.97 during his senior season at Marist (GA). He was invited to the 2019 All-American Bowl and was even compared to Seahawk great Kam Chancellor for his physicality.
6. Chris Olave (WR, Ohio State) 
Olave was only a 3-star prospect at Mission Hills (CA) but played a huge role in an offense that averaged 38.5 points a game his senior year. Olave committed to the Buckeyes in January of his graduating year.
5. Sam Howell (QB, UNC) 
Howell was a high 4-star and stayed in-state to play football after beginning his career at Sun Valley (NC). The UNC commit threw for 3,240 yards his senior year and has racked up several accolades until now.
4. Evan Neal (OT, Alabama) 
From the legendary IMG Academy, Neal was ranked as the best offensive tackle in his class. His 6'7", 360 pound frame made him a prized possession, and only Alabama would be able to reap his benefits.
3. Kayvon Thibodeaux (DE, Oregon) 
The hype behind Kayvon has been evident since his early years in high school. The Oaks Christian (CA) product dominated opposing teams to the tune of 18 sacks and 19 tackles for loss in his senior year. He chose Oregon over Alabama, USC, and Florida State.
2. Derek Stingley Jr. (CB, LSU) 
As the best CB in the nation from Dunham School (LA), Stingley was compared to Stephon Gilmore and was given a perfect score on speed, instincts, and ball skills. That's about as high of praise as one can get as a defensive back.
1. Spencer Rattler (QB, Oklahoma) 
Rattler put on a show every Friday night in Arizona at Pinnacle. He was named Elite 11 MVP and led his team to a state championship in his junior year. He committed relatively early in the decision process, but stuck with the Sooners through it all.
Written by: Dhruv Mohan