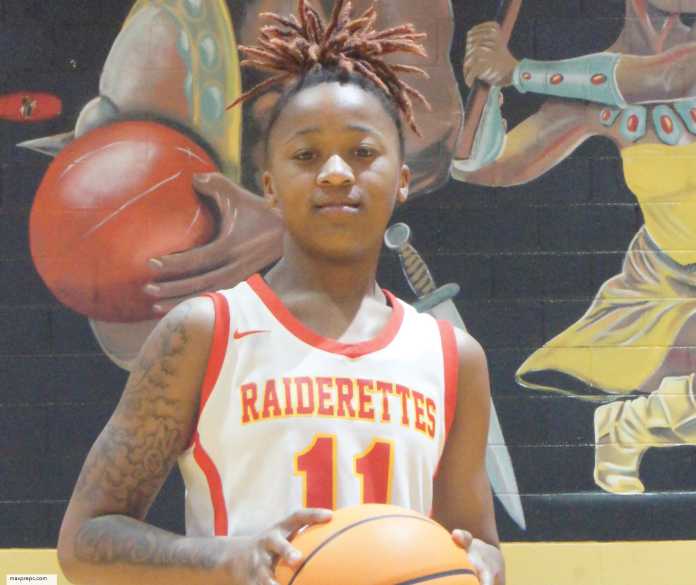 Northeast Basketball Player Jakia Little Voted ITG Next Georgia January Female Athlete of the Month
Jakia Little of Northeast High School in Macon is the ITG Next Georgia Female Athlete of the Month for January. Little won with 52% of the overall vote.
Little is a standout senior guard for the Northeast Macon Raiders girls basketball team and coach Heavenly Whitehead. Little has also played for Bostic Next Level, an AAU basketball program primarily serving the Middle Georgia area.
So far, she has led her Lady Raiders team to a 9-4 overall record, including a 3-0 region record. Throughout 13 games, Little has been a one person wrecking ball, averaging 25.4 points per game (PPG) and shooting 74% from the free throw line, both of which are leading the region. She is also averaging 7.2 rebounds per game (RBG) and 4.6 steals per game (SPG). 
The @NEHSRaiders basketball team hosted the @CHChargers tonight. Which direction did it go? It went to "The East"! Congratulation also goes to our very own Jakia Little, a GOAT in the making, on reaching a career 1000 points and a career high for points in this game. pic.twitter.com/pEVlW9Dd0g

— Northeast Raiders (@NEHSRaiders) December 19, 2021
Little earned her nomination for our ITG Next Georgia Athlete of the Month with several standout performances in December.
They include the Lady Raiders' win over Central Macon on Dec. 18. In that contest, Little poured in a season high 44 points, with eight rebounds and five steals. Her performance paved the way to a 87-38 blowout win for her team over Central.
In a game against Tri-Cities on Dec. 10, Little scored 22 points, which gave her 1,000 points for her career. She also pulled down 11 rebounds, helping her team to a 73-49 victory.
During the Holiday Tournament 65-58 win over Callaway, the standout guard scored 38 points while collecting seven rebounds.
Welcome to the 1⃣0⃣0⃣0⃣ club, @jakia_little!

Only the beginning for the @NEHSRaiders senior 🙌 pic.twitter.com/SS4ADkIhCe

— Connor Hines (@ConnorHines17) December 19, 2021
Little is in her third season as a starter for Northeast Macon, but also earned her way into the starting lineup as a ninth grader at Warner Robins High School, according to coach Whitehead. The Lady Raiders coach recalled highlights of Little's career at Northeast Macon. 
"Jakia scored 621 points during her sophomore year, her first year at Northeast, including 40 points in one game against Dodge County," said Whitehead. 
For her high school career, Little has averaged 21.5 PPG, 6.2 RBG, and 4.1 SPG. Whitehead says Little is a complete all around player, who can do a little bit of everything. 
"Jakia is unstoppable. She is a great ball handler, as well as an all around team player," said Whitehead. "She doesn't mind sharing the ball. She is very soft spoken but transforms into a beast on the court."
 Norman Bostic, her AAU coach, said he has known Little since she was in middle school. 
"I first noticed Jakia playing basketball at one of the local recreation centers, Rosa Jackson Center, and you could see the raw talent and athletic ability, even back then," he said.  
During her time playing for Bostic's AAU team, Bostic Next Level, Little dominated there, too. She has averaged 19.8 PPG with a 53% FG percentage, while shooting 79% from the free throw line.
Little has several schools seeking her talents at the next level, but she says right now her focus is on finishing her senior season strong, then she'll turn her attention to plans for academics and playing collegiately. 
"I do look forward to playing collegiately, while pursuing a major in sports medicine," she said. 
Steve Jones, who moved into the Board Office this school year, was Jakia's former principal at Northeast. 
"Jakia reminds me of David's story in the Bible. She is a humble giant slayer. She is relentless and does not fear. Her fame is not in her name but in her actions," said Jones.