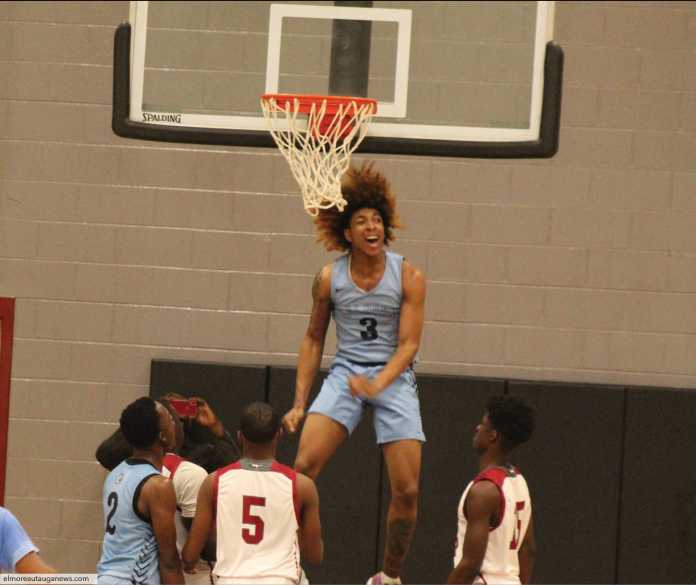 JD Davison Crowned Mr. Basketball Alabama Again
A new Mr. Basketball has been crowned in the state of Alabama, and if you've been following AHSAA boys basketball over the last four years, the recipient of the award will not surprise you. On April 11, JD Davison took home the honor of being named Mr. Basketball from the ASWA for the second-straight year. 
Davison, a 6-foot-3, 170-pound senior guard, attends Calhoun High School in Letohatchee. He committed to play his collegiate career at the University of Alabama under head coach Nate Oats in October.
The top overall prospect in the state and ninth best player in the nation for 2021, Davison's senior season saw him average 32.4 points, 10.9 rebounds and 4.7 assists per game.
While he was probably a lock for the award this year, Davison's performance in the semifinals of the Class 2A AHSAA playoffs certainly cemented it. He scored 45 points and grabbed 13 rebounds in the loss to eventual state champions, Midfield.
Davison is also a three-time All-State selection, 2021 McDonald's All-American, 2020 state champion and was recently named to Sports Illustrated's All-American Second Team.
The multiple honors are a fitting end to Davison's high school career, which included many highlight reel-worthy dunks and plenty of viral videos from his games. He dropped a career-high 57 points in the 2021 season opener, and never let up from there. 
Davison tweeted out a few simple emojis of hearts and a flexing arm in response to several people, including the official Alabama Men's Basketball account, sending him congratulations on the award. 
He becomes the fifth overall player to take home the honor in consecutive years. Most recently, former Mountain Brook turned LSU star Trendon Watford won it in 2017 and 2018.
Huntsville native and former Crimson Tide standout John Petty Jr. won it in consecutive years as well, as a player at both J.O. Johnson and Mae Jemison High Schools. 
Davison could very well follow in Petty Jr.'s footsteps, becoming another talented player for the Crimson Tide. If he plays anything like his Calhoun High days, he could easily become a UA legend and potentially lead the Tide to its first NCAA Tournament Final Four berth ever. 
Written by: Reagan Cofield