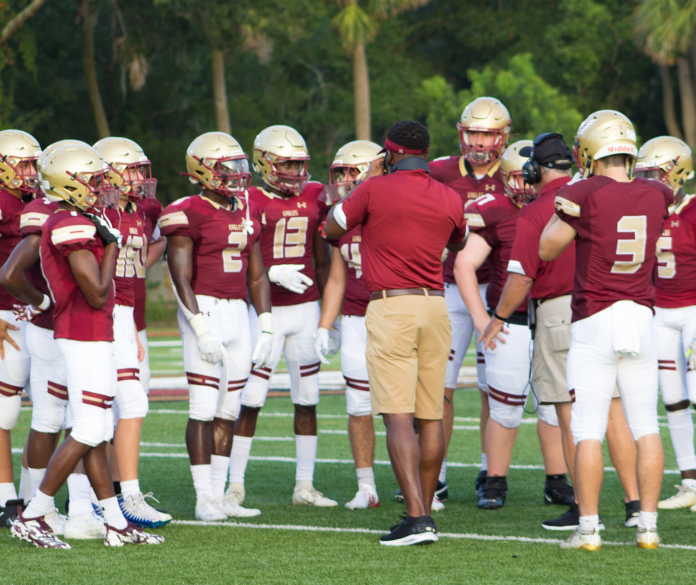 Kaiman Clark knew it was bad.
Ever since Clark was old enough to remember, he has played football. He just wrapped up his senior season at Episcopal School of Jacksonville, where he was a standout receiver and defensive back. He played so well that he caught the attention of the coaching staff at Methodist University, who offered him the chance to come play for the Monarchs once he graduated. But, during a game in his junior season, that opportunity was almost wiped out in one play.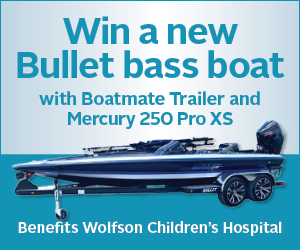 It was Thursday, October 15, 2020. The Episcopal School Eagles were hosting Andrew Jackson High School. The Eagles entered the game with a 3-1 record, and Clark had gotten off to a great start through those first four games. 
He was playing with a ton of confidence after having a standout sophomore season that saw him finish with four interceptions, two punt deflections, and 22 tackles. He was getting serious attention from multiple college programs. Everything was looking bright for Clark. 
Then, the play happened. Clark caught a pass and was tackled from behind, something that had happened dozens of times before. Usually, no matter how hard he got tackled, he'd always get right back up, but not this time.
"I knew it was bad," said Clark. "I was trying to get up, but I just couldn't move my leg. I knew this was not good."
His instincts were right. Clark was taken to the emergency room at Wolfson Children's Hospital, where he was then referred to Nemours Children's Health, Jacksonville for further orthopedic care. That's where physician assistant Lukas Hayden examined Clark and ordered an MRI, which confirmed the severity of the injury. Clark had suffered a multi-ligament tear, according to Dr. Jeremy Rush, an orthopedic sports surgeon who saw Clark and performed surgery on him. 
"It was one of the more severe injuries I've ever treated," said Dr. Rush. "Kaiman had suffered a torn anterior cruciate ligament (ACL), lateral collateral ligament (LCL), and medial collateral ligament (MCL). He also tore one of his hamstring tendons completely away from the tibia."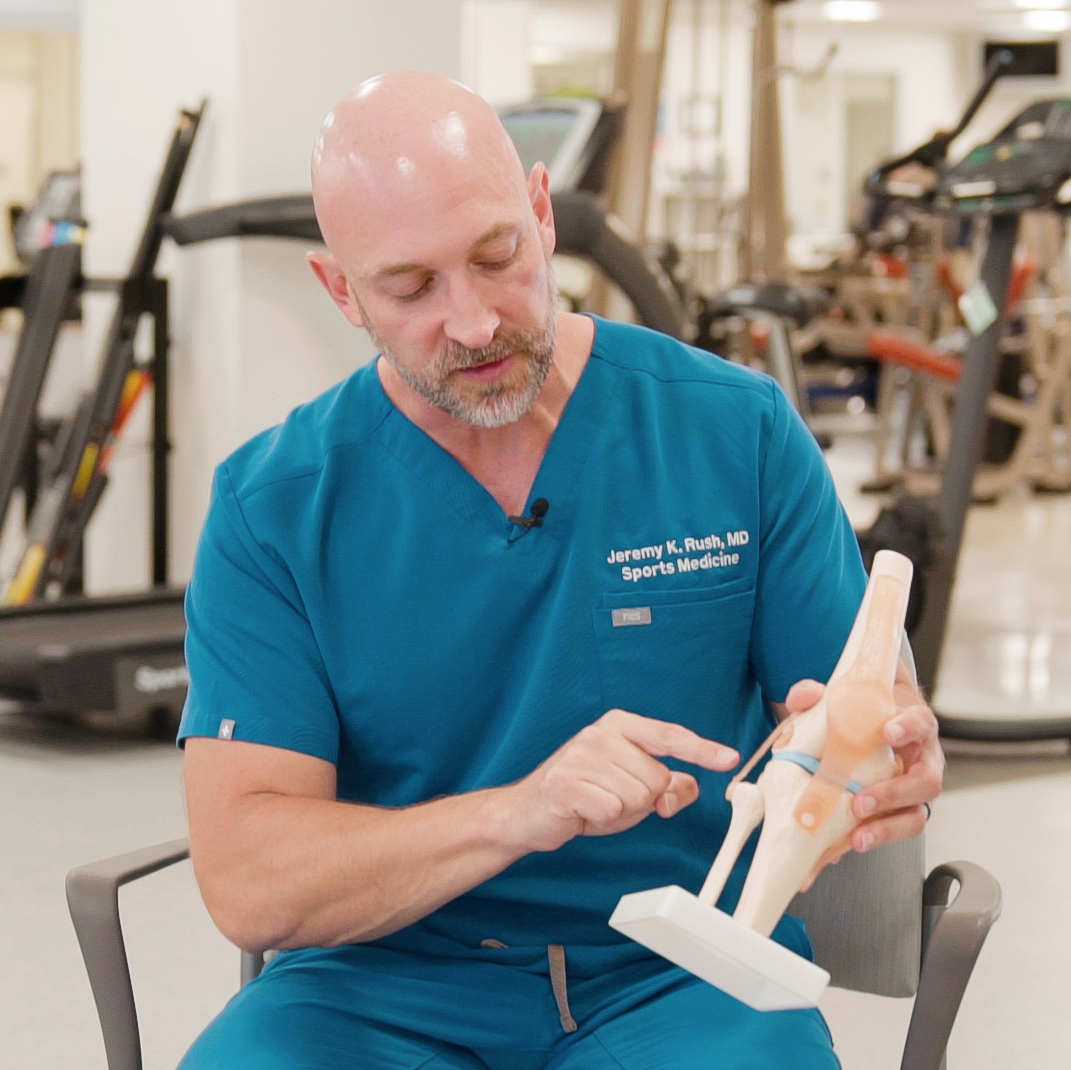 Dr. Rush explained the procedure to repair Clark's injury. 
"I had to reconstruct his ACL and LCL, and then repair his biceps tendon, as well." 
Due to the damage in Clark's knee, the surgery took approximately three-and-a-half to four hours. It was a success, but there wasn't a guarantee Clark would ever be able to play football again.
"I told Kaiman that with just a normal ACL tear, patients can expect eight to nine months of rehab before I clear them to play," said Dr. Rush. "But Kaiman's injury was so much worse, he would likely be looking at least a year and possibly up to 15 months."
That would certainly mean Clark would not be able to return in time, and that his high school football career was over. That would also put his opportunity to play college football in jeopardy, but Clark was determined to get back on the football field for his senior season. 
"I've played football since I was first able to," he said. "So, I wasn't going to give up easily." 
His father, Julian Clark, said seeing his son suffer such a bad injury was tough to take. 
"I was scared for my son," he said. "He had never really been hurt before, so we were all just really worried." 
Clark's father initially wasn't sure how badly Clark was hurt. 
"At first, I thought he had suffered a torn ACL," Clark's father said. "After we got the MRI results back, we knew it was worse than we thought. He had shattered everything in his knee." 
After speaking with Dr. Rush, the elder Clark knew his son was going to face a long road to recovery. 
Clark's goal was to get back to playing football, but even if he was able to come back and play again, there wasn't a guarantee college offers would still exist.
"That was my son's dream since he was old enough to play football," said Clark's father. "I knew how much that meant to Kaiman, and I knew everything he was going through was very hard on him."
Clark's first step was to concentrate on rehabilitation and show everyone he could make it back.
"We knew it was going to be up to Kaiman, and how hard he was willing to work," said his father. 
Physical therapy began approximately two weeks following the surgery at Wolfson Children's Rehabilitation with pediatric physical therapist, Daniel Plummer, who specializes in sports rehabilitation. Kaiman admitted that while he was eager to get going, things were tough at first. 
"I had lost a lot of my strength, and my muscle had shrunk," he said. 
Plummer agreed it was rough at the beginning. 
"I had to give Kaiman hand grippers to squeeze because the pain was really bad those first couple of weeks," Plummer said. 
There was a point in his rehab when Plummer told the Episcopal senior he would need to work as hard at home as he was during the sessions at Wolfson Children's Rehabilitation if he wanted to play football his senior season. There were certain markers that Dr. Rush expected Clark to hit that would determine if he would be able to play football again. 
"One of the final hurdles was to make sure Kaiman's surgically repaired leg was equally strong as his other leg," Plummer said. "We couldn't release him to play football if it wasn't within a certain range, or percentage, compared to his healthy leg." 
So, Clark started going to the local YMCA two to three times per week, and when he checked back in with Plummer, the physical therapist was pleasantly surprised. 
"When Kaiman came back for us to check him, I was shocked at how much progress he had made," Plummer said. "I knew then that he was going to be able to play football again."
Dr. Rush said his young patient's rehab timeline was definitely ahead of schedule.
"Kaiman worked really hard to get back as soon as he did," he said. 
Dr. Rush also pointed out a study that showed the return-to-play rate of NFL players with the exact same injury was only 60 percent. 
"That's professional athletes with the top medical care in the world," he said. 
Clark completed rehabilitation on September 30, 2021. For an injury that normally has a recovery time of 12-15 months, Kaiman made it out in 10 months. But, the real test would be his ability to return to the football field.
"I was ready to start back at full speed, but the coaches wanted me to take it really slow to begin with," Clark said. 
Soon enough, his first contact would be a tackle on the sideline, but this time Clark was the one making the hit on the ball carrier. He decided to focus only on defense in his return, instead of playing both ways, and for good reason: Methodist University had indicated they intended to use him as a safety. 
Clark was finally ready to play again. Starting on October 1, 2021, almost a full year after his terrible injury, Clark was able to play in eight games to complete his high school senior season, finishing with 20 tackles, including two sacks. 
#COMMITTED @CoachDwill9 @EpiscopalEagl10 @CharlieHunt1One @WalthourPerry @larryblustein pic.twitter.com/cI3rqsfFO9

— Kaiman Clark (@kclark_1) January 27, 2022
Clark will be leaving in July to head to Methodist University, where he will continue to play the game he loves and has played since he was barely able to walk. He will realize his dream of playing college football, proving that, for Kaiman Clark, dreams do come true.