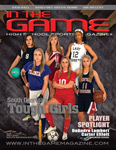 The online version of Merriam-Webster's dictionary defines "tough" in the following manner: "difficult to do or deal with; physically and emotionally strong, able to do hard work, to deal with harsh conditions, etc.; physically strong." The six young ladies about which you are reading would agree with those definitions. They don't want to sit around in party dresses, sipping tea, and getting their nails done. Instead, they would rather be in the gym, on the field, the pitch, or out running. They don't mind getting dirty and will do whatever it takes to become the best student-athletes they possibly can be. No, it ain't easy at all being a girl. And these young ladies wouldn't have it any other way.
South Georgia's Tough Girls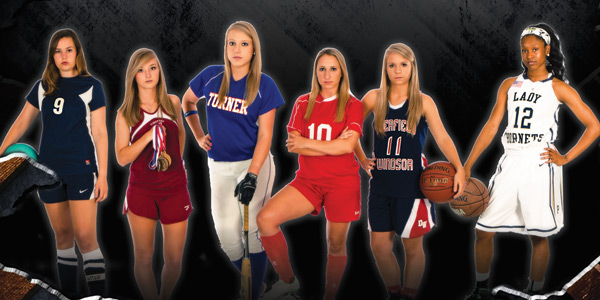 ---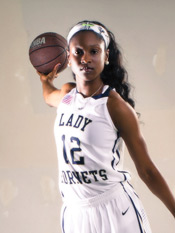 Briunna Freeman
Briunna Freeman is one of the best female athletes to come through Pelham High School. A standout basketball and track athlete, she can play just about any position on the floor. The 17-year-old junior has been playing basketball for six years and has already amassed an impressive list of accomplishments. Freeman scored 37 points against Randolph Clay, was a member of Pelham's first undefeated women's basketball team, and she has already scored over 1,500 points for her career. Freeman averages over 18 points, nine rebounds, and three steals per game.
For Freeman, life at Pelham is about more than just basketball; she has a grade point average of 3.0 and plans to attend college one day – hopefully on a basketball scholarship. With her leadership qualities, attention to detail, and her refusal to accept anything but her best, she should have no problem realizing her goal.
Freeman understands that she is a role model for young women behind her, and she wants to make sure that she opens doors for those who come after her. "You have to realize that your grades are important. You are a student first. I had to wake up and realize that," she says.
Favorites:
Food: Pizza
Movie: What's Love got to do with It
Book: Twilight series
Academic Subject: Literature
Sport (other than your own): Track
Pastime: Texting, tweeting
Sport you wish you could play: Tennis; "The ball is too hard to hit."
Dream car: Ferrari Spider; "A red one would be nice."
---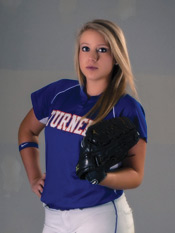 Eryn Kelly
Eryn Kelly, a senior infielder for the Turner County Rebels, has been playing softball for over 12 years. She grew up watching her dad play around the area and decided to follow in his footsteps. Kelly began with T-ball and fell in love with the game. Over the years, she has wanted more from the game than just getting out there and chasing a ball. She has studied the sport, the strategy, situations, and fundamentals. As a result, Kelly turned herself into one of the best players around. She has been Turner County's Co-Offensive Player of the Year and First Team All-Region all four years of her high school career. She was named Region 2 Offensive Player of the Year as a sophomore. Kelly finished her senior campaign with a .576 batting average, one homerun, and 26 RBI. On her travel team, the Georgia Heat, Kelly received the Coach's Award and she, along with her teammates, finished second in the USSSA/ESPN High School World Series.
In addition, Kelly was on Homecoming court as a junior and senior, she is president of her senior class, and she has a 3.4 grade point average. Kelly also participates in FFA, FCA, is a member of Student Council, and she works at the Rescue Smokehouse Grill. How does she find time to fit in everything? It's all about time management and prioritizing her commitments. "It's tough. It can get kind of hectic sometimes, but I manage," she says.
Through her commitment to excellence and doing things the right way, Kelly has landed a scholarship at Thomas University in Thomasville. "Always put in the extra work it takes to be the best you can be. Play every game like it's your last one," she says.
Favorites:
Food: Chicken wings, crab legs, and popcorn
Movie: Remember the Titians
Book: The Hunger Games
Subject: Anatomy
Sport other than your own: Football
Pastime: Shopping
Sport you wish you could play: Basketball
Dream car: Range Rover
---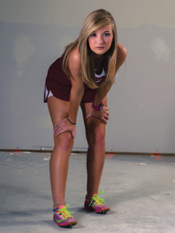 Jacki Pinkerton
Jacki Pinkerton is a senior runner at Lowndes High School. She is on the cross country and track teams, where she runs the 400, 800, 1600, and 4×400 relay, and she played right midfielder and forward for the Lowndes High soccer team until she was a sophomore. Pinkerton began playing soccer in the first grade and eventually gave it up to focus on track and cross country – sports she began in the sixth and ninth grades, respectively.
Pinkerton holds the school record in the 800 meters (2:19) and has competed in the state track meet. Pinkerton has a personal best 5K time of 19:29, which is one of the fastest times you will find in South Georgia for any female runner. In fact, a time like that will beat most male runners in the area.
Her 3.1 grade point average and her blistering paces on the track and trails garnered the attention of colleges all over the state. Pinkerton eventually chose the University of West Georgia in Carrollton, where she will run both cross country and track. Pinkerton plans to study nursing and become a pediatric nurse. "If you work hard and practice hard, you will succeed," she says.
Favorites:
Food: Porterhouse steak
Movie: Secretariat
Book: Speak by Laurie Anderson
Academic Subject: Math
Sport other than your own: Soccer
Pastime: Hang out with friends, go to the beach or play with my dogs
Sport you wish you could play: Basketball
Dream car: Shelby GT500
---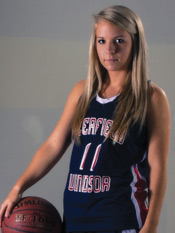 Joyner Tyson
Joyner Tyson is a two-sport junior student-athlete at Deerfield Windsor School in Albany. She plays basketball and tennis and is a three-time All-Region selection and two-time All-State selection in tennis. (At the time of this writing, tennis season hadn't ended, so the All-Region and All-State teams had not yet been chosen.)
Tyson excels in both of her chosen sports. In basketball, she is a great defender and an excellent three-point shooter. On the tennis court, she hits the ball very hard and is extremely fast. She can get to balls that most of her opponents can't, and she can make a return shot accurately and with authority.
In the basketball playoffs this year, Joyner scored 17 points, was five out of six from the three point line, and she held the opposing team's leading scorer to just eight points. She also advanced to the semi-finals of the state tennis tournament last year and narrowly missed upsetting a three-time state champion.
For the 2013-14 basketball season, Joyner averaged five points, 2.7 rebounds, 1.3 assists, and 1.75 steals per game. The Knights won region and advanced to the Elite Eight of the playoffs. Tennis season is in full swing (pun intended) as this edition goes to press, so season numbers obviously aren't available. However, Deerfield Windsor is in good position to contend for a state title, and Joyner and her doubles partner have a legitimate chance to win a state championship.
With a weighted grade point average of 4.45 (4.0 unweighted), Joyner should have ample opportunities to play a sport – most likely tennis – in college should she so desire. However, once she plays her last high school tennis tournament, her competitive sports career will be over. She has decided that she will not play anything in college; instead, she plans to focus on academics. She is considering a wide array of schools, from nearby Valdosta State University to the University of Georgia. "I'm still struggling with where I want to go to college. I have to decide the size of the school I want to attend," she says. When she isn't studying or playing sports, she is involved in Beta Club, Key Club, Science Club, Student Council, and helping children learn the games of tennis and basketball.
Her best advice: "I would say to always stay humble no matter how great you or other people think you are. Although sports may be fun and the center of many young athletes' worlds, it is only a small part of life. Many life lessons that will help you down the road can be learned through playing sports, like discipline, time management, working with others, dealing with disappointment, and most importantly learning to succeed with class."
Favorites:
Food: Teriyaki chicken from Asahi
Movie: God's Not Dead; "I think everyone should watch it! It is so inspiring!"
Subject: Math
Sport other than your own: "I love watching gymnastics."
Pastime: Hanging with friends
Sport you wish you could play: Volleyball; "I'm too short."
Dream car: Range Rover
---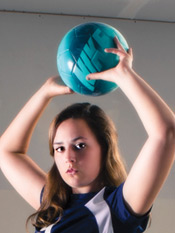 Savannah-Jane Gilchrist
A 17-year-old junior at Valwood, Savannah-Jane Gilchrist is the daughter of a soccer pioneer. Her mother, Lisa, was the first female soccer player at Valwood. She played on an all-boys team and paved the way for a future women's soccer team. Now Gilchrist, a midfielder/forward, is making the most of the opportunity that her mother helped give her.
A soccer player since she was five years old, Gilchrist has become an important part of the Valiants' program. She is fast, aggressive, and accurate. She is also experienced; Gilchrist began her varsity soccer career as an eighth grader. From the start, she let everyone know that she was one day going to be a very good player. That year, she made one of the last penalty kicks in a key region game that went into double-overtime. It remains one of the most difficult games she has ever played. In the process, she demonstrated to everyone that she wasn't intimidated by older girls.
In addition to playing soccer, she is also a cheerleader, and she participates in no fewer than nine other extracurricular activities, including Interact Club, One-Act Play, Dance Marathon, Science Olympiad, Pulsera Project, and National Honor Society.
Somehow, she finds time to maintain a 3.83 grade point average. "School comes first, but I always make time for sports. Sports are really important for kids. I go to school then to soccer, then I will stay up as late as I need to for homework," she says.
This season has been particularly frustrating for Gilchrist. The Valiants are a young team and haven't done as well as she would have liked. However, she has held her head high and done the best she could. This season has given everyone valuable experience, and the girls should be able to turn that experience into a winning season in 2015. "Push yourself as hard as you can. Eat right, drink water, work out, hustle; it will pay off. And treat your team like a family. You can't win unless your whole team is in sync," she says.
Favorites:
Food: Twizzlers
Movie: Super 8
Book: The Hobbit by J. R. R. Tolkien
Subject: Composition
Sport other than your own: Football and ping pong
Pastime: Doing anything outside
Sport you wish you could play: Tennis
---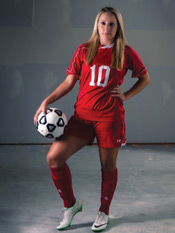 Annie Ross
Where do you start with Annie Ross? A senior forward on the Syrupmakers soccer team, Ross has accomplished more than any other female soccer player in Cairo history. Through her junior year, she was named First Team All-Region every year, Offensive Player of the Year in Region 2 every year, and a Georgia High School All-Star as a sophomore and junior. Ross also has Cairo's single season scoring record with 57 goals her sophomore year. She holds the scoring record with 169 goals and counting. Ross has helped lead Cairo to four undefeated region championships and a number five ranking in the state last season. To top things off, Ross is the first Cairo soccer player to sign a scholarship with a Division I school, and she was named 4A Player of the Year for the state as a junior. This season – which was still in progress at the time of this writing – Ross had 43 goals and 10 assists.
Ross sports a 4.0 grade point average and will attend Gardner-Webb University, where she will play soccer and major in international business. As is the case with the rest of the young ladies featured here, Ross is a well-rounded student-athlete; she is a member of Key Club, Interact Club, Student Council, National Honor Society, FCA, and Kids Against Hunger. She finds time to fit everything in her schedule by simply making sure everything gets done no matter what it takes. "Sometimes, you don't sleep very much," she says.
As her high school soccer career comes to an end, she encourages those behind her to never let up, not even the slightest bit. "Don't give up no matter what the circumstances are. You never know who is watching," she says.
Favorites:
Food: Steak
Movie: She's the Man
Book: The Hunger Games
Subject: Math
Sport other than your own: Basketball
Pastime: Go to the beach with my friends
Sport you wish you could play: Lacrosse
Dream car: Blacked-out Range Rover
---
Special Feature/South Georgia/May 2014
It Ain't Easy Being A Girl
Robert Preston Jr.
Photos by Micki K .Photography
https://itgnext.com/wp-content/uploads/ITGNext-logo-Black-and-Cyan-300x186.png
0
0
admin
https://itgnext.com/wp-content/uploads/ITGNext-logo-Black-and-Cyan-300x186.png
admin
2014-04-30 18:19:07
2014-04-30 18:19:07
It Ain't Easy Being A Girl