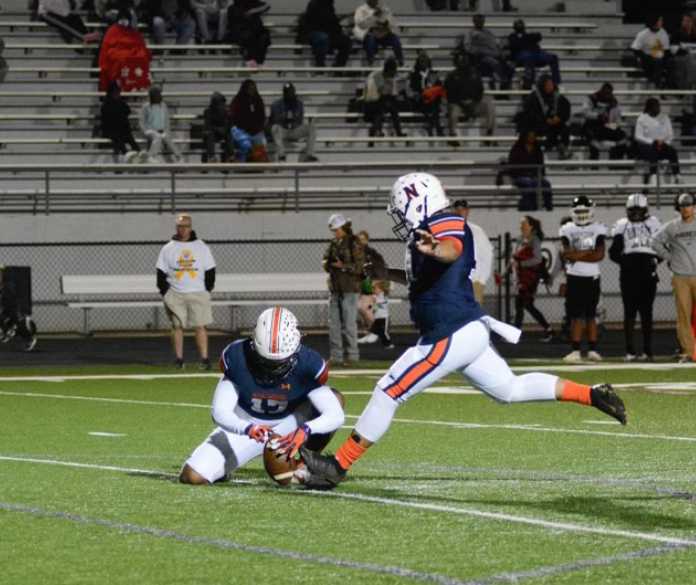 How an Injury Shaped a Special 2021 Season for Northside Kicker Ashton Paredes
As you likely know, injuries are a part of all sports, and will likely always be a part of sports. However, what defines a specific player or team is not the injury itself, but how the player or team rebounds, or bounces-back, from the injury. 
There is no greater example of this in Georgia high school football this season than Northside-Warner Robins kicker Ashton Paredes.
As the Eagles continue their run through the Georgia Class 6A playoffs, there is no-denying just how impactful the junior kicker has been to the Eagles success this season. After suffering a season-ending leg injury last November, Paredes has returned to the field for Northside-Warner Robins in big way as one of the most-impactful members of an Eagles team with their sights firmly set on a state championship.
After seeing time at both kicker and along the Eagles defensive line a year ago as a sophomore, Paredes as mentioned previously suffered an injury last November that cost the star kicker the remainder of his sophomore season. A brutal-injury that requires months of rehab before even getting back on a football field, Paredes however attacked this task set in front of him head-on.
Ahead of schedule in his rehab from the injury throughout the process, Paredes would return to kicking a ball around the month of May, day-by-day regaining his strength in hopes of his eventual return to the football field. Fast forward to now, and the determination of Paredes is not only benefitting both the junior kicker and Northside-Warner Robins a year later, but is also one of the top overall stories from the 2021 Georgia high school football season.
Paredes has excelled throughout the 2021 season as the Eagles primary kicker and punter, making an impact for Northside-Warner Robins in many different areas on the field in the Eagles run to the 6A playoffs.
Across his first 11 games of the season, the junior is a perfect 33-for-33 on extra points, as well as 3-for-7 on field goals with a few of those makes very-impactful for the Eagles headlined by Paredes' game-winner to help Northside-Warner Robins defeat Valdosta 13-10 back in mid-November. In addition to this, Paredes has also averaged 40.9 yards per kick across 25 kickoffs so far this season, as well as averaging 32.5 yards per punt across 27 punts so far this season, seven of which have landed inside the 20-yard line.
No matter how the 2021 season ends for Northside-Warner Robins, it will always be considered a special one for the Eagles. No, not because of championships, performances, or team accolades, but because of the phenomenal comeback story and determination of Paredes, one that is greater than any on-field victory.
Written by: Matthew Melton
Read more from this issue: