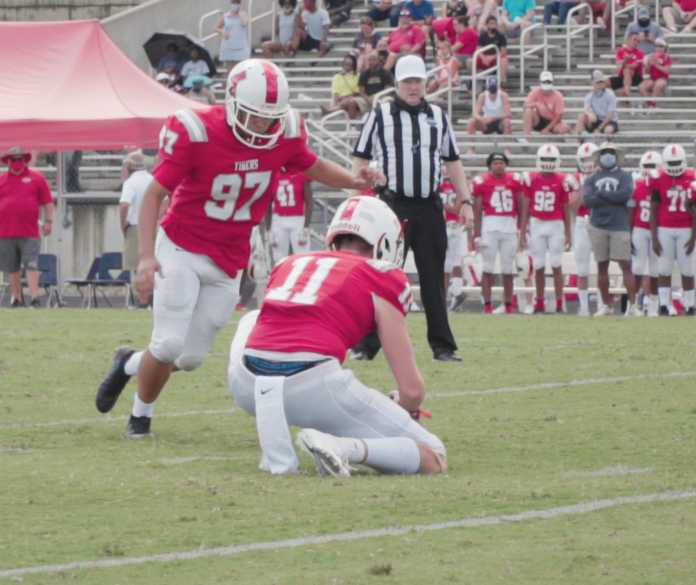 Last year, the GHSA announced a new reclassification, implementing a higher multiplier that placed schools with more out-of-district students in the upper classifications. Along with this reclassification came revised regions featuring both public and private schools. With the 2022 football season on the horizon, let's take a look at each revamped classification's toughest region.
1A-D1
Region 1 is the clear favorite in A-D1. That four-team region contains both Irwin County and Brooks County, who met in the 2020 and 2021 A-Public State Championships. Also included is Pelham, who made the semifinals in 2018 and 2019 and could pose a threat to many teams on their 2022 schedule. The only weak link in this region is Bacon County. They didn't win a single game in 2021. Besides that, this region has the potential to produce two state finalists once again.
1A-D2
In this GHSA reclassification, regions are much larger. Region 6, however, stands out the most, thanks to Schley County, Macon County, Chattahoochee County and Manchester. All four teams cracked the top-10 rankings at least once last season, and both Macon County and Manchester reached the quarterfinals as well. Schley County could be the early favorite for region champion, as they return almost the entirety of last year's team. Greenville is also a member of Region 6, and a resurgent six-win season in 2021 brings an added level of competitiveness.
2A
This decision was difficult, but Region 1 slightly edges out Regions 3 and 5 for toughest 2A region. Region 1 features defending state champion Fitzgerald, along with Jeff Davis and Dodge County. Cook could also be a team to watch out for with Byron Slack as their new head coach. Region 5 provided some intrigue with Callaway, ELCA and Columbia, but McNair, Redan and Towers brought that region's quality down. Region 3 features rivals Pierce County and Appling County, but the remaining teams aren't good enough to match the quality of Region 1.
3A
It's a two-region race, but Region 5 claims the title over Region 1. Region 5's four teams are Cedar Grove, Carver-Atlanta, Sandy Creek and Douglass. Carver-Atlanta and Cedar Grove met in last season's state title, while Sandy Creek returns significant talent that could restore them to pre-COVID glory. Region 1 also made a significant argument with Carver-Columbus, Thomasville, Crisp County and Dougherty. However, Carver-Columbus graduated most of their talent and Thomasville lost key contributors in QB Shannen White and RB Malik Harper on offense.
4A
Region 4 is both the hardest and the most unpredictable among the GHSA reclassification. No team truly stands out as a favorite, but that region is very well-rounded and may be one of the most interesting regions in the state. Teams in Region 4 include Fayette County, LaGrange, Riverdale, Starr's Mill, Trinity Christian, Troup County and Whitewater. Starr's Mill fell from 5A to 4A in the offseason, while Trinity Christian made the massive leap from A-Private to 4A after winning the state championship.
5A
Similar to 4A, 5A's Region 8 is the toughest due to its parity. Once again, there is no outright favorite, but several mid-level programs will have the opportunity to clinch a region title. Clarke Central, Eastside and Flowery Branch have repeatedly knocked on the door of playoff success, while Jefferson's move up from 4A might bring new challenges, especially in this competitive region. Loganville and Winder-Barrow may also play spoiler deep into the region schedule. There's a lot to like from Region 8.
6A
This would have been nearly impossible to answer in January, but offseason moves have made Region 5 the clear favorite. Langston Hughes, Douglas County and Alexander are sure to have attention, but don't sleep on South Paulding and Newnan as a 3-seed in that region. Region 7 also has a compelling argument, but RB Justice Haynes's transfer from Blessed Trinity to Buford and mass graduation from Johns Creek tanks the overall value of that region. It's hard to pass up on a region with the heavy favorite for the 2022 6A title (Langston Hughes).
7A
This GHSA Reclassification holds undoubtedly the toughest regions in the state. Region 8 features Buford, Collins Hill and Mill Creek, all of whom are frontrunners for a state championship. Both the Wolves and Eagles won titles last season, and Mill Creek is in great position to contend with 5-star safety Caleb Downs. Don't forget about Dacula either: the Falcons reached the 6A semifinals last season, too. If there's an annual crown for the "Region of Death," Region 8-7A wins the 2022 edition by a landslide.