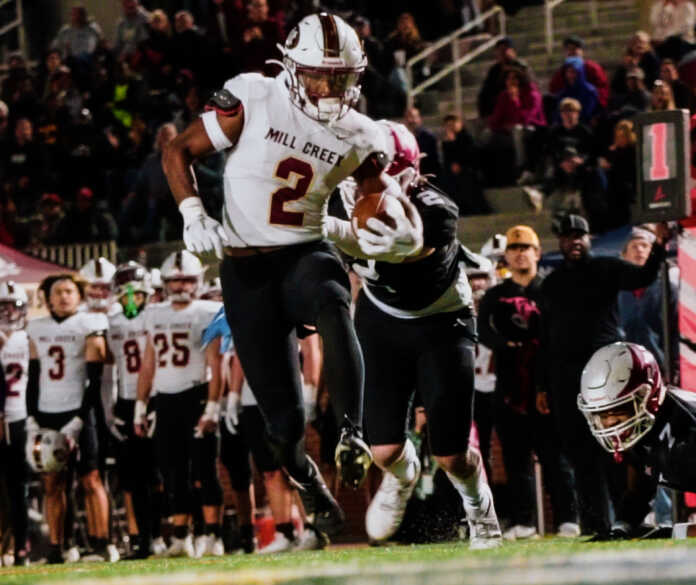 As high school football teams across Georgia kick off spring football practice, ITG Next Georgia gives you our Spring 2023 Top 5 for each classification, plus a sixth "surprise" team added to each list. Here's our "Top 5 Plus a Surprise:"
Class 7A
Buford
Carrollton
Colquitt County
Mill Creek
Walton
Surprise: Valdosta
Spring or fall, these five Georgia high school football teams are the monsters of the GHSA. Walton is a team to look out for, with one of the best quarterbacks in the state in Jeremy Hecklinski, and seven starters on both sides returning. But with last year's upset win over Buford in the playoffs, the Raiders won't be sneaking up on anyone in 2023. Watch for Valdosta QB Todd Robinson to have a breakout season.
Class 6A
Gainesville
Lee County
Houston County
Hughes
Rome
Surprise: Blessed Trinity
This is the deepest classification in the GHSA, and any of the five teams I've listed could really be in any order. Josh Niblett, Jeremy Edwards, John Reid, Dean Fabrizio and Daniel "Boone" Williams are maybe the best group of coaches in the state. But look out for another coach this year: Ed Dudley. He takes over at Blessed Trinity, and with eight starters returning on defense and QB Brooks Lewis running the offense, the Titans could be the team that surprises everybody this year.
Class 5A
Ware County
Cartersville
Warner Robins
Creekside
Calhoun
Surprise: Kell
Can new head coach Shane Sams keep Warner Robins as the king of Class 5A? Vic Burley is impossible to replace, but the Demons and Sams will have enough talent returning in 2023 to stay in the hunt in 5A this season. My surprise team is the Kell Longhorns, led by All-State WR Kyle Vaka.
Class 4A
Benedictine
Bainbridge
Perry
Troup County
Cedartown
Surprise: Central Carrollton
Benedictine has the most overlooked quarterback in the state returning in Luke Kromenhoek. He'll have another eight returning starters on offense joining him this season to give Danny Britt's Cadets an opportunity to threepeat for the 4A state championship. Colton Ginn has transferred from Peach County to Perry, and there's a two-headed QB monster at Central Carrollton: Returning All-Region starter Devan Powell wiil try to outduel freshman phenom JR Harris beginning with this Georgia high school spring football session.
Class 3A
Thomasville
Cedar Grove
Dougherty
Peach County
Sandy Creek
Surprise: Crisp County
Coaching is the key with these Top 5 teams. Jonathan DeLay displayed perhaps the best coaching job last year. Despite losing a starting quarterback early, and his team getting outscored 144-14 in three losses in their first four games, the first-year head coach rallied his team to eight straight wins, a region championship, and a trip to the quarterfinals. Johnny Gilbert resurrected the football program at Dougherty two years ago, and we've seen what Marquis Westbrook can do; now can he bring that magic to Peach County? John Adams has built something special at Cedar Grove, and now Darius Smiley will take over for the 3A defending champs.
Class 2A
Thomson
Fitzgerald
Northeast Macon
Cook County
Appling County
Surprise: Callaway
I've talked mostly about quarterbacks so far, but 2A will give us a collection of great running backs to look at, starting right away with Georgia high school spring football practice. Cook's Keshun McKeever is back after enjoying a breakout year for the Hornets, and Thomson's 1,000-yard rusher is also back – no, not Jontavis Curry; it's Anthony Jeffrey, a returning junior who rushed for 1,015 yards and scored 19 TDs playing in the shadow of Curry last fall.
Northeast Macon will have returning junior RB Nick Woodford, who was Georgia's second-leading rusher last season, finishing with 2,746 yards. Fitzgerald returns a group of backs that includes Tyler Williams, Diodre Paschal, and Ty Solomon, but Tucker Pruitt is always going to have RBs. Appling will return 1,000-yard Jamarion Williams. Callaway is another team with a strong history of RBs and this year has seniors Jordan King, Tyren Buggs and junior Zai Hart all ready to make an impact.
Class 1A-DI
Prince Avenue Christian
Brooks County
Irwin County
Swainsboro
St Francis
Surprise: Commerce
Aaron Philo is the best quarterback in the state, and he'll have a chance to prove it when he leads the Wolverines on another quest for the state title while also striving to become the state's all-time career passing leader, surpassing Trevor Lawrence. Philo recently decommitted from Minnesota. Brooks County's Maurice Freeman and Irwin County's Casey Soliday could compete with any group, and they do every single season.
Class 1A-DII
Clinch County
Bowdon
Early County
Schley County
Wilcox County
Surprise: Dooly County
Clinch County head coach Don Tison will have nine starters back in 2023, and he'll have his Panthers competing for a state championship this season. Watch out for Dooly County as head coach Cecil Lester has QB Antwan Clayton along with seven starters returning on offense.
There you have it: These Georgia high school spring football practices offer plenty of intrigue from top to bottom as we look toward the fall.