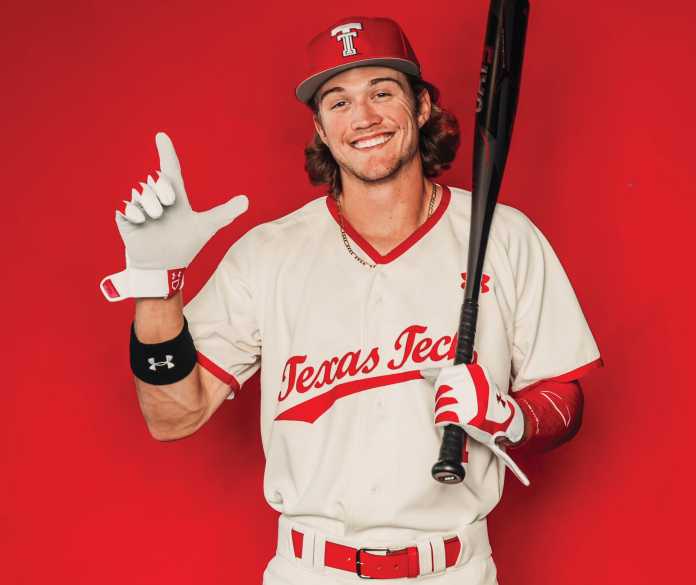 Gage Harrelson: The Spark That Makes Houston County Go
It's entirely appropriate that Gage Harrelson wears number 1 for the Houston County High baseball team. The Bears' senior centerfielder bats first in the lineup, is the reigning Player of the Year in Georgia, and is unequivocally the heart and catalyst of the Class 6A defending state champions.
Much like a gnat on a Middle Georgia summer afternoon, Gage is a nuisance – in his case, a constant irritant to opposing pitchers and defenders. As a junior in 2021, he batted .496 with 35 stolen bases, 55 runs scored, 31 RBIs and 64 hits, including 14 doubles, 5 triples and 5 home runs. The hits, runs and stolen bases all were new single-season records for the Bears. His .582 on-base percentage positioned him to be a frequent source of disruption and havoc when his team was at bat.
"He's a sparkplug," says Houston County Head Coach Matt Hopkins. "I think there were five different times where he stole third and they threw the ball into left field and he scored." On more than one occasion, Hopkins recalls, he heard the opposing coach admonish his catcher for even attempting a throw.
"When I'm at the plate, all I'm thinking is be myself, don't try to do anything I'm not capable of, just relax and have fun," says Gage. "On the bases, I try to be as much of a problem as I can" – when he says this, it's with the slightest hint of a sly laugh – "to make the pitcher worry about me more than worrying about the hitter. It usually ends up with him making mistakes and our team doing something pretty good."
Baseball is woven into the fabric of the Harrelson family. Gage's father, Chris, is a former head coach at the high school level; he now teaches at Houston County and serves as an assistant coach to Hopkins. Gage has a younger sister, Jacy, a Houston County sophomore who was named Region 1 6A's 2021 Player of the Year in softball.
"He's been around baseball his whole life," Hopkins says. "He's kind of been a field rat, where all he's ever done is be around baseball, and he loves it. It's not like he's doing it to impress his dad or anything like that."
Gage says baseball has brought his family closer together over the years: "It's let us travel together, and it's taken me on some great adventures and helped me experience some things I never would have gotten to experience if I had never played baseball. I'm very appreciative of everything the game has given me."
As a freshman, Gage got some playing time on a team that went 24-12, won the region and advanced to the state quarterfinals. In the Covid-shortened season of 2020, he became a full-time starter. Up to that point, he also had played football for the Bears, taking advantage of his 6-foot-3 frame to suit up as a wide receiver. Heading into his junior year, he faced a decision: Continue to play both sports or focus on baseball with an eye toward his future beyond high school.
"I knew if I wanted to go to the next level in baseball, then I had to stop playing football," Gage remembers. "I made that move and that's when I set all my records."
Indeed, Gage had a breakout season in 2021 and Houston County won its third state title in the past eight years. The Bears went 33-7, won the region and completed a two-game sweep of Lassiter in a state final played on the grandest baseball stage in Georgia – the Atlanta Braves' home field, Truist Park. True to form, Gage was a catalyst in the finale, going 2-for-3 with a walk, 2 stolen bases and a run scored.
"That was definitely one of most fun series I've played in," he says. "It was high energy, high emotion, a lot of big plays being made. And getting to dogpile on Atlanta's field was such a great feeling, knowing you've worked for that all year and you finally reached it. We celebrated real hard and it was a lot of fun."
Georgia Dugout Preview recognized Gage's efforts by naming him Class 6A Co-Player of the Year, alongside teammate Coleman Willis, a 6-foot-7 right-handed pitcher and first basemen.
"I was extremely blessed to win that award," Gage says. "That was one of my goals going into that season. You want your goals to be as high as possible, and for me to be able to accomplish that, I was really happy. But the bigger picture is we ended up victorious, winning the last game of the season, and that was the most special thing to me and the best feeling."
As that last statement illustrates, team success is Gage's priority. Still, Hopkins says he deserves any individual accolades he receives.
"He has really good instincts for the game," Hopkins says. "It's not just that he's talented; he really understands baseball. He's just a great kid, leads from the front, demands that everybody does what they're supposed to do. He's exactly what you want – he's a really good player who leads with good character and is a good representation for our younger kids of what we want as a program." 
Gage has committed to play collegiately at Texas Tech, a Big-12 powerhouse with four College World Series since 2014. "I think it says a lot that they were willing to come all the way to Georgia to recruit him," Hopkins says. 
West Texas is a long way from central Georgia, but Gage says the locals in Lubbock made him feel right at home during his officlal visit. "The people, the school, everything was just amazing. Their fans are some of the best in college baseball. When I went out there, it just felt right."
Of course, a player of Gage's caliber attracts attention from Major League Baseball scouts as well. Between his high school team, summer travel ball and showcase events, he plays nearly year-round and gives those scouts plenty to think about.
From the Baseball Factory National Florida Showcase last May, for example, his scouting report reads as follows:
Gage is a dynamic 2022 OF prospect with the exciting combination of top-of-the-scale speed and left-handed power. He ran a 6.39 in the 60 for us, and he plays fast in game. It allows him to cover a lot of ground in the outfield and he has natural actions out there and a lot of arm strength. Those tools profile well in CF. At the plate Gage gets excellent barrel whip leading to the 102 mph exit velocity he registered. The ball jumps off his bat, and there is some looseness to his stroke that he triggers by pulling his hands in close to his body. Gage can impact the game in a lot of positive ways and merits close following.
That report echoes Hopkins' assessment of Gage, including his skills as an outfielder with great range.
"He's a plus-plus in centerfield," Hopkins says. "I always feel real good when the ball is hit out there. His range is incredible. He's been clocked at a 6.3 60, and at 6-3, 175 pounds, he can cover a lot of ground really quickly."
With the commitment to Texas Tech in his back pocket, Gage isn't ruling out a jump straight into professional baseball if he's drafted and the circumstances are right. 
"If I got drafted, that would be pretty cool," he says. "But wherever the Lord wants to take me, I just want to follow that path and that's where I'll go. So either way, I'm truly blessed."
In any case, Gage has more pressing concerns at the moment. The 2022 season starts February 14, he's again set some lofty goals, and he and his teammates are focused on defending their state championship. 
"There's still a lot more work to be done," he says. "Hopefully I'm only touching the surface of what I'm capable of, and I'm looking to go out this year and put up even better numbers. I want to break all the records I set before and repeat [as state champion], and keep this team close as a family like we were last year. That was the most family-like team I've ever been a part of. We were really, really close, and it was just a lot of fun to be on that team and play with the guys I love next to me."
Written by: Allen Allnoch
Read more from this issue: