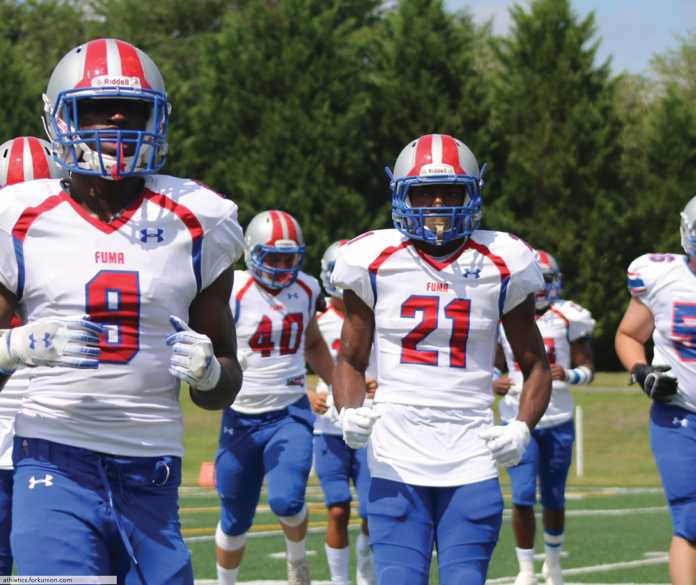 Fork Union Military Academy's Curious Story
Fork Union Military Academy in Virginia only has a reported enrollment of 378 this year. That number stays somewhat constant from year to year. Yet, somehow, this small military school has produced 67 NFL players, 13 of whom are playing in the NFL this season, as per Pro Football Reference.
Fork Union Military Academy was founded in 1898 and is an all-boys college prep academy, widely recognized as one of the best in the nation. But if you look at their football team's recent records, it certainly wouldn't appear so. The Blue Devils went 3-7 in 2017 and followed that with a 2-8 2018 campaign. In 2020, they even went 1-7 and lost all four of their home games.
So when was the last time they had a winning record? 2012, when they went 10-3 with senior quarterback Christian Hackenberg, who would go on to play at Penn State.
For a school that has produced WR Michael Thomas, QB Vinny Testaverde, RB Eddie George, and several other NFL stars, it seems odd that the high school prep team would be doing so poorly.
The odd part? None of the three listed players actually played for Fork Union's high school football team. They all played for the postgraduate team, but only for one year. After completing high school in their respective hometowns, all three players spent exactly one season at Fork Union before heading to college.
This makes much more sense, considering that the postgraduate team has much better records than the high school team. However, that team still rarely goes undefeated. Prior to going 5-1 in 2020, the postgraduate Blue Devils went 6-3 in 2019, losing to Valley Forge Military, Palmetto Prep, and Jireh Prep.
Players on the postgraduate team can only stay there for one year before they decide what they would like to pursue, whether it be football or another profession. Several NFL players were built by this one, single year.
Fork Union Military Academy is comparable to IMG Academy, but they are not quite the same. Many of the players who currently start in the NFL that played at IMG did so on the high school team, but the same cannot be said for Fork Union alumni. However, much of the credit given to developing these players goes to the high school aspect of Fork Union, which at times can be misleading, since the postgraduate team is often loaded with talent but not the regular high school team.
For the past century, this has been the key to Fork Union's success. Just one year of preparation at Fork Union has given future stars the boost they need to perform at the next level. Who will be the next NFL star coming off their postgraduate football roster?
Written by: Dhruv Mohan