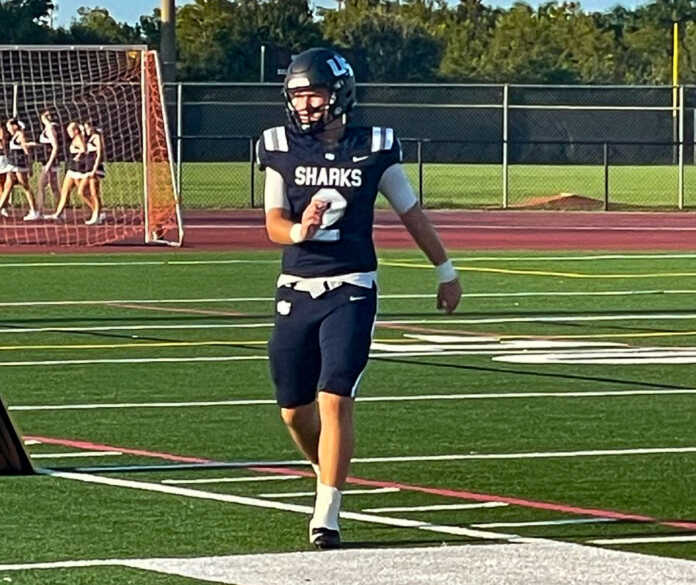 Based on his on-field play in August, NSU University senior quarterback Jett Yurgealitis has been voted the ITG Next Florida September 2023 Male Athlete of the Month.
Yurgealitis received 60% of the possible votes over three additional finalists. Also based on their play from August, those finalists were Norland quarterback Ennio Yapoor, Sneads running back Jason Patterson, and Naples running back Shawn Simeon.
Yurgealitis has been a key factor in NSU University's impressive start, which has the Sharks among the top teams in the SSAA at 4-0.
Yurgealitis played two games in August for the Sharks, beginning with a August 25 road trip to Coral Springs Charter to open the season. NSU University won that game 37-0, and Yurgealitis completed 13-of-29 passes (44.8 CMP%) for 285 yards and 4 touchdowns, while recording a 120 QB rating.
In Yurgealitis' other August outing – arguably his best showing of the season to date – he helped lead the Sharks to a 58-14 win over Pine Crest on August 31. Yurgealitis completed 19-of-26 passes (73.1 CMP%) for 322 yards and 6 touchdowns, rushed for 13 yards and a score on 4 attempts, and posted a 138.1 QB rating.
Across the month's two games, Yurgealitis completed a 32-of-55 passes (58.2 CMP%) for 607 yards and a 10:1 TD:INT ratio. Carrying over this success into September, Yurgealitis has posted a combined 62.9 CMP% in his first four games while throwing for 1,041 yards and a stellar 17:1 TD:INT ratio. Holding a 138.2 QB rating up to this point, Yurgealitis is quickly approaching his 2022 season totals in some statistical categories, and he could surpass some of those numbers in the coming weeks.
Congratulations again to NSU University quarterback Jett Yurgealitis, the ITG Next Florida Male Athlete of the Month for September 2023.