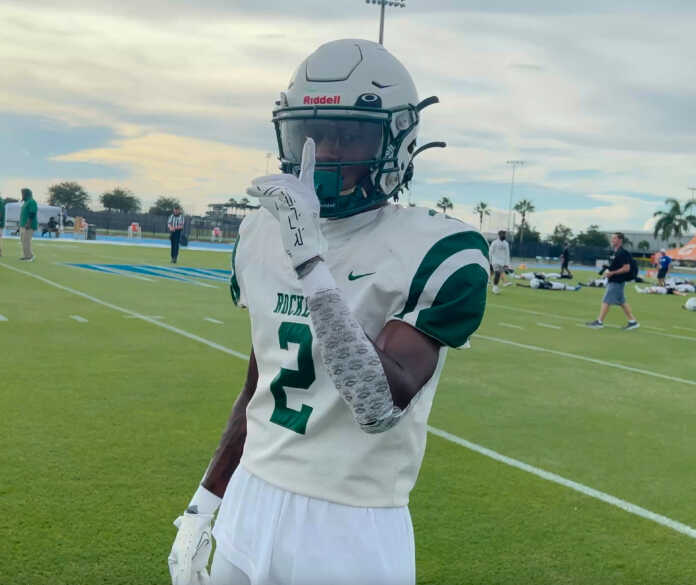 Here are our way-too-early Top-20 rankings (encompassing all classifications) for the 2023 Florida high school football season.
20. Cardinal Gibbons (2M)
19. Seminole (4M)
18. Bartram Trail (4S)
17. Apopka (4M)
16. Homestead (3M)
Cardinal Gibbons (11-2) is likely to be one of the top teams in 2M again next season, while the same could also be said for both Seminole (9-3) and Apopka (11-4) in 4M. Bartram Trail (12-1) was one of the best in Class 4S last fall, as was Homestead (11-3) in 3M, finishing the year as state runner-up.
15. Clearwater Academy International (Independent)
14. Cocoa (2S)
13. Osceola (4S)
12. Venice (4S)
11. Miami Northwestern (2M)
Clearwater Academy International (10-1) will be one of the state's top independent teams again, while Cocoa (11-3), which claimed the Class 2S state title last season, will return one of Florida's top wideouts in Ric'Darious Farmer. Osceola (10-4) and Venice (9-4) will again be strong after deep Class 4S playoff runs, while Miami Northwestern (6-5) should contend in Class 2M.
10. Lake Wales (3S)
9. Jones (3M)
8. Edgewater (3M)
7. American Heritage (2M)
6. Miami Columbus (4M)
The Top-10 in our way-too-early 2023 Florida high school football rankings begins with Lake Wales. The Highlanders are coming off a stellar 2022 season in which they went undefeated at 15-0 to capture the Class 3S state title. A pair of Class 3M teams, Jones (11-3) and Edgewater (12-1), sit at the Nos. 9-8 spots after deep playoff runs, while 2M runner-up American Heritage (13-2) is at No. 7. Class 4M state champion Miami Columbus (14-1) lies just outside the top five and will return one of the state's top players in linebacker TJ Capers.
5. Lakeland (4S)
Lakeland, which went undefeated (14-0) to claim the Class 4S state title in 2022, leads off the final five teams in our way-too-early 2023 Florida high school football rankings. The Dreadnaughts will return a few noteworthy names, headlined by Brayshon Williams and D'marius Rucker.
4. Miami Central (2M)
Miami Central had a case to be made as Florida high school football's top team last season, as the Rockets went undefeated at 14-0 to claim the Class 2M state title. They will again be among Florida's elite next season, with a roster headlined by names such as Lawayne McCoy and Earl Kulp.
3. St. Thomas Aquinas (3M)
The defending Class 3M state champions, St. Thomas Aquinas cruised to an undefeated 14-0 record last fall, making a case as the state's top team regardless of classification and finishing third in our national Top-10 rankings. The Raiders, led by returning names such as Chance Robinson, James Madison II, Jordan Lyle, and Ryan Mack, again should be one of Florida's best in 2023.
2. Chaminade-Madonna (1M)
Chaminade-Madonna was consistently one of the state's best last fall on their way to a 13-1 record and Class 1M state title, with their lone loss coming to Bishop Gorman (NV). The Lions will easily be one of Florida's best again next season, with key returnees including Jeremiah Smith, Joshisa Trader, Zaquan Patterson, Cedrick Bailey, Davion Gause, and more.
1. IMG Academy (Independent)
Coming off an 8-1 season, IMG Academy will again be among the nation's best in 2023. How loaded are the Ascenders in 2023? Here is a list of impact players who could all return: David Stone, Ellis Robinson IV, Ernest Willor, Jerrick Gibson, Jonathan Echols, Winston Watkins Jr., Jayden Bradford, Jimothy Lewis, and Jordon Johnson-Rubell.