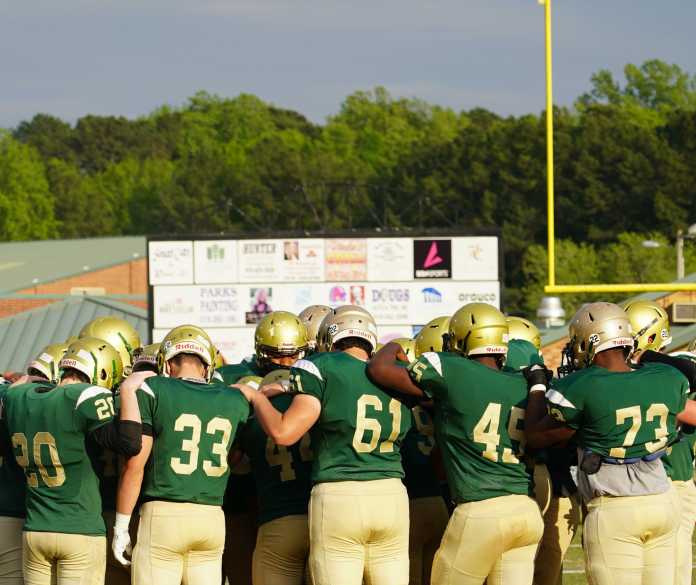 Football fans, we have officially reached the state semifinals of the 2022 Florida high school playoffs. Here are the 18 matchups on tap for Friday night and our predictions for the winners.
Class 4M
Our predictions for the Florida high school semifinals begin with Class 4M, where neither of the games are rematches from earlier this season. But that doesn't mean these won't be must-see contests. In fact, Apopka and Palm Beach Central has the potential to be a close, one-possession contest, while Miami Columbus is favored going into its showdown with Ocoee.
Miami Columbus 30, Ocoee 14
Apopka 20, Palm Beach Central 17
Class 4S
The two semifinals in Class 4S are as good as any across the state. The headliner is a rematch between undefeated Lakeland and Osceola; the Dreadnaughts won the first meeting 25-22. Venice and Buchholz have not faced off this season, but their game likely will be close throughout, potentially even being decided by one possession.
Lakeland 28, Osceola 21
Venice 30, Buchholz 24
Class 3M
The Class 3M state semifinal matchups are as big as any in the state this week, headlined by a showdown between Jones and Homestead that could potentially be a one-possession game. As for the other matchup, both St. Thomas Aquinas and Jesuit won state titles a year ago, and one of those teams will book a return trip to the state championship game.
St. Thomas Aquinas 35, Jesuit 17
Jones 30, Homestead 24
Class 3S
Undefeated Lake Wales is one win away from a trip to the state title game and is favored over Columbia to get there. Don't necessarily rule out a close game between those two, however, as well as between Mainland and Dunbar.
Lake Wales 30, Columbia 20
Mainland 28, Dunbar 20
Class 2M
The Class 2M state semifinal round is headlined by the American Heritage-Bolles matchup, where the Patriots are favored by at least a touchdown. In the other matchup, top-ranked Miami Central is a clear favorite over Lakewood.
Miami Central 35, Lakewood 14
American Heritage 30, Bolles 17
Class 2S
The Class 2S state semifinal slate is headlined by a Cocoa-Bradford game that features two elite defenses and is one of the best matchups in the state this week. That game easily could be low scoring, while Florida State vs. Bishop Verot also could be close but likely will produce more points.
Florida State 30, Bishop Verot 20
Cocoa 24, Bradford 14
Class 1M
Class 1M has one of the state's most intriguing Florida high school semifinals of the week as University Christian and Clearwater Central Catholic face off in a game that could be decided by one possession. Chaminade-Madonna is a big favorite over True North Classical Academy in the other contest. Our predictions:
Chaminade-Madonna 49, True North Classical Academy 14
University Christian 30, Clearwater Central Catholic 28
Class 1S
In Class 1S, Munroe picked up a big win a week ago over North Florida Christian and could very easily do the same this week in what could be a close game with First Baptist Academy. As for the other matchup, Trinity Catholic and John Carroll Catholic has the potential to be close as well, with the Celtics our pick as the favorite.
First Baptist Academy 30, Munroe 28
Trinity Catholic 33, John Carroll Catholic 17
Class 1R
Our Florida high school semifinals predictions conclude with the 1R slate, which is headlined by a showdown between undefeated Northview and Union County, a game that could go either way. Hawthorne is the favorite over Blountstown in the other matchup.
Hawthorne 24, Blountstown 14
Northview 28, Union County 27