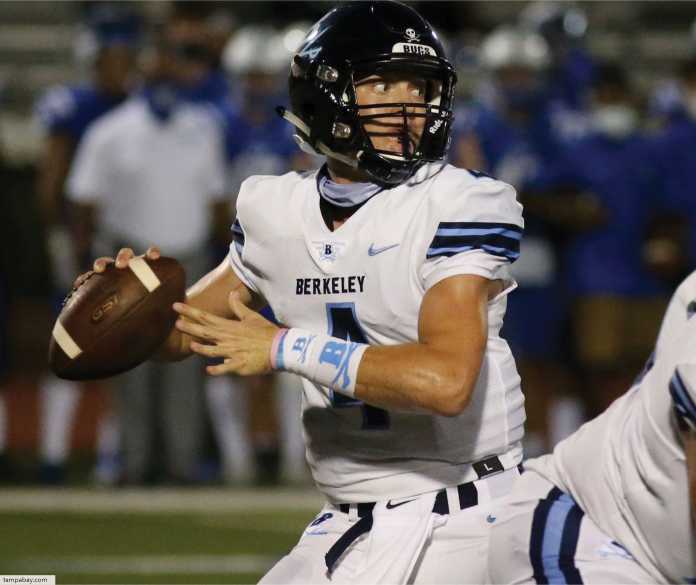 Florida Class 3A Football State Championship Preview: Chaminade-Madonna vs Berkeley Prep
As the 2021 Florida high school football state championships for Classes 8A-1A will take place across the next two weeks, there is arguably no game bigger this week than the Class 3A state title showdown between Chaminade-Madonna and Berkeley Prep on Friday night.
Chaminade-Madonna, arguably the top team in Class 3A all season, enters this contest at 10-1 on the year, and are coming off a dominant 38-3 win over Florida State in the state semifinal round a week ago. The Lions have completely dominated so far during the playoffs outscoring opponents a combined 131-3, as well as having allowed only nine combined points to opponents across their last five games dating back to October 22.
While the Lions defense arguably sticks-out the most, Chaminade-Madonna also displays an offense that averages 33.6 PPG led by star running back Davion Gause (1,349 yards, 13 TD), as well as quarterback Cedrick Bailer and receivers Duane Thomas Jr. and Edwin Joseph. The dominant Lions defense is headlined by the star pass rushing duo of Kenyatta Jackson Jr and Jamaal Johnson, both of whom have collected 14 sacks on the year, as well as others such as leading-tackler Denzel Johnson, Jeno Junius, Zaquan Patterson, and more.
Berkeley Prep on the other hand enters at an undefeated 12-0 on the year, as well as a 42-14 win over previously unbeaten Lakeland Christian in the state semifinal round last week. The Buccaneers own multiple impressive wins on the year, as well as having scored 35+ points in all three of their playoff games so far.
The Buccaneers own one of the top offenses in Class 3A averaging 39.8 PPG led by a dominant running game that features star running back Travis Bates (1,500 yards, 18 TD), as well as four-star Xavier Townsend who has amassed 25 total touchdowns on the season (18 rushing, 7 receiving). Berkeley Prep also features many key playmakers on the defensive side of the ball led by linebacker Tre Reader and star edge rusher Keon Keeley (16.5 sacks), a group that is only allowing 10.6 PPG to opponents this season.
As mentioned previously, this game is undoubtedly the top game of the week in Florida, and features two dominant two-way teams. Expect an entertaining game from start to finish, one that will likely be decided in the second half.
Prediction: Chaminade-Madonna 34, Berkeley Prep 17
Written by: Matt Melton