Deyon Bouie has just completed his high school football career and is set to graduate later this year. He leaves behind a legacy of football supremacy at Bainbridge High School and will be remembered as one of the most talented and exciting players to ever wear the Bearcat uniform.
He was a rarity for not only Bainbridge, but any high school football program, earning a starting spot on the varsity squad as a ninth-grader in the 2018 season.
That led to Bouie becoming a four-year starter at Bainbridge and playing a big part in the Bearcats' state championship in 2018. He registered 31 tackles (30 solo), had 18 passes defended, and finished with six interceptions, including two of those returned for a touchdown. He also was credited with 12 passes broken up. On offense, the phenom freshman finished with a modest nine receptions for 210 yards and a touchdown. 
Young boy from the city , putting on for Bainbridge Ga ♻️🏙🏙🏙 pic.twitter.com/wtd1A4UGmB

— CountedOut3️⃣🖤 (@BouieDeyon) January 10, 2022
Bouie was born in Bainbridge, Georgia, in 2001, and has called the port city home ever since. He has split time during his childhood and early teen years living with his mother, Maria Bouie; his aunt, Angela Bouie; and his grandmother, Shelley Bouie. He said he is close with his entire family.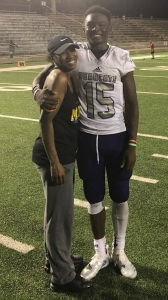 "I'm really close to my family, and I try to talk to them as much as I can," he said.
That includes daily calls with his grandmother and mom, who is in the Army and lives in Atlanta. He said he also tries to talk to his dad at least once a month. 
Bouie said that early on he was more drawn to basketball than football. 
"I was getting hurt playing football, just minor stuff, but I was really wanting to play basketball only," said Bouie. 
That was when one of his coaches noticed his football talents and convinced him not to give up. 
"Coach Patrick Clark was my seventh-grade coach and would not let me quit football," said Bouie. "He told me to stick with it, so I did." 
Clark wasn't the only one who noticed how talented young Bouie was on the football field. His current high school head football coach, Jeff Littleton, picked up on Bouie's knack for the game back then too.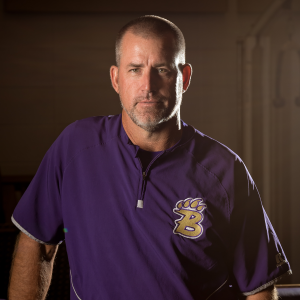 "I first saw Deyon playing for our middle school team as a seventh-grader," said Littleton. "Deyon really stood out. He was bigger and faster than everyone else." 
Littleton also recalled that when Bouie reached the seventh grade, certain people were trying to convince him to play basketball only. 
"They were trying to turn him into a basketball-only type of player," Littleton said.
But, like coach Clark in the seventh grade, Littleton told Bouie that he could do whatever he thought was best, but that he felt he had a great future as a football player. 
"Deyon was and still is one of the best football players and all-around athletes I've ever seen," said Littleton.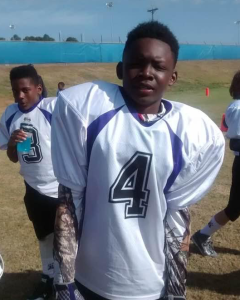 Other locals were taking note of the young Bainbridge native and his over-the-top abilities. When former Bainbridge football standout Rohan Gaines returned home from college, his father, Maurice Gaines, (who happened to be the Decatur County School System Chief of Police), told his son about the local rising star. 
"My father told me that there was a very special young man that I needed to keep an eye out on. He was talking about Deyon," said Gaines. "He said that this young man was going to be a special player, and he was right." 
That was the first meeting between the former and future Bearcat greats, and while neither knew it at the time, that would be the beginning of a special relationship that would ultimately affect and alter each of their future paths.
Gaines was now a standout defensive back at Arkansas, where he would be named to the Freshman All-American Team in his first year as a Razorback. He would also go on to play professionally for the Los Angeles Rams after signing on as a free agent in 2016.
Soon afterwards, his playing career ended, and Gaines knew he wanted to pursue a coaching career. That prompted a return to his hometown and a job as an assistant on Littleton's staff. It was then that he would reconnect with Bouie, and, according to Gaines, the middle-school-aged, "snotty-nose kid" that he knew back in Bouie's seventh-grade season was a different young man now.
"His talent was just off the charts, and his knowledge of the game was crazy," said Gaines. 
The 2018 season was a great start for both Gaines as a coach and Bouie's first season as a high school starter. The team won the state championship, and all was grand in Bearcat land.
The following season would not produce another state title, but a 7-4 record and trip to the playoffs wasn't that bad.
The 2020 season would see Bainbridge win the region with a perfect record and make a run at another championship. But, for Bouie, an injury in the offseason kept him out of action for his entire junior year. The injury set Bouie back not only physically, but mentally.  
Gaines said he began to notice that Bouie had become "misguided" and was making some bad decisions. Gaines acknowledged that it was at this time that the relationship between himself and the star player had become much more of a mentoring relationship than just simply a player-coach relationship. 
"I could just tell he needed a mentor, for both on and off the field, and I was glad to fill that role," said Gaines. 
He said that Bouie began texting him almost every night around 9 or 10. That's when the coach and Bouie's mother began having discussions about Bouie possibly moving in with the coach, and that's what the player wanted as well.
"Deyon came to me and asked if he could move in with me, and I told him to come on," said Gaines.
That would come with some hard rules, however.
"I told him that if he was going to live with me, there would be rules, such as being in every night by a certain time," Gaines said.
This allowed the bond between player and coach to grow stronger by the day, with Gaines pushing Bouie harder than the other players.
"I see how special Deyon can be, and I want to prepare him to be a college football player and maybe more," said Gaines.
"I think we should have the #1 class…

…what we're gonna do, how we're gonna impact A&M, and what we're gonna build there – the culture." @BouieDeyon + @TXFilmWorks = 🔥 pic.twitter.com/ybR46ALcYr

— TexAgs Recruiting (@TA_Recruiting) November 23, 2021
That led to Gaines being there with Bouie through the recruiting process, which worked out well for both of them. After a recruiting trip to Texas A&M, both Gaines and Bouie met with Aggies head coach Jimbo Fisher and another former Bainbridge standout, Nick Williams. Williams is a defensive analyst for Fisher and the Aggies, and after Gaines had accompanied Bouie on the visit, the Aggies came calling for them both. 
"I received a call from Nick [Williams], telling me that Texas A&M wanted me to join their staff," Gaines said.
But, as Gaines quickly pointed out: "That did not mean that Deyon and I were a package deal. I told Deyon that he needed to do what was best for him. That was his decision to do what he needed to do." 
It turned out that Bouie would be headed to Texas A&M, too. After initially verbally committing to The University of Georgia, the four-star standout switched his allegiance to the Aggies. Despite what some may think, Gaines and Bouie's live-in situation will not continue at College Station. 
"Deyon's going to live in the dorm with the other players, and I have my own place," said Gaines.
Of course, if Bouie needs any help, he knows his friend, mentor, and coach is just a text away.
"I'll always be here for him," Gaines said.