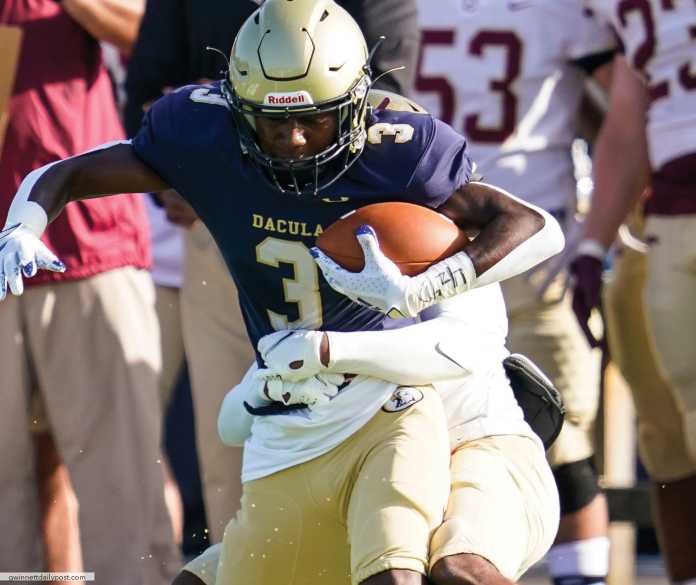 Could anyone have predicted that Dacula would end up in the 6A semifinals before the season started? Those who did certainly lost hope after a dismal 1-3 start to the season. However, Dacula's turnaround had less to do with the play on the field and more of the belief within themselves to stun the state.
After a season-opening win against Tucker, the Falcons had to face a Brookwood team they lost to in 4 overtimes last year. This time, it wasn't even close. Dacula lost 44-7 and followed that horrendous performance with a 35-7 loss against rival Mill Creek. Granted, both these teams would end up making the 7A quarterfinals and the Hawks would even sniff a #2 ranking in the polls midway through the year. A nice, morale-boosting game against Mountain View relieved the Falcons of the pressure they had faced the past two weeks. At least, it should have. The Bears, who had only won one game in 2020, stunned Dacula 24-21, handing the Falcons their third consecutive loss. This marked the first time that Dacula had lost three straight home games since 1966, the third year of the school's existence. Through just four games, the season already appeared to be over.
Entering region play, the Falcons took care of Lanier and Winder-Barrow and scored a combined 94 points in those two games to partially right the ship. After crushing Habersham Central, Shiloh, and Central Gwinnett, Dacula had now established a 5-game win streak. Maybe the loss to Mountain View had sparked a fire in the Falcons after all. However, Buford brought the fire extinguisher the following week and stuffed Dacula 42-7 on live television.
Dacula still entered the playoffs as a 2-seed, but a weak one in the eyes of many. They took down Pope in the first round just as they were projected to do, but an impending road trip to 4th-ranked Brunswick struck some fear into the Falcon faithful. After a back-and-forth battle early, Dacula pulled away for a 29-21 upset victory to shock fans across the state. Facing a Johns Creek team that took down Rome in the first round, Dacula never batted an eyelash, rolling to a 35-0 lead and eventual win. How had this team, who had lost to Mountain View and had momentum extinguished against Buford, suddenly appeared in a position to secure a spot in the state championship?
Dacula is no doubt this season's Cinderella team. With star RB/LB and Georgia Tech commit Kyle Efford, the Falcons have somehow found a way to fight the analytics and prove that they belong. The question remains: will they get it done against 6A power Langston Hughes this Friday? Even if they fall just short, 2021 Dacula will be remembered for its grit, determination, and unwillingness to go down without a fight.
Written by: Dhruv Mohan