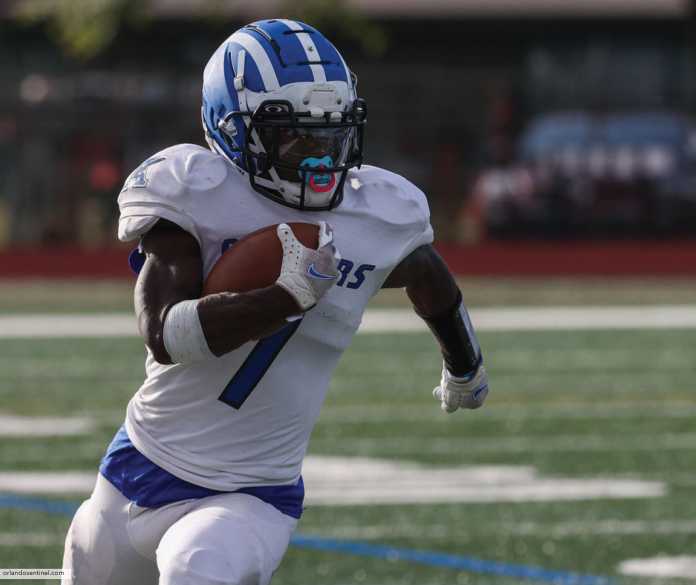 Predictions for the Florida Class 8A-1A Semifinals
It's time for the semifinal round of the 2021 Florida high school football season. Here are predictions this week's matchups in each classification.
Class 8A
Venice 28, Miami Columbus 14
Treasure Coast 24, Apopka 28
Columbus booked a trip to the Class 8A semifinals with a win last Friday night over Palmetto in the third meeting between the two this season, but awaiting in the next round is a road game at Venice, arguably the top overall team in Class 8A. You could certainly argue that Venice/Columbus is the Indians game to lose, while Treasure Coast/Apopka will likely be a close game throughout.
Class 7A
Tampa Bay Tech 28, Lake Gibson 21
St. Thomas Aquinas 35, Buchholz 24
Class 7A provides two phenomenal matchups when undefeated Tampa Bay Tech hosts Lake Gibson, as well as arguably the top matchup in the state when St. Thomas Aquinas hosts Buchholz. Both games should be close, with St. Thomas Aquinas/Buchholz as likely a high-scoring contest between two impressive offenses.
Class 6A
Jesuit 24, Miami Northwestern 21
Pine Forest 17, Jones 24
Jesuit puts an undefeated season on the line against Northwestern in a home matchup that could go either way. Not only will be the matchup between those two be close throughout, Pine Forest hosting Jones is also a toss-up, but Jones is a prime candidate to pick up a semifinal road win.
Class 5A
Merritt Island 28, Sebring 14
Miami Central 45, Baker County 14
Miami Central should cruise to a trip to the Class 5A state title game, while the Merritt Island/Sebring game will likely be close. Expect both Miami Central and Merritt Island to pick up wins to reach the 5A state title game.
Class 4A
Cocoa 30, Bolles 28
Cardinal Gibbons 42, Lakewood 21
Another strong choice face the top semifinal game this week in the state is Cocoa hosting Bolles in a matchup of two dominant teams. That game will be one of the most must-see in the state this week, while Cardinal Gibbons should cruise to a trip to the Class 4A state title game.
Class 3A
Chaminade-Madonna 35, Florida State 14
Berkeley Prep 24, Lakeland Christian 14
Chaminade-Madonna will likely pick up a big win to clinch a spot in the Class 3A state championship, while the other game will likely be close. In what will be a battle of unbeatens, Berkeley Prep you could certainly make an argument are the favorite at home.
Class 2A
Orlando Christian Prep 21, Trinity Christian 35
First Baptist 14, Champagnat Catholic 35
The Class 2A semifinals feature an opportunity for two road upsets with the likeliest being Champagnat Catholic over First Baptist. The more-intriguing game comes from Orlando Christian Prep hosting Trinity Catholic, arguably the overall team in Class 2A.
Class 1A
Hawthorne 38, Chipley 10
Chiefland 14, Madison County 35
The Class 1A semifinals is arguably the most-predictable of any classification in the state this week with Hawthorne and Madison County liking cruising to big wins. While Hawthorne will host their semifinal matchup, Madison County has to travel to Chiefland, and will not be an easy task against the 11-1 Indians. 
Written by: Matt Melton