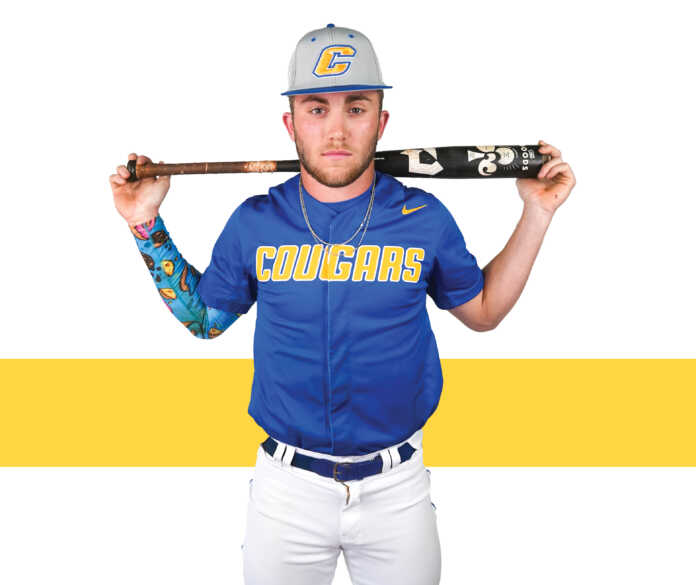 Crisp County senior Dylan Davis is a standout outfielder for coach Kyle Kirk's Cougars baseball team. As a sophomore in 2021, he was recognized for his defensive prowess by being named to the Region 2-3A All-Region Second Team, and he was Outfielder/Defensive Player of the Year. Then in 2022, he was selected as the Region 2-3A Offensive Player of the Year after an outstanding season at the plate that included a .558 batting average. According to Kirk, Dylan had 24 hits, 16 of which went for extra bases, including 8 doubles, 2 triples, and 6 home runs. Additionally, he scored 24 runs and had 29 RBIs.
Davis was a two-sport star at Crisp County, serving as the quarterback for coach Lawrence Smith's football team. A thumb injury incurred on the football field forced Davis to make a decision. He chose to play baseball only, bringing an end to his football days.
But no need to worry about Davis. He has a plan – even if baseball doesn't work out, either.
"I hope to have a future in baseball, but if that doesn't work out, my plan will be to finish tech school and go to Oklahoma and weld on the pipeline," Dylan said.
Davis is already preparing for that possibility, just in case: He is a dual enrollee at South Georgia Tech, where he studies welding.
Dylan said he got the idea of heading to Oklahoma for pipeline work during a welding class he took his freshman year.
"The instructor of that class told me about opportunities to go out there and weld on the pipeline, and that people could make really good money," Davis recalled.
His instructor told him he had the talent to be a very good welder.
"There's an art to it, and he told me I had a knack for welding," Davis said.
Of course, Dylan has a knack for baseball as well.
"Dylan has developed the skills and work ethic to have shot at playing baseball at the college level," Kirk said. "With Dylan, whomever he signs with will get a well-rounded young man. He will be a steal for the program that is able to sign him."
While Kirk is his baseball coach at Crisp County, he also recognizes that whatever Davis decides to do, there's no doubt he has what it takes to succeed.
"I've had the pleasure of coaching Dylan for almost two years now, and in that time I've watched him mature into a strong leader, not only for his team, but in his school and community," Kirk said. "Dylan's teammates voted him into our first Leadership Council that helps the coaches make decisions for the program. We strive to build strong men into our program here at Crisp, and Dylan will become one as an adult."
Dylan's father, Jeff, said if baseball or welding doesn't work out, then he can stay where he is.
"If he wants to stay at home, we'll support him all the way," Jeff Davis said. Dylan's family support network also includes his mother, Aaron, and his sister, Joy.
However, something tells us Dylan won't be sticking around at home. But thanks for the offer anyway, Dad.