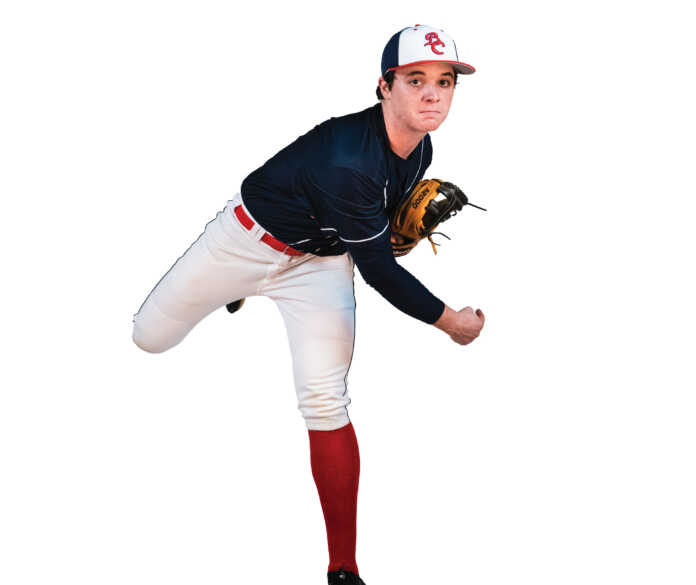 Brooks County High School baseball standout Matthew Ferrell is enjoying his final season as a member of the Trojans program. Head coach Shawn Sharp said Matthew is a joy to coach, and he doesn't mind showering the senior with praise.
"Matthew is truly the poster child for the ultimate baseball player," Sharp said. "He is one of our team leaders. He has a great head on his shoulders, is very easy to coach, and he works very hard. We never have to worry about his grades."
Sharp said Matthew can play any position, and the coach puts him wherever he is needed in any given game.
"I am comfortable playing him anywhere on the field, although we play him mostly at pitcher, catcher, and shortstop," the coach said.
At the plate, Sharp said Matthew rarely gets a sign with runners on.
"I never give him a sign," Sharp said, acknowledging his confidence in Ferrell's ability and baseball IQ. "He always has the green light. He's just the kind of player that you don't take the bat out of his hands."
In addition to his contributions to the Brooks County squad, Ferrell played travel ball for two seasons with Five Star Sports of Valdosta, and he played on their national team based in Tifton.
"I love the game of baseball," Matthew said. "It's all I've ever done."
Following his graduation from Brooks County, Ferrell will attend Black Hawk College in Galva, IL. He has received a full scholarship to attend one of the top-rated colleges in … livestock.
That's right. In addition to being a talented Brooks County baseball player, Ferrell raises and shows pigs in livestock judging competitions. As with baseball, he's good at it.
Matthew lives with his parents, Ben and Jennifer Ferrell, on a 300-acre farm in Quitman, where he has been raising and showing pigs for the last 12 years.
"I grew a passion for livestock when I was younger," he said.
In addition to batting over .400 and lighting up opposing hitters on the baseball diamond, Matthew had a great showing at one of his final livestock shows before heading off to college.
At the Georgia Junior National Livestock Show, held February 22-25 at the Georgia National Fairgrounds in Perry, Matthew took first place in both the Barrow Show and the Gilt Show. He also was crowned Division 7 Champion and Overall Champion, Market Gilt, in the Gilt Show category, while capturing third place overall in Division 6 and fifth overall in Market Barrow in the Barrow Show category.
Matthew is wrapping up his senior season with his Trojans baseball teammates, also.