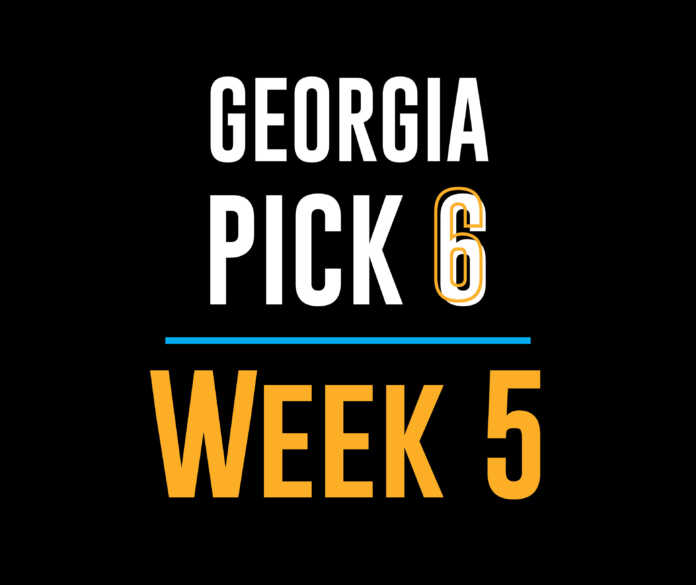 Welcome to our weekly Pick 6, where I break out my crystal ball and try to predict the winners of a half-dozen games I've selected. I don't think I've had a perfect week yet – but maybe that all changes this week! My predictions for Week 5 of the Georgia high school season include our ITG Next Game of the Week, Carver Atlanta at Buford. Can Carver come into Tom Riden Stadium and do what no other team seems to be able to do: hand the Wolves a home loss – or any loss for that matter? Read below to see what I have to say about that game and whether I predict an upset of the Wolves.
Another game in our Georgia high school Week 5 predictions features the team we saw last week, the North Cobb Warriors, who travel to McConnell Talbert Stadium to take on the Northside Warner Robins Eagles led by coach Ben Bailey. Other games include Sandy Creek at Collins Hill, Warner Robins at Dutchtown, and Perry at Peach County.
Here is my best effort at picking 6 of the most intriguing games from around the state in our Pick 6 predictions for Georgia high school Week 5.
ITG Next Georgia Game of the Week
Carver Atlanta at Buford
A few media outlets and sports writers are saying Buford is showing signs of vulnerability. That's what happens when a Buford opponent actually keeps it close, as Mallard Creek did in its Week 2 matchup against the Wolves. Or when North Cobb actually had the lead against Buford two weeks ago before dropping the 45-28 decision at home. The bottom line, though, is that Buford seems to fight through any perceived shortcomings to win it in the end, and that's why the Wolves are undefeated.
Carver Atlanta would love to come in and hand them their first loss of the season, but with Bryant Appling's team coming off a bye week, they should be good and rested and ready to go. Still, Darren Myles' Carver team knows a thing or two about winning, too. Can they pull off a win in this one? Everyone will be watching, as this is the ITG Next Georgia Game of the Week.
Phil's Pick: Buford 42, Carver 28
North Cobb at Northside Warner Robins
What a great matchup this should be. Ben Bailey's Eagles have had a bye week to get over a rough-and-tumble rivalry loss to Warner Robins, 39-35. It was a physical game, but Northside played well enough to win. They are still a very good 2-1 team, and they'll be eager to get back at it.
Waiting on the Eagles will be another good North Cobb Warriors squad led by head coach Shane Queen, who will be looking to exact revenge for last season's overtime loss to Northside. It will be fun to keep an eye on the matchup between these team's leaders, Warriors senior RB David Eziomume and Eagles star safety Ricardo Jones. Things won't get any easier for these teams the rest of the way, so a win can help serve as a springboard for the remaining schedule. The question is who will it be? I'm torn on this one, but I think the home field advantage may make the difference.
Phil's Pick: Northside Warner Robins 28, North Cobb 27
Perry at Peach County
First-year head coach Marquis Westbrook took over a Peach County team that was decimated by graduation losses, and it didn't help that QB Colter Ginn decided to transfer before the start of his senior season. The team he left for, Perry, will visit Fort Valley this week. The Panthers have enjoyed one of the most remarkable turnarounds in state history under head coach Kevin Smith, who has led the Panthers to the Region 2-4A title in each of the last three seasons. His team has finished 17-1 in region play over that time.
Westbrook and his young Trojans are looking for that big upset win to help gain some confidence heading into the rest of the 2023 season, including region play. A win over Perry would be just what the doctor ordered.
Phil's Pick: Perry 35, Peach County 30
Warner Robins at Dutchtown
Dutchtown shocked everyone last season when they came into Warner Robins in Week 5 and knocked off the Demons 14-7. That fueled a 7-2 run the rest of the way and into a semifinal appearance in the 5A playoffs, where their magical season came to an end against Ware County. Still, for a Bulldogs team that found respect hard to come by with most high school followers around the state, the win over Warner Robins seemed to have changed the perception.
There will be no sneaking up on the Demons this time around, as you can bet head coach Shane Sams will remind his team of last year's loss every day this week. The Demons have added former Jones County QB Judd Anderson to the roster, which made an already talented squad that much better. Dutchtown wants to prove last year was no fluke. Can they make it two years in a row over Warner Robins?
Phil's Pick: Warner Robins 35, Dutchtown 20
Cedar Grove at Mill Creek
Talk about a battle of the Titans. Coach John Adams Saints have become known as giant killers, while Josh Lovelady's Hawks have really established themselves as the giant with their dominant 70-point performance in last season's Class 7A state championship matchup with Carrollton.
The Saints, who have won four state titles in the last seven seasons, are showing some kinks in the armor, mostly on the defensive side. Known for their stellar play on that side of the ball, Cedar Grove gave up 129 points in its first three games to start this season. Compare that to just 40 points they gave up in last season's first three opponents, and it's obvious that Adams' team has missed the many key defensive standouts who graduated. Still, Mill Creek scored the most points on Cedar Grove last season in a 52-36 win. However, neither the Hawks nor the Saints are the same team that took the field last year, but Cedar Grove needs a quick defensive turnaround if they are to have a shot in this one.
Phil's Pick: Mill Creek 42, Cedar Grove 31  
Sandy Creek at Collins Hill
The defending state champion Patriots have picked right up where they left off in 2022, with a strong start to the season so far. Former Central Carrollton coach Umbrah Brown was named as the Sandy Creek head coach this season following the sudden and unexpected retirement of previous head coach Brett Garvin after the championship game. For anyone expecting a falloff from the Patriots, it hasn't happened. They returned several of the playmakers responsible for last year's success, including junior Dalen Penson, who took over the QB position with the departure of Geimere Latimer, who now plays cornerback at Jacksonville State. His younger brother is Amari Latimer, who led the team in rushing last season as a freshman and is again their go-to threat in the ground game. He is averaging over 10 yards per carry and will be counted on to carry the load against the Eagles defense.
Speaking of the Eagles, head coach Drew Swick will rely on his own top rusher, Jacari Thomas, to help control the ball against the Pats defense. Swick is looking to return the Eagles to prominence after they struggled last year with just four wins. A win over Sandy Creek would give him and his team a huge boost. We conclude our Georgia high school Week 5 predictions with this:
Phil's Pick: Collins Hill 29, Sandy Creek 28