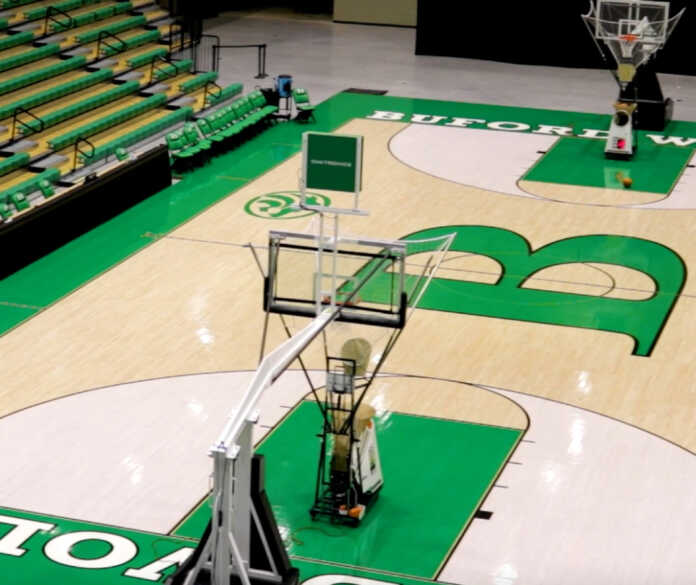 So close. That was the feeling among the Buford High School basketball players, fans, and head coach Benjie Wood after the Wolves had worked their way through the state playoffs, winning four straight contests, including an exciting one-point victory over the Sequoyah Chiefs in the semifinal game. That win had put Wood's Wolves into the state title game against a talented Grovetown squad, who themselves had advanced with a five-point win over Langston Hughes in their semifinal matchup.
In the Georgia Class 6A basketball final, the Wolves found themselves trying to dig out of a 14-point hole against a red-hot Warriors team that had entered the final on a 17-game winning streak. And now here they were, erasing the double-digit deficit and drawing to within one point. But that was as close as Buford would get as Grovetown pulled away to win by seven and capture the championship.
Despise that loss, Wood loved the fight in his team.
"I was very proud of our kids in that game," Wood recalled. "They had fallen behind by double digits, but they stuck together, and stayed patient. We just couldn't get it done."
Wood knew he had four seniors returning that he could build his 2022-2023 Buford Wolves basketball team around, including 2 starters, and that's exactly what he's done. The current team is on pace to match the regular-season win total of last year's team, but Wood says that's where the comparisons begin end.
"This year's team is completely different than last year's," the second-year head coach says. "We've had to change our system to match our kids' abilities."
That change may have been too much too early, as Buford dropped its first two games of the season.
"We lost both of those games on our last possession," Wood said.
The third game on the schedule was a familiar foe: the team that had defeated Buford for the state championship the previous season. Wood said his team came into game ready for the rematch with Grovetown and "shot the lights out. We beat 'em by 24 points."
Buford would then reel off 12 wins in its next 15 games.
"That was the turning point of the season," Wood said.
Buford, ranked 17th in our Georgia Top-25 at the time of this writing, has been led by senior London Williams, who Wood called "our centerpiece. He's our rock. He's the guy you can count on every night. He's our leader."
And where does Williams play, exactly? Everywhere, according to Wood.
"He does a little bit of everything for us," the coach said. "He is 6 feet, 5 inches tall, but if I need him to play point guard, he can do it."
Williams leads the Wolves in both scoring and rebounding, averaging 20 points per game and 8 rebounds per night.
David Burnette is the team's defensive specialist. The other two seniors are Cam Kelly and Davis Church.
"Cam was a reserve for us last year, but he has worked his way into the starting lineup," said Wood. "Davis is our knockdown shooter, providing us with instant offense coming off the bench."
What does Wood think about this year's team and its chances of getting another shot at the end?
"Honestly," he said, "I think we have what it takes."