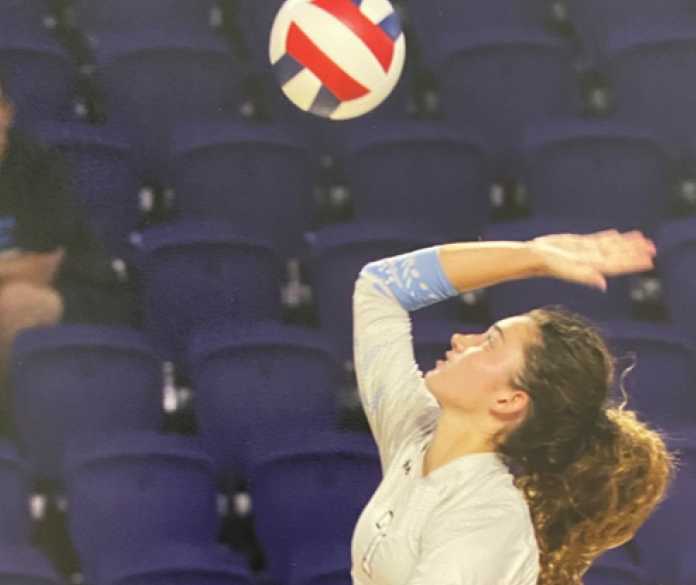 Block This! Kendall Mignerey
Kendall Mignerey is a senior at Ponte Vedra High School (PVHS) and a varsity volleyball player. Now she's about to take her skills D1. Mignerey committed to Florida Atlantic University (FAU) to play beach volleyball. Mignerey has been playing the sport for as long as she can remember. She started taking the sport seriously when she was in third grade and got the chance to play club volleyball. When Mignerey was in middle school, she got a taste of beach volleyball, and she hasn't put the ball down since. 
Although she found the sport organically, it seems to run in her bloodline. Her mother Robin Mignerey is the head volleyball coach at PVHS and her older sister currently plays volleyball at FAU. Although having your family so close has its advantages, it does come with some challenges.
 "It can be really stressful at times because the expectations are definitely higher being the coach's daughter than just a regular player," said Mignerey. "They hold you to a certain standard. They know how you play, how well you're able to play. They know when you're having an off day. It's definitely overwhelming but it's something that I've enjoyed. There's definitely lots of positive aspects and advantages to having a mom as a coach that other players might not have."
Although Mignerey's mom always pushes her to do her best, it's for a good reason. PVHS volleyball is one of the best teams in the area, winning four state titles and going for their fifth. Although the team is excited about the journey, the road to get there may be tough. This year the Sharks are in a new playing field and a new class. But the team is very resilient and ready to tackle any obstacle that comes their way. Mignerey believes that their biggest obstacle as a team is staying consistent. She says it's more of the mental aspects of game than the physical game that the team needs to work on. 
"When we do get down, getting out of our hole and snapping back into our momentum can be a challenge. And not letting any small problems mess us up like if someone gets quarantined… we can't let that mess us up."
Although there are things the team needs to work on, they have many things they do well.
 "Our offense is very strong," she said. "We have some big hitters. We have a setter that makes the offense what it is. At the beginning of the year our defense part wasn't quite there but we're getting there. All of us along with our block to the digging and back row work together. You know when we go and play other teams, we're like, "aww this team is so good they dig everything" and I think it takes a certain motivation and skill set to be able to go all out and dig everything but that will come overtime as we have more practice and elevate our defense so we can transfer that to our unstoppable offense."
 With Mignerey being a senior on the team she knows how to be a leader. Her consistent playing skills and ball control make her teammates want to look up to her. "You know I'm not something super flashy. I just stay consistent. I'll get a kill every once and a while. I don't put away every single time. But I think I'm a consistent player that others can look to."
Although Mignerey is confident about her teams' bond, the thought of not winning another title is a scary thought.
"Yes, there's a lot of pressure, you know I look at girls in the years past, they probably know we might be able to do it this year and it's part of not letting them down. Not letting friends, family and peers down. Especially family and my sister; big pressure there to make it to state this year again. Its definitely a lot of pressure and teams are going to see that we have a couple state championships and they're going to come hungry and they want to beat us, but we just have to keep working hard for it."
Because there's so much pressure that comes along with being on an elite team, it's important to have some time for yourself. Whenever Mignerey's stressed or needs something to help her get away from it all she loves to go to the beach. 
"I like to go to the beach a lot. Sit there, tan, go in the ocean, I like to ride my bike, go on walks. I think that's very stress relieving. Nothing to crazy."
Written by: Janay Brown