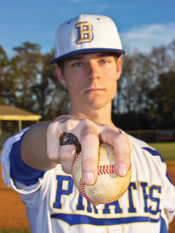 On a cold February night at Edo Miller Field in Brunswick, baseball coach Al Otte watches his Pirates team go through warm-up drills before practice. The 50-degree weather serves as a biting reminder that summer is still a long time away. But practices like this one build region contenders.
"Stewie," Otte calls out to his senior shortstop Ryan Stewart.
When Ryan Stewart was in eighth grade he was good enough to be recognized as a Rising Star by In the Game's Southeast Edition. Now a senior shortstop for the Brunswick High Pirates, he has added a stellar, better than perfect grade point average to become our Academic Athlete.
Stewart has spent the past four years playing baseball, hitting the books, and winning accolades for both. National baseball talent ranking service PerfectGame.org praises Stewart's arm strength and improving power, but also mentions that he is "a very good student," which may be an understatement. A regular on the all A honor roll, Stewart has a 4.1 grade point average in advanced placement classes and he's among the top 10 in his graduating class. He is also a member of the BETA Club and the National Honor Society. He is a Georgia Merit Scholar and has been an Exchange Club Student of the Month.
On the diamond, his 5'10", 145-pound frame disguises a powerful arm that he uses both on the mound and at shortstop. Shortstop is his favorite but, he admits he wants to be on the mound in big games. He usually gets his wish as one of the top pitchers in the Pirates rotation. Scouts have noted his fastball at 82 mph and a 69 mph curve. Primarily, he is seen as playing middle infield at the collegiate level.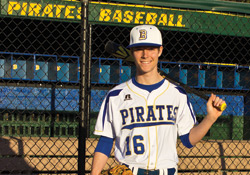 His drive to win started at an early age when Stewart turned his back on T-ball in favor of a more competitive brand of baseball. During his first T-ball game, he gunned a throw to first base, beating the runner. Despite what would normally have been an out, the runner was returned to first base because T-ball rules do not count outs or runs. Stewart turned to his father in amazement. "He wants to know what the point is," says his father, Chris Stewart. "He only played one year of T-ball before he moved up to where the outs, hits and runs counted."
After being featured as an In the Game Rising Star, Stewart went on to start his freshman year at Brunswick High School. He batted .319 his sophomore year and was named to the All-Region team. Stewart hit .318 in region 1-AAAAAA as a junior with 12 doubles and two home runs to be named as honorable mention to the all-region team. He also had one of the most memorable moments of his baseball career last season against archrival Glynn Academy.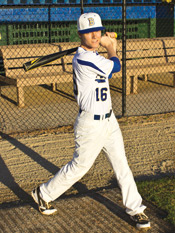 The Terrors pulled to within a run of the Pirates only to see their hopes of winning fly over the left field fence when Stewart blasted a lead-off home run to put the Pirates back in the lead for good. Scouts believe Stewart is showing signs of increased power in his hitting. During his high school years, Stewart has not hit a lot of home runs but he does remember his first. "It was a walk-off with two outs."
Stewart had to get used to playing at the high school level which, he said, was much faster than playing in middle school and requires players to anticipate rather than relax and wait. The level of competition is also better with more mature players who are bigger and stronger. Pitchers are able to throw in the upper 80s and even over 90 mph. "You're not going to overpower anybody."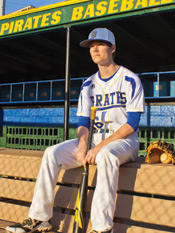 The son of Chris and Mary Stewart of Brunswick, Ryan encourages up and coming players to pay attention to detail because there is so much to learn. "Everything has to be as efficient as possible." If given the choice of a state baseball championship or a perfect score on his college boards, Stewart said he would choose the state title because it takes a total team effort to achieve.
His analytical approach to the game has helped him on the baseball diamond and in the recruiting process. Schools are much more likely to offer a scholarship if the player also excels in the classroom. Among the schools looking at Stewart is Piedmont College in Demorest, Georgia. He has received an offer from the Lions and they are at the top of his list for next season. He toured the campus and has met with Piedmont's veteran baseball Coach Jim Peeples. Stewart hopes to add more size and power before heading to college in the fall.
Otte believes Stewart will not have any problems at the next level.
"It is one thing to have a skill set but to have the mental ability to apply that at a high level is a great advantage for any athlete."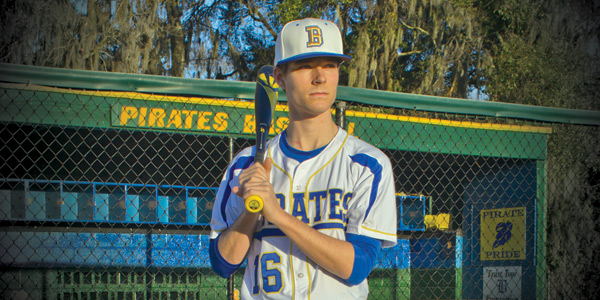 Yesterday and Today:
Ryan Stewart is the first student-athlete to be featured twice in the Pages of In The Game's Southeast edition. Four years ago, Stewart was a Rising Star for Needwood Middle School – a pitcher who always kept a dollar bill in his pocket, wore the same socks with a hole in them and the same necklace during every game. He also had a fondness for sunflower seeds which he kept in his mouth almost constantly.
"I still eat them on occasion," Stewart admits. The dollar in the pocket has been retired. Much has changed in the past four years but two things that have remained constant are his abilities at shortstop and his academic prowess. This go-round, Ryan is recognized as the Academic Athlete for leading the Brunswick Pirates on the baseball diamond and in the classroom. Stewart is approaching graduation this spring with a grade point average above a 4.0. With advanced placement classes his adjusted GPA is 4.1 placing him in the top 10 of his class. His academic accomplishments have won him membership in the Beta Club and the National Honor Society.
Even on the field you can see that what was once an up and coming kid with solid skills has matured into more than just a good ball player. Along the way, he has also been a four-year starter for the Pirates baseball team and is the captain this season. "Ryan supplies great leadership and mentorship for our younger guys," says Brunswick baseball coach Al Otte.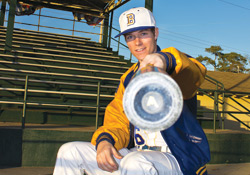 Being named a Rising Star four years ago added some pressure to Stewart, who said it was primarily self applied. "I put a lot of it on myself. I didn't want to fall off."
His skills have steadily increased since middle school but, as his school colors changed to blue and gold, one other thing had to change out of necessity.
"The socks had to go," he says. "They were red which was the wrong color."
---
SE-AA-0314-Ryan Stewart
Academic Athlete/ Southeast / March 2014
Ryan Stewart Brunswick High School
Brunswick, GA
By Rob Asbell
Photography by: Jeffrey Griffith
https://itgnext.com/wp-content/uploads/ITGNext-logo-Black-and-Cyan-300x186.png
0
0
admin
https://itgnext.com/wp-content/uploads/ITGNext-logo-Black-and-Cyan-300x186.png
admin
2014-03-24 16:55:12
2014-03-24 16:55:12
Four Years Wiser