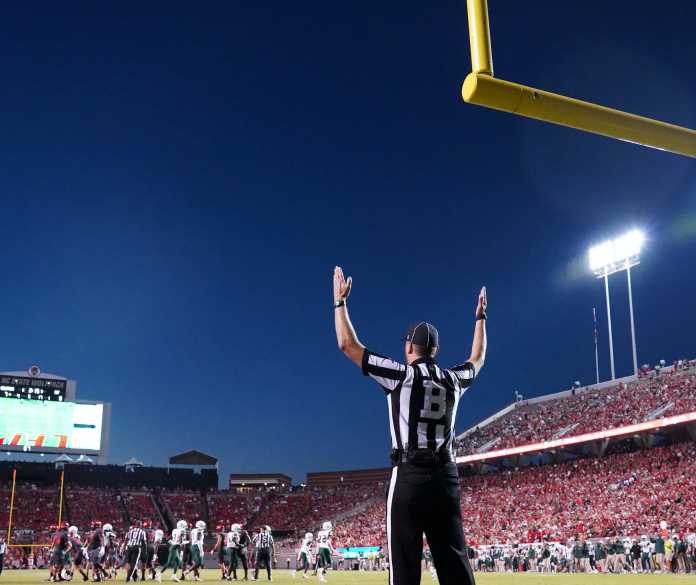 If a national, eight-team high school football playoff was possible, who would have been crowned as the 2021 champion? Both college football and the NFL have playoff systems in place to decide a champion, but not high school football. It's unlikely that any such tournament will be introduced in the near future, so only hypotheticals can be used to speculate about a champion.
According to MaxPreps's final rankings, Mater Dei (CA) clocks in as the No. 1 team in the nation, with Westlake (TX), Bergen Catholic (NJ), and St. Frances Academy (MD) in tow. Servite (CA), St. John Bosco (CA), Center Grove (IN) and Jesuit (FL) round out the top eight teams. Placing these squads in a simple, single-elimination bracket produces a reliable measure for determining a national champion. Read on to learn who comes out on top in our hypothetical national high school football playoff.
Quarterfinals
No. 1 Mater Dei vs. No. 8 Jesuit
Jesuit had a stellar 2021 campaign, but Mater Dei, as usual, is otherworldly. The Tigers struggle to block Mater Dei's David Bailey, who accounted for 15.5 sacks and 20.5 tackles for loss this season. On offense, the Monarchs burn Jesuit with 4-star running back Raleek Brown, who scampers for two scores and over 100 yards. Mater Dei wins, 45-10.
No. 4 St. Frances Academy vs. No. 5 Servite
It's close early, but Servite pulls away to secure a 37-24 victory. Wide receiver and cornerback Tetairoa McMillan has been dynamite for the Friars all season long, and he comes through once again in the fourth quarter with both a clutch touchdown and game-sealing interception. On defense, Servite's Mason Graham wreaks havoc, forcing two sacks and a fumble. The Friars have been tested all year with tough competition like Mater Dei and St. John Bosco, and it pays off in this hypothetical high school football playoff.
No. 3 Bergen Catholic vs. No. 6 St. John Bosco
A third California team in the Final Four? St. John Bosco has played its fair share of competition this season, while Bergen Catholic has struggled at times in close wins over Delbarton and St. Joseph Regional. The Braves are a little stunned early as the one-two punch of Ryan Butler and Saeed St. Fleur at running back for the Crusaders results in a two-possession lead. However, Bosco and speedy RB Rayshon Luke collect themselves, blowing the door open and winning big, 39-21.
No. 2 Westlake vs. No. 7 Center Grove
It's all about offense for Westlake, and QB Cade Klubnik comes to play again, passing for four touchdowns. Center Grove has not met an aerial attack as powerful as Westlake's, and it shows from the first snap. The Chaparrals' Jaden Greathouse and Keaton Kubecka each catch for two scores. Westlake wins, 49-17.
Semifinals
No. 1 Mater Dei vs. No. 5 Servite
These teams have already met twice this season, with Mater Dei winning both by margins of 9 and 20. In both instances, Raleek Brown rushed for over 150 yards. This time around, Brown is held to just under 100 yards, but sophomore QB Elijah Brown tosses three touchdowns to complement a 300-yard passing night. Servite fails to score in the second and third quarters, and Mater Dei advances to the national championship with a 31-13 win.
No. 2 Westlake vs. No. 6 St. John Bosco
Here's an instant classic. Both teams trade scores throughout the game as passing attacks flourish. St. John Bosco scores with under two minutes remaining to take a 38-31 lead. Klubnik leads the Chaparrals all the way down the field, and they score on a 17-yard pass with just under 20 seconds remaining. Boldly, Westlake decides to go for two, but the decision doesn't pay off, as Jaxon Harley snags the game-sealing interception near the back pylon. Bosco advances to the final, 38-37.
National Championship
No. 1 Mater Dei vs. No. 6 St. John Bosco
Sound familiar? Every year since 2017, either Mater Dei or St. John Bosco has been crowned as national champion (based on final rankings). This time, the teams meet in the (hypothetically) official title game of our high school football playoff scenario.
The Monarchs doubled up on the Braves earlier this season with a 42-21 win behind Elijah Brown's five passing scores. This time, the Brave defense stands up, forcing an interception. However, it's just not enough to defeat the reigning national champions. Mater Dei wins 33-17 in large part due to its run defense, which holds St. John Bosco to only 73 total rushing yards.
Not even an eight-team bracket can hold Mater Dei back from winning yet another national championship. This title gives them their fourth in the past five seasons, establishing them as one of the greatest dynasties in high school football history.