Middle school teams from four counties got to start off the season in style by playing in the inaugural Tyrone Jones Middle School Football Classic in August. Named for the former Camden County linebacker and Canadian Football Hall of Famer, the event honored his memory while giving young players an amazing opportunity.
Eight teams (Camden Middle, St. Marys Middle, Glynn Middle, Risley Middle, Jane Macon Middle, Needwood Middle, Waycross Middle, and Folkston's Bethune Middle) gathered to scrimmage one another on the turf at Chris Gilman Stadium in Kingsland. Teams faced off for two halves of nine minutes each. Each team played one half on offense and the other on defense and played two opponents. A large crowd was on hand as supporters of every team had a faction in the stands cheering on their players. The crowd got into it early as Bethune Middle School scored on back-to-back long plays of 74 and 70 yards during their offensive half against the Glynn Middle Hurricanes. In The Game Rising Stars Fisher Ogden of Risley Middle and Caleb Keaton of Camden Middle made strong showings for their teams on a warm summer Saturday.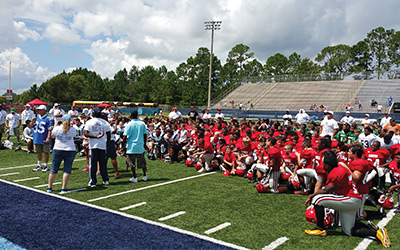 The event was the brainchild of Steven Conner, Camden County Middle School's athletic director. "Tyrone Jones and I grew up together," Conner said, recalling how they had played little league baseball and high school football together. Conner called his friend, Steve Waters, the athletic director in Glynn County, who added four more teams to the mix. Ware and Charlton followed to make up the eight-team schedule of two brackets. Each player was also fed, and coaches were given t-shirts to wear during the game.
"I want them to leave having had a great experience for the kids and their program," Conner said prior to the event. Teams and players were not required to pay to take part. "We are paying for officials and food as well."
The family of Tyrone Jones was recognized during a ceremony at the halfway point of the Classic. Although quick to credit Jones for being the inspiration for the event, Connor put a lot of work into making it a success after nearly a year of planning.
"Last year I started thinking, 'You know, we need to do something to memorialize Ty. We're going to have a middle school football classic and name it the Tyrone Jones Memorial Football Classic,'" he said. "This is all about Tyrone."
Tyrone Jones graduated from Camden County High School in 1979. From there, he went on to play linebacker at Southern University in Baton Rouge, Louisiana. Later, he would be named a four-time All Star with the Winnipeg Blue Bombers and the 1985 Defensive Player of the Year of the Canadian Football League. During his career, he won two Grey Cups and was the Most Valuable Player of the championship game in 1984. After a 10-year professional football career, Jones retired after the 1993 season. Twelve years later, he was diagnosed with inoperable brain cancer, which ultimately took his life in 2008.
He was posthumously inducted into the Canadian Football Hall of Fame in 2012.
---
SE-SF-0915-Middle School Classic
Special Feature
By Rob Asbell
Inaugural Middle School Classic Kicks Off the Season
https://itgnext.com/wp-content/uploads/web_jonesmclassic_main_SE_0915.jpg
1000
750
Southeast Georgia
https://itgnext.com/wp-content/uploads/ITGNext-logo-Black-and-Cyan-300x186.png
Southeast Georgia
2015-09-24 19:23:35
2016-01-11 16:07:55
A Classic Kick-Off