Cheerleading has certainly changed over the years. At one time, a cheerleader's job was simply to stand on the sidelines, wave pom-poms, and look pretty. As the game of football has evolved, so have the requirements and roles of cheerleaders. Once more of an activity, cheerleading is now a bona fide sport, and the athletic ability required to be a sideline cheerleader is on par with that of sports like basketball, softball, soccer, and others.
Cheerleaders also have specific requirements for game day. Cheering is equal parts performance and athletic competition, and it takes tremendous preparation to get ready for the Friday night lights. We spent a few minutes with cheerleaders from Lowndes, Tift, Valdosta, and Lee County in order to gain a better understanding of what is required of cheerleaders on game day.
Jannessee Niehanke, Lowndes High
Jannessee Niehanke has been a varsity cheerleader for the Vikings for three years. She first made the varsity squad as a sophomore and has been on varsity every year since. She began cheering when she was seven years old, and from sixth grade to eighth grade, she was a sideline cheerleader and competition cheerleader. Since she has been in high school, she has been a sideline cheerleader only.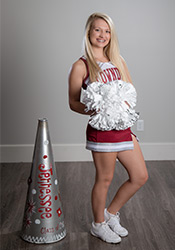 "I just always wanted to be a cheerleader. It's all I wanted to do," she says.
At Lowndes, a cheerleader's work on game day begins before school even starts. Cheerleaders help do the morning announcements and they help feed the players before school. The junior and senior cheerleaders get ready together before the game; their moms prepare a meal, and they all eat together. They also go to the field house and begin putting up signs before the game. These are tasks they perform throughout the school day. Cheerleaders are also responsible for selling raffle tickets until the pre-game festivities begin. There are two raffles – a 50/50 raffle and a raffle for a large gift basket.
Everything they do is a way of supporting the program and letting the players know that they appreciate the sacrifices they make for the community and school.
"We are always there for the players whether we win or lose. We set the mood for the team, and we get the crowd involved," she says.
Once the game begins, the girls stay positive and do their best to keep the spirits high in the stands. They are smiling, positive, and they make sure they acknowledge the players by name and number.
"That motivates and inspires them. They appreciate what we do for them. We're there to encourage them and keep them motivated," says Niehanke.
For Niehanke, cheering has done as much for her as it has for the football team.
"Cheering has made me who I am. It's made me more outgoing and friendly. I would be a very shy person if I didn't cheer," she says.
Courtney Cook, Tift County
Courtney Cook is a senior at Tift County who has made the varsity squad three straight years. As a freshman, she was on the competition cheerleading team, but decided she wanted to be a sideline cheerleader for her remaining years in high school.
"I like the atmosphere of football more. It's also more fun for me to be on the sidelines. I like being on the football field more than I like being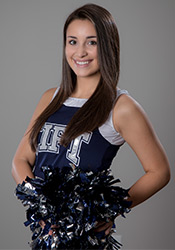 on the floor," she says. And since a young lady can't be both a competition cheerleader and sideline cheerleader at Tift, she chose football.
Game day is a pretty typical school day for the cheerleaders – unless there's a pep rally. On pep rally days, the schedule changes to accommodate the rally.
"Rallies are fun. It's great to get the players and students involved before a game," states Cook.
After school, the cheerleaders meet and begin getting ready for the game. They get dressed together, eat together, and prepare mentally. Cook says that it takes them hours to adequately prepare. Once they are ready, they get to the stadium 90 minutes before game time and place their signs.
"Before we go out on the field, we say a prayer together. That's an important part of what we do before each game," she says.
During the game, the cheerleaders treat their work as both a performance and a way of supporting the team.
"We keep up the spirits of the students. At the same time, we're putting on a performance in front of the entire crowd. We're dedicated to the students and the team. It's an honor to be a cheerleader. It's made my experience in high school great," she says.
And what would she like to see the Blue Devils accomplish this season?
"I want us to go to the playoffs again," she says. "It was such a great experience last year. I want us to come together as a family and win more games."
Tylar Fallow, Lee County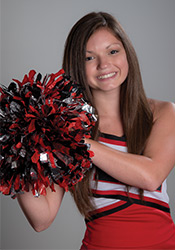 Tylar Fallow made the varsity team for the first time as a junior. This will be her second year on varsity, but she has several years of competition experience. At Lee, girls can be on both the sideline and competition teams; Fallow has been a competition cheerleader since she was a sophomore.
The girls have a pretty normal day at school on game days. After school, however, they are busy until the game ends. They eat together after school then get everything ready – coolers, snacks, drinks, and they put their mats out on the field. They also put up signs and posters around the stadium.
"We get together and we stay together after school," she says. Fallow and her teammates don't see the players before the game; the players are going through their own preparation as well.
Once they have all their equipment ready and the stadium signs in place, they are ready to perform.
"We keep smiling, we keep cheering, and we have a lot of fun," she says. One thing that Fallow didn't understand was how difficult cheering would be. "It's intense. But it's also fun. We're all friends, and what we do is an extension of the team. It comes naturally to us."
During the football season, Lee's competition team may have a competition on Saturday. Those weekends are pretty tough.
"When we have a good game on Friday then a competition on Saturday, it's not so bad at all. Our competitions don't start until after lunch so we have time to get ready," she says.
Dawson West, Valdosta
Things are a little different at Valdosta High. The tradition, the legacy, and the pomp and circumstance that surround the Valdosta High football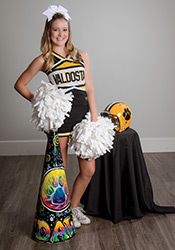 team extend to the cheerleaders as well.
"My brother was a Wildcat. I grew up going to Wildcat games. I always wanted to be a Wildcat cheerleader," says West.
Game day at Valdosta High is just different than any other day of the year. "We wake up happier and everyone has a different attitude," says West.
The cheerleaders give goody bags to the players that morning. During homeroom, they begin putting up signs around Valdosta High. After school, much like has already been discussed, the girls get ready for the game together. They go the stadium at 5:30. At 6:15, the Cat Walk takes place.
Once the game begins, it's like nothing else in town.
"I can't describe it. It's so much fun. We are performers, but we are also there to support the team and pump up the crowd. We're not there for us; we're there for the crowd. We want the players to know we're there to cheer them on," she says.
For West, the benefits of being a cheerleader are too numerous to list. But maybe the most important part is being a part of the Wildcat tradition.
"We know the game and we love football. We want to go out of our way to make the game more spirited. It's a great experience knowing you're a part of the team and you went out of your way to make the game more fun," she says.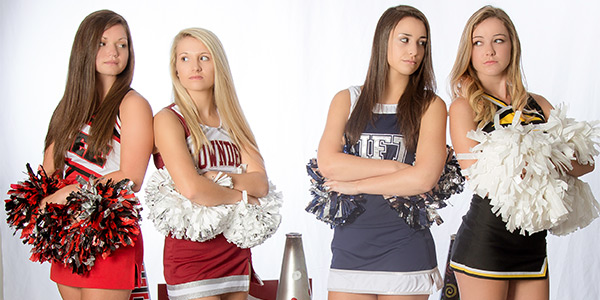 ---
Special Feature/South Georgia/August 2015
A Cheerleader's Game Day
Robert Preston Jr.
Photography by Micki K Photography