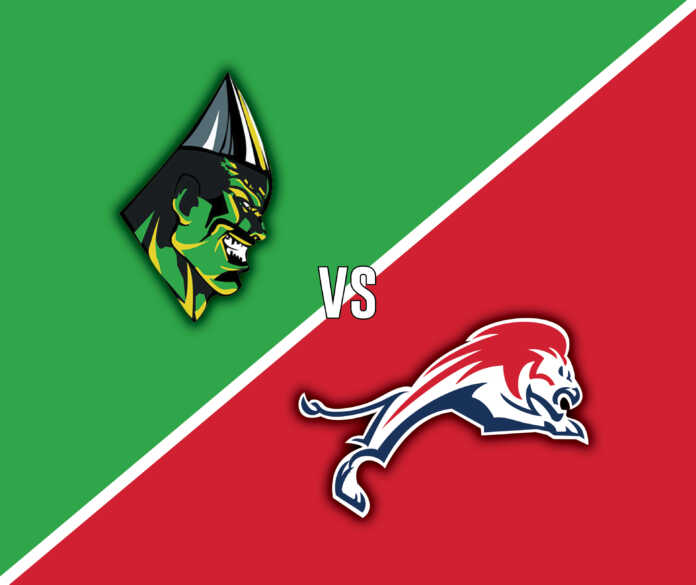 In what just might be the game of the year in Florida high school football, a pair of heavyweights, the Chaminade-Madonna Lions and the Miami Central Rockets, will face off this week. The highly anticipated showdown on Thursday, September 21 will be the first meeting between the teams since their 2019 clash, which Chaminade-Madonna won by a final score of 27-7.
Miami Central, the defending Class 2M state champions, enters the week at 1-1. The Rockets' victory came over Booker T. Washington, 38-28, and their loss was to national power Bishop Gorman (NV) in the season opener, 39-35. Chaminade-Madonna, the defending Class 1M state champion, comes in at 4-0 after one of the biggest wins of the Florida high school season so far, a 28-16 defeat of American Heritage. The Lions' other victories have also been impressive: St. Frances Academy (MD), 35-14; Cardinal Gibbons, 41-4; and Bergen Catholic (NJ), 61-21.
The collection of pure talent taking the field for these state powers is on another level compared to other games in Florida this week. As an example, the following list offers a glimpse at six players who could have a major impact in the contest between Miami Central and Chaminade-Madonna.
WR Jeremiah Smith (Chaminade-Madonna)
Likely the state's top player regardless of position, the five-star Ohio State commit sits among Florida's leaders in receiving. Across three games, Smith has 27 receptions for 433 yards and 5 touchdowns, including a huge performance against Bergen Catholic (NJ) in which he had 17 receptions for 321 yards and 3 scores.
DL Armondo Blount (Miami Central)
Perhaps the top defensive player in this matchup is Blount, a five-star Miami commit in the 2026 class. The defensive lineman has certainly impressed in the Rockets' first two games of the season, compiling 16 tackles, 3 TFL, and 3 sacks after transferring from Dillard.
QB Cedrick Bailey (Chaminade-Madonna)
Leading the high-powered Chaminade-Madonna offense is Bailey, a three-star senior who is committed to NC State. In the first three games of the season, he has completed 74.7% of his passes for 721 yards and a 9:2 TD:INT ratio, while also rushing for 72 yards and a score on 7 attempts.
LB Ezekiel Marcelin (Miami Central)
Another top junior on the Miami Central defense is Marcelin, a four-star linebacker whose 29 tackles, including 4 TFL and 4 sacks, leads the Rockets.
S Zaquan Patterson (Chaminade-Madonna)
Arguably the biggest name on the Chaminade-Madonna defense is Patterson, a four-star senior Miami commit. In three games, the safety has compiled 15 tackles, 2.5 TFL, and a sack.
QB JC Evans (Miami Central)
The final player to watch is Evans, a three-star quarterback for the Rockets. The senior has a 63.6 CMP% through his first two games, and he's rushed for 149 yards and 2 touchdowns on 17 attempts.