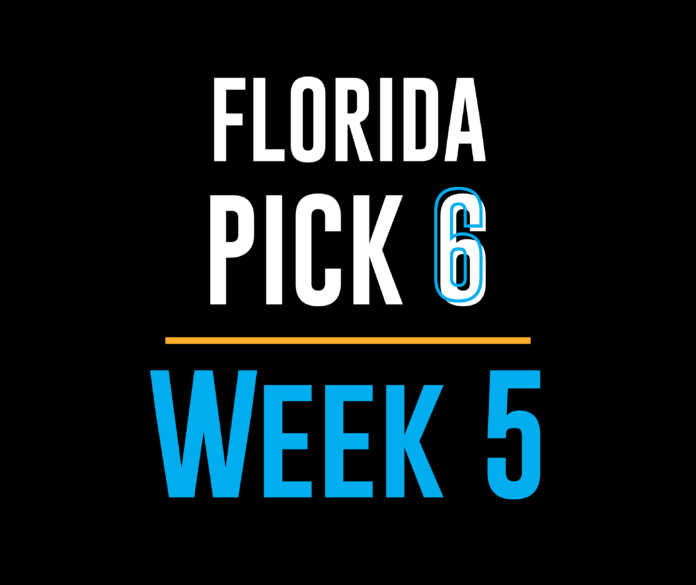 The 2023 Florida high school football season continues to roll along as we now turn the page to Week 5. The slate is headlined by a massive showdown in South Florida, and it leads off this week's edition of our "Pick 6" predictions.
Miami Central vs. Chaminade-Madonna
It's the game of the year in Florida high school football, to this point at least. We begin our Florida high school Week 5 predictions with this star-studded matchup between a pair of defending state champions, 2M's Miami Central (1-1) and 1M's Chaminade-Madonna (4-0). Both squads are part of the conversation for who is the state's top team among all classifications. The Rockets and Lions last met in 2019, with Chaminade-Madonna winning 27-7.
Prediction: Chaminade-Madonna 27, Miami Central 24
St. Thomas Aquinas vs. Treasure Coast
Already owners of some impressive wins in 2023, the Treasure Coast Titans (4-0) will face likely their toughest test yet in a road trip to defending Class 3M state champion St. Thomas Aquinas (3-1). The Raiders and Titans last met a year ago in a fairly close contest, a game St. Thomas Aquinas won 21-7.
Prediction: St. Thomas Aquinas 27, Treasure Coast 17
Apopka vs. Edgewater
In this 4M vs. 3M showdown – another one of the state's premier matchups of the week – Apopka (3-0) will host Edgewater (4-0) on Friday. The Eagles defeated Apopka 16-7 in 2021 and 28-19 in 2022.
Prediction: Edgewater 20, Apopka 10
Miami Columbus vs. Miami Northwestern
Yet another high-profile matchup in the Miami area comes Friday night when Columbus (4-0) collides with Northwestern (1-2). The Explorers and Bulls played a close game a year ago, with Columbus winning 23-19. That outcome ended up being one of their smallest margins of victory during the Explorers' 4M title-winning season.
Prediction: Miami Columbus 28, Miami Northwestern 17
Vero Beach vs. Seminole
This big Class 4M vs. 4S showdown pits host Vero Beach (3-0) against Seminole (3-1) on Friday night. The Indians have defeated Miami Northwestern, Palm Beach Gardens, and Westwood so far this year, while the Seminoles own wins over Rockledge, Osceola, and Evans, as well as a 14-9 loss at the hands of Treasure Coast.
Prediction: Seminole 20, Vero Beach 17
Cardinal Newman vs. Atlantic
The final matchup of our Florida high school Week 5 predictions comes via a Class 1M vs. 3M showdown, as Cardinal Newman (3-0) hosts Atlantic (4-0). This likely will be one of the toughest challenges of the year to date for the Eagles, who own wins over Palm Beach Gardens, Monarch, North Miami Beach, and Boca Raton.
Prediction: Cardinal Newman 28, Atlantic 17