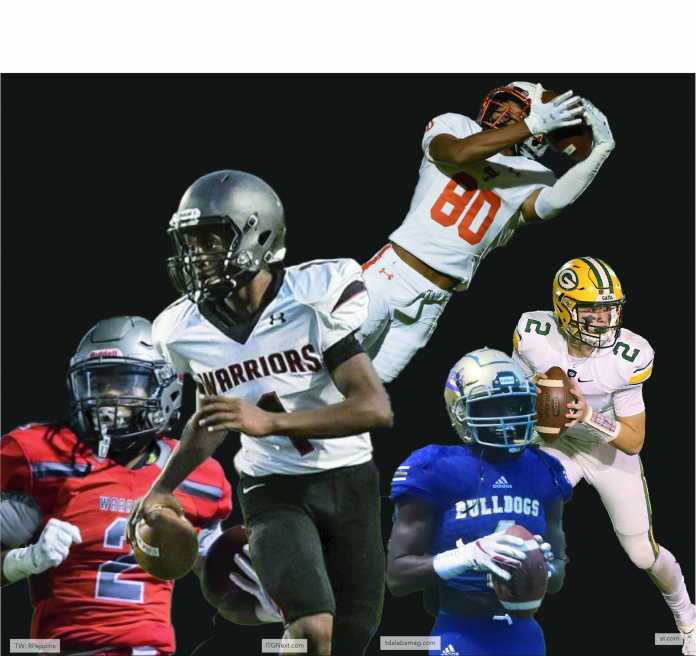 5 Must-See Offensive Players in Alabama in 2021
What makes an offensive player in football "must-see"? It can be anything from highlight-reel catches, throws, and runs to just being clearly the best player on the field. While a team likely has only one or two players that are must-sees on every single play, you can believe those players will put on a show every Friday night from start to finish. These five offensive players returning for the 2021 Alabama high school football season are definitely a "must-see."
Ryan Peppins, WR, Thompson
If you were looking for a player who does almost everything for their team, Thompson WR Ryan Peppins is 100% your guy. Selected to the 7A All-State First Team during the 2020 season, Peppins had 1,138 receiving yards and 18 TDs to combine with phenomenal special teams play for the 7A state champion Warriors. Now entering his senior season, expect Peppins to put up an encore performance to build off a special 2020 season.
Emmanuel Henderson, RB, Geneva County
The lone returning five-star offensive player in the state of Alabama, Emmanuel Henderson's resume speaks for itself. The Alabama commit is one of the top RBs in the country and has rushed for almost 3,500 yards and 52 TDs over the past two seasons. After earning a spot on the 2A All-State First Team in 2020 as a junior, Henderson returns for his senior season looking to put an exclamation point on a phenomenal high school career.
Conner Harrell, QB, Thompson
The returning 7A Back of the Year, Conner Harrell being on this list sure feels like a no-brainer. Harrell received numerous accolades during the 2020 season after he led Thompson to the 7A state title, throwing for 3,568 yards and 42 TDs while also rushing for 319 yards and five TDs. Harrell, you could argue, is the no-doubt top QB in the state and should star once again for the Warriors next season.
RJ Hamilton, WR, Hoover
Arguably the top returning WR in the state, Hoover's RJ Hamilton burst onto the scene in 2020. The rising junior was selected to the 7A All-State First Team after catching 53 passes for 1,063 yards and nine TDs a year ago, playing a big role on the Bucs offense. Despite being committed to Vanderbilt for baseball, Hamilton is one of the more must-see football players on the offensive side of the ball in the state.
Tanner Bailey, QB, Gordo
The state's top QB recruit, Tanner Bailey has been impressing for years. Bailey has spent significant time at QB since his freshman season. He has thrown for 6,200 yards and 71 TDs in those three years. The Oregon commit missed time in 2020 due to an injury, but will look to remind everyone in 2021 why he is so highly rated.
Written by: Matthew Melton