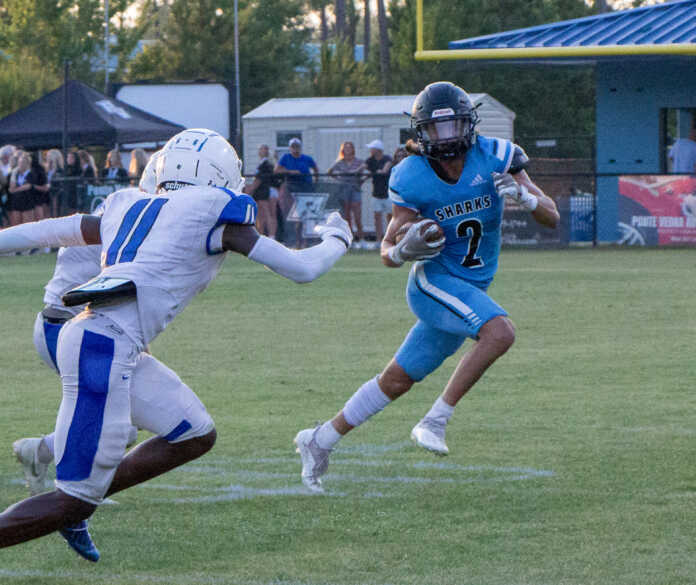 Our ITG Next Florida "4 Questions with the Coach" guest is Ponte Vedra head football coach Steve Price, who is preparing for his third season with the Sharks. Price took over in 2021 after having coached in Tallahassee at North Florida Christian High School, where he led the Eagles to a state championship in 2018.
Coach Price has also won state titles in Georgia, when he coached Trinity Christian of Dublin. He led Trinity Christian to state championships in 2004 and 2006, so Price knows a little something about what it takes to build a championship-caliber squad. Let's find out if he thinks the 2023 Ponte Vedra team has what it takes to start competing for a state title.
Q. Coach Price, thanks for taking time to visit with us here at ITG Next. So, you're two years in at Ponte Vedra and it seems like you have the team right there on the verge of something great. How would you say these first two years have been so far for you and your goals for the Sharks?
A. We have made some great strides over the past two years. We feel good about our progress and look forward to a great 2023. The schedule is challenging, but we feel that we have done a good job preparing for this upcoming season.
Q. Looking at some of the personnel you'll have making up the 2023 Sharks team, you have some really solid talent returning this year. Quarterback Ben Burk is an exciting dual threat who returns for his senior season, and you have one of the best LTs in the state in Jake Guarnera returning for his final season before he heads to the University of Michigan next year. Your receiver and DB group seems pretty solid, too. What can you tell us about your 2023 team?
A. Yes, we have some really good players. Jake Guarnera will make the move from tackle to center. He brings leadership to the position. We should be solid in the offensive line. Jovanni Mackenzie returns for his third year starting at guard. Rocco Garcia, Colin Butler and Brody McLoed have looked good this spring. Ben Burk returns for his third year as starter at quarterback. Wide receivers Landon Okla, Ryan Smith, Griffin Owen, and Cole Madson should all be solid. Okla has several DI offers, including Maryland, Cincinnati, Pitt, Georgia Southern, and FAU.
Brian Case is solid and returns at running back. The defense returns three of four secondary players. Joe Mahoney, Ridge Richardson, and Zac Martus return. Ethan Ash has been impressive at cornerback. The linebacker core will be led by Maddux Babin, Talan Babin, Josh Kim, Mason Hauseman and JM Pawlick. Maddux Babin holds offers from Marshall and Western Michigan. The defensive line should be strong with Nick Grieco, Ryker Kemp, Robbie Grieco, Ed Houston and Cortez Juarbe.
Q. How are things going this spring, and what are the goals for the rest of the offseason? What area(s) do you want to see your guys get better at?
A. We have had a good spring. We will be working hard to get stronger and faster through the summer program.
Q. Coach Price, what can you tell us about your Ponte Vedra team's 2023 schedule, and your district? What are the games that could turn out to be crucial to the success of this year's team making the postseason?
A. The schedule is challenging, but we feel we are up to it. We play a very good Mandarin team in the kickoff classic and then we open with Bartram Trail at home. We play 2022 playoff contenders Trinity Catholic, Bishop Kenny, Creekside, Florida High, Flagler Palm Coast, and Middleburg. Counting the kickoff classic, we will play eight playoff teams from 2022. Our district will come down to the Flagler Palm Coast game in Week 6 and the Nease game in Week 10.