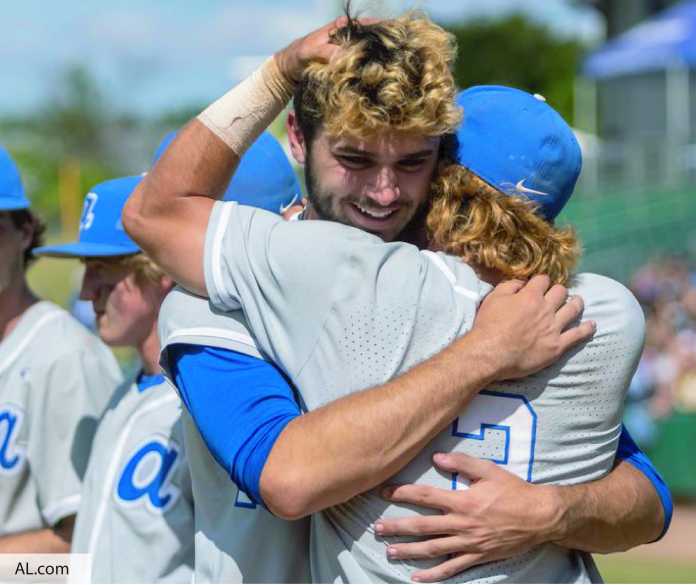 2021 AHSAA Baseball State Champions
Baseball season has come and gone in the state of Alabama. As always, there were plenty of surprises and upsets throughout the season, while familiar faces continued to dominate as well. Let's take a look at our 2021 AHSAA baseball state champions.
Class 7A: Auburn captured its fifth state baseball title after surviving a Hoover comeback in the bottom of the seventh inning. The Tigers defeated the Bucs by a score of 7-6 in a dramatic Game 3. After cutting the lead down to one, Hoover's leadoff man Cade Carr was up to bat with the bases loaded. Auburn head coach Matt Cimo called on Ryan Olson, his fourth pitcher of the day. Olson struck Carr out on four pitches to seal the title win for the Tigers. 
Class 6A: In what was certainly the wildest title game of them all, Faith Academy defeated Hartselle in Game 3 by a score of 14-7. Hartselle had already begun the traditional celebratory dogpile after assuming they had won the game on a sacrifice fly. Faith Academy head coach Matt Seymour quickly argued that the Hartselle runner had left too early. The umpires agreed, and they called the runner out. The game was sent into extra innings, where Faith Academy scored seven runs in the top of the eighth to claim the victory. 
Class 5A: Russellville returned to prominence after taking home three straight state titles from 2015-2017. Russellville rallied in the bottom of the sixth to defeat Pike Road by a score of 3-2 and sweep the series. Head coach Chris Heaps called the team "uncommon" because of the players' effort and team-first attitudes. 
Class 4A: Mobile Christian took home the state title with a 5-3 win over Oneonta in Game 2. It is their first state title win in Class 4A, as they previously won it all twice in Class 2A and once in Class 3A. With the game tied 3-3 headed into the seventh inning, Mobile Christian scored a fourth run when Grant Jay doubled, then came home on a double steal. A crucial insurance run was scored by Rashad Robinson, who took off from third and stole home with a two-strike count on his teammate. 
Class 3A: Phil Campbell captured its first-ever state title in baseball, with a 7-6 victory over Bayside Academy in Game 2. The game also gave Phil Campbell its first state title in any sport since 1947. With Bayside leading 6-3 in the third inning, Phil Campbell rallied to tie the game at 6-6. After capitalizing on three walks and a hit-by-pitch, Phil Campbell took the lead for good—and took home the Blue Map trophy. 
Class 2A: Westbrook Christian finally got the proverbial "monkey" off their back, defeating G.W. Long with a 2-1 series win. The win put an end to G.W. Long's dominance, as they hold the AHSAA record for most state title wins with 16. The victory gives Westbrook Christian its first-ever state title in baseball. 
Class 1A: Bayshore Christian took home the title emphatically, scoring 28 runs over two games to claim victory over Donoho. It only took 10 total innings in two games for the Eagles to claim the school's first state title in baseball in its first year of AHSAA playoff eligibility. After losing Game 1 by a score of 6-3, the Eagles responded in a big way with 10-0 and 18-0 wins in Games 2 and 3. 
Written by: Reagan Cofield