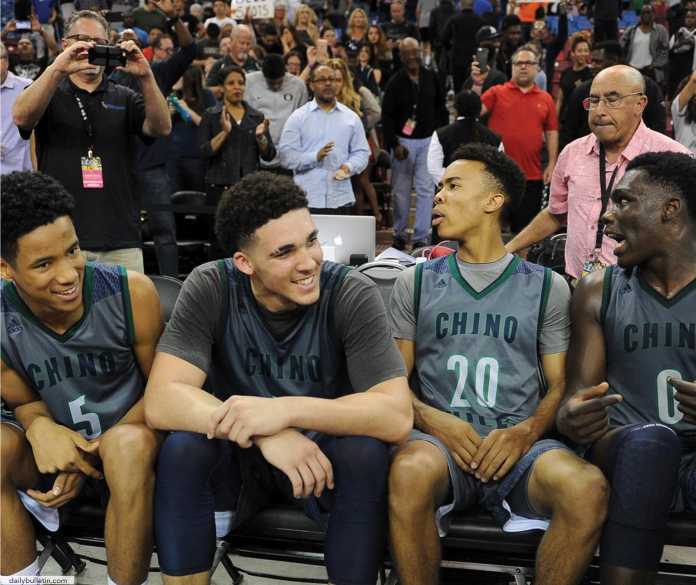 2016 Chino Hills: The Best High School Starting 5 Ever
When talking about the best high school basketball teams of all time, the conversation should start and end with Chino Hills in 2016. The team went 35-0 on the season, won their state championship, and finished ranked as the consensus No. 1 team in the country. To do this, they had to have a great starting lineup. As a matter of fact, looking back now, Chino Hills in 2016 had the best starting lineup ever. Let's take a look back at what might've been the greatest starting five in high school basketball history.
On the team was senior superstar Lonzo Ball, who was rated as a five-star point guard and the No. 1 point guard in the Class of 2016. Ball averaged a triple-double that season (23.9 points, 11.3 rebounds, 11.7 assists) and received honors such as Naismith, Morgan Wootten, USA Today Player of the Year, and Mr. Basketball USA. Ball committed to UCLA where he played one season and averaged 14.6 points, 6 rebounds, and 7.6 assists for the Bruins, winning numerous honors including Pac-12 Freshman of the Year. Ball was drafted No. 2 overall in the 2017 NBA Draft by the Los Angeles Lakers, and he now currently plays for the New Orleans Pelicans. 
The starting shooting guard was freshman phenom LaMelo Ball. During his freshman season, he averaged 16.4 points and 3.8 assists per game and shared the honor of MaxPreps National Freshman of the Year with teammate Onyeka Okongwu. Ball only stayed at Chino Hills for one more season before he left and had multiple stops the next three years, including playing in Lithuania, Spire Academy in Ohio, and in Australia with the Illawarra Hawks in the NBL. Ball was recently selected with the No. 3 overall pick in the 2020 NBA Draft by the Charlotte Hornets.  
At small forward was junior Eli Scott. Scott was rated as a three-star recruit in the Class of 2017 and committed to Loyola- Marymount. Scott has played in 97 games so far in his four-year career as a Lion where he is a 12.4 PPG career scorer. Scott is currently a senior at Loyola-Marymount.
At power forward was junior LiAngelo Ball, who lead the team in scoring with 27.4 points per game. Ball was one of the most reliable scorers for the Huskies during his junior and senior seasons, during which he averaged 33.8 points per game. Ball committed to UCLA, but left school to play professionally in Lithuania and other places. He recently played with the Oklahoma City Thunder's G-League team and the Detroit Pistons. 
Rounding out the starting lineup was 6'9″ freshman center Onyeka Okongwu. Okongwu averaged 7.9 points, 7.2 rebounds, and 3.1 blocks per game during his freshman season, winning the honor of MaxPreps National Freshman of the Year shared with teammate LaMelo Ball. Okongwu remained at Chino Hills where he started for the Huskies the remaining three years. Okongwu went to USC where he averaged 16.2 points, 8.6 rebounds, and 2.7 blocks per game and was named to the Pac-12 All-Freshman Team and First Team All-Pac-12. Okongwu was recently selected with the No. 6 overall pick in the 2020 NBA Draft by the Atlanta Hawks. 
So, there it is. Was 2016 Chino Hills the best high school team ever? Did they have the best starting lineup ever? Well, that's for you to decide.
Written by: Matt Melton