---
Atkinson County
ATCO Rebels Make Playoffs for First Time Since '07, Head Coach Resigns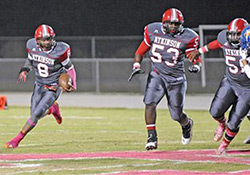 The Atkinson County Rebels enjoyed their best season in seven years in 2014, going 6-5 and making the postseason for the first time since 2007. In then-head coach Kip Hall's second year, the turnaround bordered on the miraculous. Then Coach Hall resigned; he lived in Glynn County and commuted 180 miles 'round trip every day to Pearson. He left Atkinson after the 2014 seasons to take a job closer to home. That opened the door for Dave Parker, an assistant on Atkinson's staff, to land the head coaching job. This is Parker's first head coach position; however, he hopes he can provide some continuity and continue the success the Rebels enjoyed last year.
The challenges in Pearson are the same challenges any small school faces: Numbers. In a community as small as Atkinson County, it's hard to get enough players to come out. Over the last few years, the Rebels have done a good job of boosting participation. This year, about 50 kids will be on the sidelines on Friday nights. Likewise, the coaching staff has grown as well. Last season, the Rebels only had four coaches. This year, they have six – not an optimal number but one that's headed in the right direction.
The Rebels have some good skill players for 2015 but they're thin on the offensive line. There is no margin for error, no room for injuries. The kids have to stay healthy – there's just no other way to put it. Atkinson has six returning starters on offense, five on defense. Only one offensive lineman, Dakota Russ, is back. They also have a running back (the speedy McCallun Lanier), two linebackers (Keegan Meeks and D.J. Lawton), and a defensive lineman/fullback (Jakeem Mimnor).
This year could be a bit of a rebuilding year in Pearson. After a long stretch of wins in the 0 to three per year range, the Rebels turned a corner in 2014. Losing their head coach and then nearly all of both lines is a big obstacle to overcome, especially at a small school like ATCO. But the kids tasted a little success a year ago and Coach Parker should be able to continue what his predecessor started. With a little luck and an injury-free year, the Rebels will have a shot to return to the postseason.
---
Bainbridge
Bearcats Aim to Build on Playoff Berth
The Bainbridge Bearcats finished with a winning record, going 6-5 over the 2014 season, but according to head coach Jeff Littleton, that record could have easily been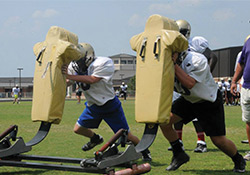 different.
"We lost two overtime games," he said. "But overall, we were close in all the games that we played. We just have to pay attention to the little things in planning and preparation."
Overall, the Bearcats saw their share of success last year. As the number-three seed from Region 1-AAAA Sub-Region B, they defeated Sub-Region A's number-two seeded Thomas County Central Yellowjackets in the Region Play-in game to earn a berth in the Class AAAA State Playoffs. Coach Littleton believes that his team can improve and see more success in the 2015 season.
"I expect our team to play with passion and give great effort," he said. "We should compete, day-in and day-out, and accept all challenges. And last, but not least, I expect our players to trust one another. If we can do that, we will be in good shape."
The Bearcats are primed to make an impact in the 2015 season, and they open their schedule against the Early County Bobcats (Blakely, Ga.) in front of their home fans at Centennial Field.
"We look forward to playing in front of our home crowd," Coach Littleton said. "It is very important for our fans to cheer our players at the games."
Quick Facts
Bainbridge Bearcats (Bainbridge, Ga.)
Classification: GHSA Region 1-AAAA
Home Venue: Centennial Field
Capacity: 10,000
Head Coach: Jeff Littleton
Career Record at Bainbridge: 11-11
2014 Statistics
Record: 6-5 (5-4 in Region 1-AAAA)
Leading Passer: Brett McLaughlin (39-76, 403 yards, 3 TD)
Leading Rusher: Dameon Pierce (164 carries, 910 yards, 7 TD)
Leading Receiver: Victor Bodison (23 receptions, 278 yards, 1 TD)
Top Academic Players (According to GPA):
Curtis Keaton (DB): 3.9
Clark Wiggins (WR/P): 3.9
Evan Oldaker (K): 3.9
College Prospects:
Calvin Isom (DT)
Tyler Storey (WR)
Elijah Tyler (DB)
Russell Wheeler (TE)

---
Brooks County
Brooks County Trying to Get Over Week 14 Blues
It's hard to be disappointed with a 14-game season. Yet when you talk to Brooks County head coach Maurice Freeman about the 2014 season, you can detect a little sadness in his voice. The Trojans went 10-4, entered the playoffs as a second seed, and advanced to the semifinals before losing to Benedictine, the eventual state champions. Their losses were scattered throughout the season – non-region losses to Ware and Madison (Florida), one region defeat at the hands of Fitzgerald (which cost them the #1 seed in the playoffs), and then the season-ending loss to Benedictine in the playoffs. "That's the second year in a row that we've lost in Week 14. We've got to play better in the semifinals. We've just got to," says Coach Freeman.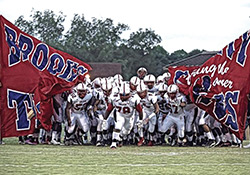 It's clear that Coach Freeman expects his 2015 team to be in a position to repeat the success of the last two years. Since he returned to Quitman, the Trojans have not played fewer than 12 games in a season. Over the last three years, Brooks has played 41 football games – that's over an extra season squeezed into three years. That kind of volume builds confidence and football fitness that players won't find anywhere else. And that gives this year's group of players a tremendous advantage heading into the season.
The Trojans have seven returning starters on offense (all seniors) and five on defense. Among the returners on offense is Demontay Jones, Brooks's versatile and talented quarterback. At 6'1", 190, Jones runs hard and is capable of ripping off huge chunks of yards. At the same time, he has a great touch when he drops back to pass. He needs to work on his accuracy a bit, which is what Freeman and his staff are doing with Jones this summer. Two linemen are back, Chris Williams (5'10", 240) and Austin White (6'4", 315), along with running back Devon Wims (5'7", 170) and three receivers (Nathan Vick, 6'4", 175; Jarrick Cody, 5'11", 160; and Terrell Lamons, 5'10", 165).
Defensively, Brooks has two linemen, a linebacker, and two cornerbacks returning. Each one will be required to play key roles on the Trojans' defense this year: James Silas (defensive line, 6', 230), Thomas Bryant (linebacker, 6', 215), Michael Raiford (corner, 5'10", 165), Jarrious Rose (corner, 5'8", 170), and Chandler Poore (defensive end, 5'11", 215).
The Trojans like where they're at right now. They have a program with a legacy of success, a solid group of players coming back, and a fire in their bellies from a disappointing (albeit a 14-game) season a year ago. Brooks County ought to be positioned for another monster season. "We've got to minimize our mistakes on defense and tackle better. We just gave up too many points in the playoffs. On offense, we've just got to put more points on the board. It's that simple. We're in a tough region. If we can be one of those top four teams at the end of the year, we should be in good shape," says Coach Freeman.
---
Brookwood
Brookwood Warriors: "Be Who We Are"
The Brookwood Warriors made quite the statement in the GISA during the 2014 season. After opening the year with a nine-game win streak, they charged into the playoffs eyeing a state title. Although their dream fell short with a second round defeat at the hands of eventual Class AAA Champion Westfield School (Perry, Ga.), the Warriors went into the offseason with a unified mindset: Be who we are.
"Last year, we had a great run," said Shane Boggs, head coach of the Warriors. "I have found that success breeds success. Our success last season has led to higher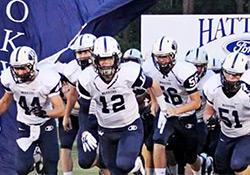 participation rates and investment. We have a strong group of (incoming) seniors that have played in some big games."
Brookwood enters the 2015 campaign loaded with returning players, including last year's leading rusher, Cale Deese. The quarterback position is up for grabs, and three players (Cale Deese, Jud Jones, and Alfonzo Spencer) are competing for the role.
"We keep our players motivated by setting goals that are measurable," Coach Boggs said. "Our plan on the offensive side of the ball is to force the defense to have to cover the entire field. Defensively, we will look to take away what each team does best, whatever that may be."
The Warriors enter the season with three key goals in mind: prepare to win, promote a positive image of the school, and give great effort in class. Coach Boggs believes that it takes focus in the classroom and community, as well as on the field, to keep the team top-notch.
"We use each and every day to prepare for success," he said. "One common theme on our team is that our situation will not effect our focus on effort."
Quick Facts
Brookwood Valiants (Thomasville, Ga.)
Classification: GISA Region 3-AAA
Home Venue: Warrior Field
Capacity: 1,500
Head Coach: Shane Boggs
2014 Statistics
Record: 11-2 (5-1 in Region 3-AAA)
Leading Passer: Kullen Wells (181-300, 2,198 yards, 25 TD)
Leading Rusher: Cale Deese (134 attempts, 909 yards, 12 TD)
Leading Receiver: Peyton Latmore (52 receptions, 611 yards, 11 TD)
Top Academic Players (According to GPA):
Aaron Howell (OLB): 4.49
Jordon Brinkley (RB/LB): 4.33
John Stauffer (WR/DE/K): 4.31
Scott Saunders (LB): 4.24
David Wolff (WR): 4.22
Stuart Allen (WR): 4.08
Tracer Parrish (OT): 4.07

College Prospects:
Thomas Bragg (OT)

---
Clinch County
Panthers Return Tremendous Experience, Talent for 2015
A couple of years ago, in this very space, Clinch County Panthers head coach Jim Dickerson said the next few years could be lean for his football team. They had experienced tremendous success but many of those athletes had graduated. And, like most high school teams have to do from time to time, the Panthers needed to rebuild. The 2012 season was a dismal one; it was Clinch's first losing year since the mid-80s. They rebounded with a 12-game season in 2013 and an 11-game campaign last year. Still, for a team four years removed from a state title, those weren't great records.
Throughout it all, Coach Dickerson has remained positive, particularly regarding last year. "Our record in 2014 wasn't indicative of the year we had. We lost some non-region games early on. Then we won five out of our last six regular-season games. I thought we were going to be in a position to make a strong playoff run," he says. They drew Commerce in the first round. Unfortunately, Clinch picked Week 11 in which to play its worst game of the year. "I don't want to take too much away from them. They played a great game. But we played our worst game of the season that night. It was really disappointing. They beat us soundly – it was like we didn't even show up," states Dickerson.
While last season was very frustrating at times, Coach Dickerson feels much more optimistic about this year's team. It looks like that rebuilding period might be coming to an end and the Panthers should be ready to hit their stride again. Clinch graduated just three players from last year's team, and the Panthers have a group of 10 seniors suiting up for 2015. "We only had three last year and five or six the year before. Ten is a good number for a program of our size. The three we graduated were all defensive backs. At every other position, we have just about the entire team back. We have a lot of experience at every position," says Dickerson.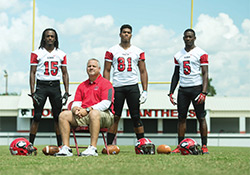 The most exciting player for Clinch this year is Chauncey Manac, a 6'3", 225-pound defensive end/tight end who has committed to the University of Georgia. According to the Atlanta Journal-Constitution, Manac is a four-star recruit and Georgia's sixth-ranked overall prospect. Manac will also see some time at inside linebacker. He's a game-changer whose presence alone will make a huge difference on Friday nights. The Panthers also return Shannon Young, a 200-pound junior running back who rushed for over 1,300 yards last year. Young is a powerful, fast runner who will be the Panthers' go-to back in 2015. Trezman Marshall is a young man Dickerson praises but maybe just a little reluctantly. A 14-year-old freshman upon whom Dickerson doesn't want to put too much pressure, Marshall already stands 6'1" and weighs 212 pounds. A running back/quarterback prospect, Marshall led the Clinch middle school program to three straight undefeated conference championships. In the spring, he threw a ball 72 yards in the air and is already one of the most physically imposing players Clinch has. "He's one of the top four or five athletes on our team. He will probably start for us but he's still very green. He's got a lot to learn but he's going to be a very good player," says Dickerson.
Other key players include a pair of linemen, Ryan Moore (6'4", 310) and John Gray (6'2", 250). Both are talented, tough kids who have a ton of potential. Linebacker Marcus Hodges, a two-time All Region selection, led Clinch in tackles each of the last two years and will be back one more time. Charles McClelland is penciled in as the Panthers' quarterback but he's going to be competing with Marshall as the season nears. Marshall has a stronger arm but McClelland is more polished under center. Two other important players are Ashton Manac, Chauncey's younger brother, and junior Octavious Morris. Both will compete at defensive end. However, Dickerson states that both will play somewhere. "They are just too good not to be on the field," he says.
One challenge the Panthers will have to overcome is the loss of two assistant coaches. Rance Morgan, former secondary coach, and Jeremy Edwards, former wide receivers coach, both left Clinch after last season. The school board didn't replace either one (in fact, the Clinch BOE didn't replace any teacher who left the system or retired), leaving the Panthers with just four coaches on staff. "Those were quality coaches and I hated losing them. But we've taken some financial hits throughout the school system. I always have mixed emotions when we lose coaches. I like it that they're able to better themselves and their families but at the same time, I hate to see good coaches leave. Those two are great coaches and we're going to miss them," says Dickerson. "We'll hit the field with two fewer coaches and the four of us will just have to coach on both sides of the ball. There won't be any more specialization from a coaching standpoint."
Despite losing a pair of assistants, the Panthers ought to be positioned to have an excellent season. They've got one of the best players in the state – in any classification – on the 2015 team. They also have tremendous experience, speed, and a team full of kids who want to win. The upcoming season is looking pretty good from the Panthers' point of view.
---
Coffee
Trojans Motivated by Memory
The Coffee County High School Trojans had their share of ups and downs over the course of the last year. They completed an impressive 10-2 season (7-1 in Region 3-AAAAA) that included an eight-game win streak that carried them into the second round of the GHSA Class AAAAA State Playoffs.
On the down side, however, the Trojans suffered a loss that can never be replaced or repaired. On May 17 of this year, the community lost one of their beloved Trojans to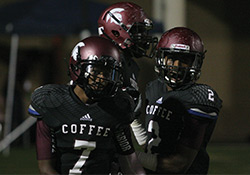 kidney cancer at the tender age of 18. Malik Sparkman, an upcoming senior linebacker in the Coffee defense, had been recruited by Florida State University for his talents and abilities on the gridiron, and his passing was tremendously felt by all that ever crossed his path.
"I'm proud of our team's togetherness after losing Malik," said Coffee County head coach Robby Pruitt. "This year, he will be our motivation."
The Trojans have a solid foundation for the season, returning a total of 11 starters on both sides of the ball (five on offense, six on defense). Leading the way offensively will be last year's leading rusher, Demetrius Davis, and offensive lineman Hunter Spivey.
"Last season was a good building block," Coach Pruitt said. "We have to take that next step. Hopefully, we will improve during the course of the season. We need to improve weekly, get the most out this team, and be consistent."
The Trojans look to continue their push to a title in the 2015 season as they open the year at home against North Oconee High School (Bogart, Ga.).
Quick Facts
Coffee County Trojans (Douglas, Ga.)
Classification: GHSA Region 3-AAAAA
Home Venue: Jardine Stadium
Capacity: 6,500
Head Coach: Robby Pruitt
2014 Statistics
Record: 10-2 (7-1 in Region 3-AAAAA)
Leading Passer: Tyree Paulk (136-210, 1,543 yards, 18 TD)
Leading Rusher: Demetrius Davis (134 carries, 862 yards, 10 TD)
Leading Receiver: Anthony Fussell (41 receptions, 441 yards, 3 TD)
Top Academic Players (According to GPA):
Hunter Spivey (OL): 3.9
College Prospects:
Jeremiah Ashley (RB/DB)
Cam Davis (TE/OLB)
Demetrius Davis (RB/DB)
Quan Grady (LB)
JcKenzie Walker (DB)

---
Colquitt County
2015 Packers Looking for Their Own Identity
Colquitt County head coach Rush Propst isn't one to dwell in the past. The undefeated, state championship season of 2014 is already a distant memory for the decorated Packers head coach. He refuses to look back, instead choosing to focus on what lies ahead. Which, hopefully, will be a second consecutive state championship for the Packers. "That's the mindset I have to get into. When we get to spring ball, we don't want to look back," says Coach Propst.
Now his goal is solidify his starting lineup and begin steering those kids to develop their own identity. He doesn't want the 2015 Packers to live off the legacy of the 2014 state championship team. He firmly believes that looking over your shoulder prevents future success. "You've got to re-establish a new identity. You win differently each season and you've got to develop a new identity in order to do so," he says. "You can't hold on to last year."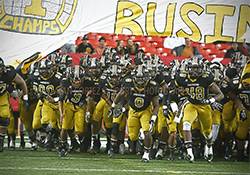 While the 2015 Packers are still searching for that identity, it's worth noting that they have a few advantages over last year's team. One is sheer numbers. Coach Propst has always said that he believes at least 30 – and preferably 32 or 33 – seniors are needed to win a state title in the highest classification. Last year, Colquitt won the state championship with 28 seniors, an anomaly according to Propst's formula. For 2015, that won't be a problem. Colquitt has 38 seniors, far and away the most he's had since he has been in Moultrie. The program also has 115-122 kids showing up for summer workouts. "Our strength this year will be in sheer numbers," says Propst.
The other advantage that this season's Packers have is talent. They are absolutely loaded this year and have several of the state's best players. Colquitt has three elite-level defensive backs with close to 100 college offers among them, maybe Georgia's best kicker (he's never missed an extra point in his career), and a top-notch quarterback. The Packers will open the season in the top 10 in several national polls and indeed have a target on their backs all season long.
For Propst, it all starts with his quarterback. Chase Parrish returns in 2015. The 6', 185-pound senior threw for over 2,800 yards and 29 touchdowns a year ago. He also rushed for over 400 yards and seven more scores. In the state title game, he was 18 for 22 with over 200 yards passing. "He's played on the biggest stage and been successful," says Propst. Kiel Pollard, a 6'2", 207-pound senior, returns at wide receiver. He had 68 catches for over 900 yards in 2014. Ty Lee, Colquitt's slot receiver, 5'8", 162, is back as well. He has about 10 scholarship offers as well. The Packers have a huge hole to fill at running back. With Sihiem King gone, the primary ball-carrying duties will go to junior Ty Jones, a 5'7", 160-pound lightning bolt whose physical style of play belies his 160-pound frame. The line is in good shape and will be anchored by Trae Johnson and Daniel Brinson, two big seniors who will have their work cut out for them.
On defense, Propst has two linebackers with over 50 scholarship offers between them: Dee Walker and Ja'quain Blakely. Both are 6'2", 210, and are major college prospects. The secondary is as deep and talented as the Packers have had during Propst's run. Landon Scott (5'9", 165), Rakeen Hightower (6', 190), and Quan Walker (5'10", 160, the only junior starting on defense).
Colquitt's ace in the hole just might be senior kicker Luis Martinez. He hasn't missed an extra point and is accurate from a long way out. Propst calls him the best kicker in the state.
Yeah, the Packers are loaded. Just about every starter will play somewhere in college if he so chooses. And about seven or eight are major conference players, SEC and ACC type players. The rest are mid-major players and Division II guys. Playing Colquitt is almost like playing a college team, and Propst approaches his program just like it's a college team. But that doesn't mean that the Packers are going to march to a second-straight title without any challenges. "There's a lot of parity in Georgia. It's a grind, and that parity makes you work your tail off all year long. Tradition can cause entitlement. Entitlement causes complacency. And I hate that word more than any other word in the English language – complacency. It's hard to repeat in Georgia. We've moved on. We're talking a new season and new goals," says Propst.
---
Cook
New Coach, Same Goal: State Title
Hornets' head coach Bobby Jones is entering his first year with a team that went undefeated in region play (6-0) in 2014. After taking home the Region 1-AAA title, the Hornets stormed into the playoffs with a decisive 42-14 victory over the Central Chargers (Macon, Ga.). However; their title run would come to an end in the second round in a low-scoring loss to Hart County (Hartwell, Ga.).
The team will be returning ten starters in 2015; eight on offense and two on defense. And after a strong outing last year, the expectations are just as high.
"We want to contend for a region championship," Coach Jones said. We want to make the playoffs and contend for a state title."
In preparation for the season, Coach Jones actually took a step back with his team, in hopes that energy can be properly stored for opening night and beyond.
"We went from four workouts a week in the summer to three," he said. "It should help our kids not to burn out."
Coach Jones is not the only new face in Adel; upon accepting his head coaching position, he retooled the coaching staff, hiring five new faces for the fall.
We want our boys to play hard," he said. "We want them to be disciplined in what they do, and we want them to buy into our program. We have to take these games one at a time if we want to be successful."
Quick Facts
Cook Hornets (Adel, Ga.)
Classification: GHSA Region 1-AAA
Home Venue: Cook Memorial Stadium
Capacity: 3,200
Head Coach: Bobby Jones
Career Record at CCHS: 0-0 (First Year)
2014 Statistics
Record: 9-3(6-0 in Region 1-AAA)
Leading Passer: Connor Hillard (29-48, 370 yards, 5 TD)
Leading Rusher: Jay Smith (68 carries, 407 yards, 3 TD)
Leading Receiver: Tavian Allen (8 rec, 86 yds)
Top Academic Players (According to GPA):
Zane Folsom (OL): 4.0
Luke Kimbrell (TE/LB): 4.0
Gunner George (WR/DB): 3.75

College Prospects:
Tavian Allen (WR/DB)
Zane Folsom (OL)
Bryce Hall (LB)
---
Crisp County
New Cougar Coach Ready to Reach New Heights
With the exception of one, the coaching staff of the Crisp County Cougars is brand new. Although the staff has changed, and many key players have been lost to graduation, new head coach Shelton Felton believes that consistency and attention to detail will help to improve on the team's 3-7 finish from a season ago.
"We just want to be physical and sound," Coach Felton said. "This year's seniors have never gotten to experience playoff football. I believe that if we focus, play fast, and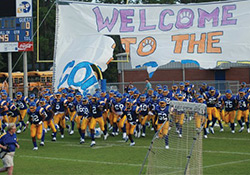 play hard, we can make that happen."
The Cougars open their season with their work definitely cut out for them, as their first two games are on the road against Lee County, and 2014 playoff team, and Colquitt County, the 2014 GHSA Class AAAAAA State Champions.
"Our entire offensive line is returning," Coach Felton said. "I just want these boys to play hard. If our hard work and words of encouragement are where they should be, then I believe the rest will take care of itself.
After two tough road games to open the season, the Cougars get to return to their home, the Cougar Den, for a home opener against Worth County.
"It's key for the fans and the community to come to games," Coach Felton said. "The kids love looking up and hearing the fans cheering them on. We look forward to our first home game. It's a new day in Cougar football, and we're ready to show that to our community."
Quick Facts
Crisp County High School Cougars (Cordele, Ga.)
Classification: GHSA Region 1-AAAA
Home Venue: Cougar Den
Capacity:
Head Coach: Shelton Felton
Career Record at CCHS: 0-0 (1st year)
2014 Statistics
Record: 3-7 (3-5 in Region 1-AAAA)

College Prospects:
Brandon Dowdell
Jakevein Williams
KJ Bryant
Aqaurion Coley
---
Deerfield-Windsor
Knights Ready to Build on Previous Success
In 2014, the Knights of Deerfield-Windsor School put on an impressive showing, posting a perfect 6-0 home record and going 7-3 overall in the regular season (4-2 in Region 3-AAA). Their run continued into the postseason, but eventually fell short at the hands of the eventual state champion Westfield Hornets in the third round of the GISA Class AAA State Playoffs.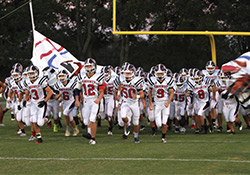 "This season, we want to maximize our effort," said head coach Alan Lowe. "We want to keep the game in perspective while we maximize our effort; that will allow us to maximize our results."
The Knights should have little trouble keeping the pace of last year's outing, as they are returning a total of 15 starters (nine on offense, six on defense). The main goal of this season is to build on the success of last year's team. In particular, they are determined to beat one team in particular: the North Florida Christian Eagles (Tallahassee, Fla.) on August 28.
"It's a big game for us," Coach Lowe said. "We have never beaten them."
While the football has seen their share of victories over the last few seasons, for Coach Lowe and his staff, wins are defined by much more than numbers on a scoreboard.
"To me, a winning season is one in which we maximize our abilities, individually and as a team," he said. "It is a season where our players can learn life lessons from playing a game that they love. I want them to learn what it is like to be a part of something that is bigger than the individual."
Quick Facts
Deerfield-Windsor Knights (Albany, Ga.)
Classification: GISA Region 3-AAA
Home Venue:
Capacity:
Head Coach: Alan Lowe
Career Record at Pelham:
2014 Statistics
Record: 9-4 (4-2 in Region 3-AAA)
Leading Passer:
Leading Rusher:
Leading Receiver:
College Prospects:
Brian Forrestal (DL/OL)
Holt Jones (OL)
Michael Perrine (DT)
John Samuel Shenker (TE)
Steven Williams (OLB)
---
Fitzgerald
Firmly Established, Strickland and the 'Canes Aim for Another Run at a Title
Will the fourth year be the charm? That may seem like a silly question to ask about a team that has only one state title to its credit – and that championship came way back in 1948. But the Fitzgerald Purple Hurricanes have a legacy of great football. Several of their teams have come oh so close to winning a state championship in recent years. And the 2014 team came about as close as any Fitzgerald team.
Fitzgerald head coach Jason Strickland came to town four years ago. He had big shoes to fill – replace Robby Pruitt, who left Fitzgerald for Coffee County. Coach Pruitt was a larger than life figure, widely regarded as one of the best coaches in the state. Succeeding him would not be easy. Strickland, however, was up to the task. In his first season, the 'Canes went 10-3. Another playoff year followed in 2013. Then last year, Fitzgerald went all the way to the semifinals but lost to Greater Atlanta Christian by a field goal. "I feel like we're establishing our own legacy here in Fitzgerald," says Coach Strickland. "Coach Pruitt did such a good job. We didn't have to overhaul anything,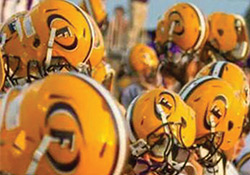 just build on what he accomplished. The community welcomed us and we've had great support from the administration."
That's what success will do for you – bring you out of the shadow of a legend and into your own. That's where the Purple Hurricanes are right now. They had a great season last year. But they're hungry for more. And they've got a team built for another deep playoff run. "I was happy with what we accomplished last year. We had some question marks – we didn't know what we had on the offensive line. Our quarterback had never taken a snap. But our seniors were determined that we'd have a great season. And we did," says Coach Strickland.
Graduation took 14 players from last year's semifinal team. But for Strickland, it's more of who graduated than how many. The 'Canes lost a lot of players with great character, good kids who led by example and willed their teammates to win. It's easy to plug someone in a vacant position; it's much more difficult to find leaders who don't mind laying everything on the line for the team. Thankfully for the Fitzgerald faithful, several kids are ready to step up and shoulder the responsibility of leading the 2015 Purple Hurricanes.
Coach Strickland mentioned three different players whom the 'Canes will definitely lean on this year. The first is fullback J.D. King, a 5'11", 205-pound junior. King has been offered by Georgia Southern and is an excellent leader, both on the field and in the classroom. "We're really excited about J.D. He's a great all-around player," says Strickland. One of Fitzgerald's most important position on offense is the center. He is the anchor of the offensive line and the center in Strickland's version of the wing-T has tremendous responsibility. Kobe Burch, a 6'1", 225-pounder, will fill that position for this year's Purple Hurricanes and Strickland is expecting big things from the big, athletic lineman. Senior linebacker Buck Lundy will set the tone for the rest of the defense. The 5'10", 215-pounder is starting for the third year in a row. "He understands the role he will have to play and we're going to ask a lot out of him," says Coach Strickland.
The Purple Hurricanes will look similar to what they have the previous three years under Strickland. There won't be any significant changes and Strickland and company would like to pick up where they left off last year – winning games, contending for a region title, navigating the playoff bracket through November and into December. It won't be easy given what they lost last year. However, Coach Strickland has a proven formula for success, the kids in Fitzgerald are always up for a gridiron challenge, and the community is behind the kids all the way. It ought to be another great year for the Purple Hurricanes.
---
Georgia Christian
Generals Making the Presence Known Quickly
2013 was the first time that the Georgia Christian Generals fielded a football team since 1966. In only their second season back, head coach Kent Copeland led the team to an impressive 9-4 record.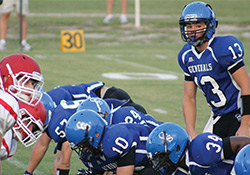 "Community support has been great for our school, as well as the football program," Coach Copeland said. "Georgia Christian football will only continue to grow."
The team has earned the respect and admiration of the community; in only their second full season in nearly half a century, they charged into the GISA Class AAA Playoffs, where they made it to the second round before narrowly falling to the eventual state-champion Memorial Day Academy Matadors (Savannah, Ga.).
Returning seven players on each side of the ball, hopes are high that experience can lead to stronger production and output for the newly-reformed Generals.
"Our football IQ hurt us in some games," Coach Copeland said. "We can only get better in that area as our kids continue to improve."
Quick Facts
Georgia Christian Generals (Valdosta, Ga.)
Classification: GISA Region 3-AA
Home Venue:
Capacity:
Head Coach: Kent Copeland
2014 Statistics
Record: 9-4 (2-0 in Region 3-AA)
Leading Passer: Cole Copeland (77 attempts, 576 yards)
Leading Rusher: Tory Carter (662 yards)
Leading Receiver: Jerry Beverly (24 receptions, 547 yards)
---
Hamilton County
Stebbins Ready to Continue Trojans' Success
For the Hamilton County Trojans, the 2014 football season marked the end of a legacy. After a 36-year coaching career, Hamilton County's Blair Armstrong has called it a career. Taking over the lead of the team is Seth Stebbins, who formerly served as the line and running back coach for Suwannee High School (Live Oak, Fla.). Before his time as a Bulldog, he was an offensive coach and associate head coach at Branford High School (Branford, Fla.).
"We lost a few guys (on our coaching staff) and added a few," Coach Stebbins said. "It will not change anything we do. Our goal is to compete every Friday night."
The Trojans are no strangers to competing; last season, they finished with a 10-4 record, making it all the way to the FHSAA Class 1A State Championship Game.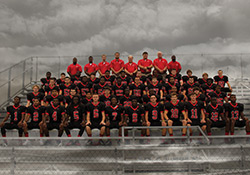 "We're slightly altering the team's approach this season," Coach Stebbins said. "We are looking to be a more downhill football team. We want to be physical. I think that we will surprise some folks."
The Trojans are still a force to be reckoned with offensively, returning key players Kentwan Daniels and Malik Randolph.
"Consistency will be a challenge," Coach Stebbins said. "We have been stressing the fact that we must do everything right, every day."
As with any other coach, Stebbins understands that a major component of being in charge of a team is the preparation of the young student-athletes for life beyond high school. He believes that winning in life is a goal that is just as important as winning on the gridiron.
"We have three major goals for this season," he said. "We want to compete, and we want to have fun. But most importantly, we want to develop young men. We stress the importance of being good young men in the hallways and the importance of being at practice so that they will understand the importance of always going to work. A true 'win' for us is when, twenty years from now, all these kids have jobs and are productive members of society."
Quick Facts
Hamilton County High School Trojans (Jasper, Fla.)
Classification: FHSAA Class 1A (District 5)
Home Venue: Veterans Memorial Stadium
Capacity: 3,500
Head Coach: Seth Stebbins
Career Record at HCHS: 0-0 (1st year)
2014 Statistics
Record: 10-4 (3-0 in District 5)
Leading Passer(s): Justin Culbreth (22-49, 380 yards)
Kentwan Daniels (43-111, 868 yards)
Leading Rusher(s): Kentwan Daniels (144 carries, 952 yards)
Malik Randolph (91 carries, 667 yards)
Leading Receiver(s): La'marcus Webb (23 receptions, 464 yards)
J'quan Cole (13 receptions, 310 yards)
College Prospects:
Amaad Gandy (DE)
Malik Randolph (RB)

Of Note:
The Hamilton County Trojans won their playoff games by just over 11 points per game en route to the FHSAA Class 1A State Championship Game in 2014.
---
Irwin County
Coach Nobles Building a Contender with Character
The Irwin County Indians were a mere ten points away from a championship victory in 2014. After going undefeated in Region 2-A (7-0), they reeled off three impressive wins in the postseason before ultimately falling in the GHSA Class A State Championship to the Hawkinsville Red Devils (Hawkinsville, Ga.), 15-6.
"Our kids played as well as they could have," said Indians head coach, Buddy Nobles. "They did everything we ask of them, in season and out of season. We are approaching this season with the same preparation."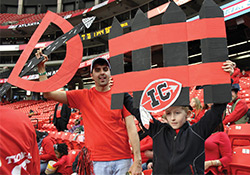 The team will be without 2015 graduates Jakyron Young and Robert Moore, who carried the rushing load for the Indians. However, Irwin County is returning nine starters, led by junior quarterback Zach Tolar and running back DJ Pollard.
Away from the gridiron, the team and the coaching staff acknowledge that their fan support is a major factor in their success.
"Our fan support from the school and the community is great here in Irwin County," Coach Nobles said. "That pride that is shown helps us as a team each Friday night. It feels good to know that we have the support of the entire community."
Coach Nobles has done an exceptional job leading a contender in the Irwin County Indians, but he has done just as good of a job teaching his players about the importance of character building and positive attitudes away from the game.
"We expect all of our players to have character at all times, at school, in the community, and at home," he said. "In teaching them this, we hopefully will help them develop into men that our community and our country need at such a vital time."
Quick Facts
Irwin County Indians (Ocilla, Ga.)
Classification: GHSA Region 2-A
Home Venue:
Capacity: 3,500
Head Coach: Buddy Nobles
Career Record at Irwin County: 11-2-1
2014 Statistics
Record: 11-2-1 (7-0 in Region 2-A)
Leading Passer: Zach Tolar (16-36, 223 yards)
Leading Rusher: Jakyron Young (45 carries, 484 yards)
Robert Moore (63 carries, 442 yards)
Leading Receiver: Bernard Pitts (4 receptions, 68 yards)
Jakyron Young (3 receptions, 64 yards)
College Prospects:
Jared Johns (DE)
DJ Pollard (RB/LB)
Of Note:
After a Week Four loss to Fitzgerald High School (40-12), the Indians reeled off ten straight wins (including playoff victories) before falling to Hawkinsville High School in the GHSA Class A State Championship Game at the Georgia Dome.
---
Lanier County
"New Day, New Dawg" in Lakeland
The Lanier County football program is a relatively new one; the 1997-98 school year was the first season that a Bulldogs team took to the gridiron. Getting accustomed to new challenges is commonplace in Lakeland, and the team will be under a new head coach entering the 2015 campaign.
"This game is about routine," says new head coach Carl Parker. "We are still learning what it takes to be successful. But teams that embrace their routine experience the most success. We are building our schemes to fit our athletes, not the other way around. Our motto this year is 'Deserve to Win'. This applies to the field, the classroom, and the community."
The 2014 Bulldogs finished their season winless in Region 2-A and claimed one win overall (a 39-6 victory over Wheeler County in Week Four). Although they did not see as much success in the win column as desired, wins and losses are not the only thing that defines a winning season in Lakeland.
"We expect our team to 'deserve to win'," Coach Parker says. "Before we begin to count the wins, we have to put in the work. Winning is a by-product of doing the right things. We are not concerned about averages. We are more concerned with developing better players who will play better."
Coach Parker wants to make the game more enjoyable for his players. He says that with enjoyment comes a desire to be successful. This will translate to all areas of life for his players, as well as support in the stands.
"For us, it is about Lanier County, not our opponent," Coach Parker says. "Right now, we have to get better, regardless of who we are playing."
Quick Facts
Lanier County Bulldogs (Lakeland, Ga.)
Classification: GHSA Region 2-A
Home Venue: Roquemore Stadium
Capacity: 2500
Head Coach: Carl Parker
Career Record at Lanier County: 0-0 (1st Season)
2014 Statistics
Record: 1-9 (0-7 in Region 2-A)
Leading Passer: Marcillo Brockington (24-63 att, 269 yds)
Leading Rusher: Marcillo Brockington (206 att, 1,403 yds)
Leading Receiver: Robert Zinkle (11 rec, 120 yds)
Top Academic Players (According to GPA):
Ethan Hampton (OL/DL): 4.0
Robert Zinkle (WR/DB): 4.0

College Prospects:
Ethan Hampton (OL/DL)
Robert Zinkle (WR/DB)

---
Lee County
Small in Size, Big at Heart
The Lee County Trojans are a prime example of the age-old adage that it's not the size of the dog in the fight, but rather the size of the fight in the dog, that matters. As the smallest school in Class AAAAAA, the Trojans finished the 2014 season with an 8-3 record and made it to the second round of the playoffs before falling at the hands of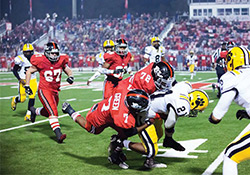 eventual state runner-up Archer High School (Lawrenceville, Ga.).
Their impressive efforts kept the Trojans ranked throughout the season. They finished the year ranked sixth in the state, and over the course of the season, they reached as high as third. Entering his seventh season over the Lee County football program, head coach Dean Fabrizio has only experienced two losing seasons in his previous six (2009, 2011).
The Trojans are returning 12 starters (four on offense, eight on defense); among them are All-State lineman Chris Barnes and quarterback Garet Morell on the offensive side of the ball. Barnes was a second-team honoree, while Morell received honorable mention. Accompanying them are All-Region members Tray Eafford (wide receiver), Collins Tensley (defensive end), and Otis Reese (defensive back).
Quick Facts
Lee County High School Rams (Leesburg, Ga.)
Classification: GHSA Region 1-AAAAAA
Home Venue: Trojan Field
Capacity: 7,000
Head Coach: Dean Fabrizio
Career Record at LCHS: 38-28
2014 Statistics
Record: 8-3 (3-2 in Region 1-AAAA)
Top Academic Players (According to GPA):
Landon Brown (WR): 3.9
Cody Edwards (OL): 3.9
Cole Maxwell (LB): 3.9

College Prospects:
Chris Barnes (OL)
William Bryant (DB)
Tray Eafford (WR)
Garet Morell (QB)
Collins Tensley (DE)
Ronald Wilson (LB)

---
Lowndes
Vikings Looks to Regain Focus of Early 2014
The Lowndes Vikings opened the 2014 season on a tear, winning their first five contests by an average of 19 points per game (18.6). Region play was a different story, however, as they would proceed to drop four of their next five games, eventually missing the playoffs.
"Ending the season that way has definitely fueled the preparation for this year," said Vikings head coach Randy McPherson. "Turnovers down the stretch in big games cost us. I expect us to get better each and every day and compete for the region title."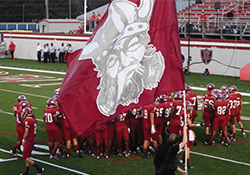 A region title is an understandable goal; in 2014, the Vikings' sole region win came in a 27-21 win at home against Camden County (Kingsland, Ga.).
"The key to our season is winning region games," Coach McPherson said. "Each and every team is tough, and we are going to have to play our best football each and every Friday night to win. We have begun preparing that by practicing and working on execution."
McPherson's coaching staff will feature a few new faces in new roles this fall as well. Tucker Pruitt (offensive coordinator), David Shores (defensive coordinator), Tommy Watson (offensive line/special teams coordinator), and Jackson Dean (receivers coach) will all be entering their first season in their respective positions. Also joining the staff are two former Vikings: Darriet Perry (Class of 2008, running backs coach) and Jermel Demps (Class of 2006, cornerbacks coach) have returned home to help lead their alma mater.
While every game on the schedule is a big one, the long-standing tradition with cross-town rival Valdosta High School is quickly circled on the Vikings' calendar every year. This season, the matchup will take place at the Concrete Palace, as 8,000 fans will witness the latest installment of the Winnersville Classic against the Wildcats on October 30.
"The rivalry is huge," Coach McPherson said. "It is an exciting game to be a part of."
Quick Facts
Lowndes Vikings (Valdosta, Ga.)
Classification: GHSA Region 1-AAAAAA
Home Venue: Martin Stadium
Capacity: 8,000
Head Coach: Randy McPherson
Career Record at Lowndes: 210-41
2014 Statistics
Record: 6-4 (1-4 in Region 1-AAAAAA)
Leading Passer: Austin Dixon (49-99, 636 yds, 8 TD)
Leading Rusher: Dezmon Copeland (138 carries, 915 yds, 9 TD)
Leading Receiver: Xavier Jenkins (12 receptions, 263 yds, 3 TD)
Top Academic Player (According to GPA):
Dalton Hart (QB): 4.0
College Prospects:
Gabe Nabers (TE)
Tyreke Adams (OL)
Dezmon Copeland (RB)
Xavier Jenkins (WR)
Nate Lee (OL)
Austin Dixon (QB)
Tyson Harris (S)
Coyshon Roberts (CB)
Kedrick Clemons (LB)

Of Note: Since 1968, Lowndes is 17-33 against Valdosta High School, but the Vikings have won eight of the last 10 matchups.
---
Sherwood
Eagles Aim to Remain at the Top
At the end of the 2014 season, the Sherwood Christian Academy Eagles were able to add an exemplary descriptive to their name: Champions. After a 21-13 victory over the Knights of Calvary Christian School (Columbus, Ga.), the Eagles capped off an 11-1 season (along with an undefeated 5-0 region record) by hoisting the GICAA Division 1-AA State Championship trophy.
They head into this season with a new head coach (Chad Evans), but the expectations are the same for the program.
"We need to be able to vary our offensive tempo according to game situations," Coach Evans said. "We had a fairly balanced offensive attack last year. Our goal is to maintain that balance and take advantage of every possession. We just want to build on the foundation that Coach Covington (former SCA head coach) has laid."
The team only suffered one defeat last year, a 20-13 loss at the hands of Abbeville Christian Academy (Abbeville, Ala.). Coach Evans believes that this year's team is more than ready to fix the small mistakes that got in the way in 2014.
"Our strength and conditioning program is preparing us to go into the fourth quarter and play harder than we did in the previous three," Coach Evans said. "We are striving to maximize our varsity roster, while at the same time developing the talent in our younger programs."
Quick Facts
Sherwood Christian Academy Eagles (Albany, Ga.)
Classification: GICAA Region 1-AA
Home Venue:
Capacity:
Head Coach: Chad Evans
2014 Statistics
Record: 11-1 (5-0 in Region 1-AA)
Leading Passer: Dylan Evans
Leading Rusher: Demetrius Reed
Leading Receiver: Chaznic Griffin
College Prospects:
Dylan Evans (QB)
Chaznic Griffin (WR/RB/DB)
Tristen Bailey (OT/DE)
Jarone Thomas (G)

---
Thomas County Central
Once Again, Injuries Contribute to Premature End to Yellow Jackets' Season
A year ago, in this very space, I discussed how injuries brought a premature end to the Thomas County Central Yellow Jackets' previous season. More specifically, it was an injury to Adam Choice, TCC's Clemson-bound quarterback, that contributed directly to the Jackets' defeat in the first round of the playoffs. Last season, something eerily similar happened. And it quite possibly kept TCC out of the playoffs for the first time in Coach Bill Shaver's head coaching career.
Austin Bryant, the Yellow Jackets' big defensive end who also signed with Clemson, broke his foot right before TCC's game against Cairo. The Jackets had won five straight after losing the opener to the Valdosta Wildcats. Things were going pretty well for Thomas County Central, and the Cairo game was supposed to solidify the Jackets as a region contender. Then Bryant went down with his injury, ending his season. His absence disrupted the Yellow Jackets' defense and likely altered overall team chemistry. They lost to Cairo and went on to drop two of their last three games. "I felt good about the start of our season. We were off to a good start and our young offense was playing well. Then we lost the Cairo game. We were both undefeated in the sub-region. But we had some costly turnovers and they were the better team that night," says Coach Shaver. "It was the second time in two years that a Division I player didn't finish the season. After he got hurt, we didn't play well the rest of the season."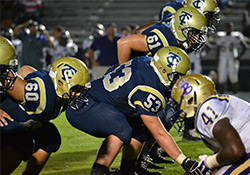 Thomas County Central lost the play-in game to Bainbridge in week 10 and missed the playoffs. It was another disappointing end to what should have been a great season. Shaver and his staff, however, are optimistic that the lessons they learned the last two seasons will pay off this year. It doesn't hurt that nine offensive starters are back and there is a new group of gifted coaches joining the staff. The coaching changes at TCC are interesting in and of themselves. Shaver has six new coaches on the defensive side of the ball alone; in seven previous years as head coach, he had only hired three assistants total. Among the new coaches are Jason Butler, former head coach at Bartow, Florida and defensive coordinator in Lakeland, Florida; and Taz Dixon, Lowndes High's former defensive coordinator. Leonard Dykes also returns home to coach quarterbacks. Dykes was the Yellow Jackets' quarterback when they won state titles in 1996 and 1997 and was 29-1 in the same offense TCC runs today. "It's great to have him back in Thomasville," says Coach Shaver.
The nine offensive starters returning are all talented players who can make a difference by themselves. Together, they have the potential to dominate opposing defenses. Leading the way is junior quarterback Kelias Williams, a 5'9", 185-pound junior who rushed for 503 yards and 10 touchdowns last year. He's had a tremendous spring and summer, and is the kind of versatile athlete that Shaver's split back veer demands. With Williams in the backfield is Nick Patterson, a 5'9", 200-pound senior who tallied 888 yards rushing and 15 touchdowns a year ago. Protecting Williams and Patterson are four returning linemen: Mason Lawing (5'11", 220, senior), Demarious Walker (5'11", 240, senior), Xzontae Green (5'8", 230, junior), and Bailey King (5'9", 250, junior). Williams's tight end is back (Noah Harnevious, 6'1", 205, senior) as are two solid wide receivers (Zack Johnson, 5'11", 160, senior and Roman Gilliard, 5'11", 160, senior).
With just four returning starters on defense, the Yellow Jackets will have some work to do. Those who are back are talented and are capable of making big plays. However, it's going to take some time for everyone to come together on that side of the ball. Coach Shaver has one lineman (junior Reid Ansley, 6'1", 245, 31 tackles), a linebacker (junior Dominique Arrington, 5'8", 224, 80 tackles), and two safeties (juniors Derrick Brock, 6'3", 200, 83 tackles and Earnest McCormick, 5'11", 170, 41 tackles). In addition, Coach Shaver's punter (senior Zach Hester, 33.5 yard average) and placekicker (senior Conley Wilhelm, seven of nine on field goals) are back.
So what does this mean for the Yellow Jackets? They will need some time for the defense to grow and develop. Their potent offense will have to put up enough points to keep opponents at bay. Last year's 10-game season was an anomaly and Thomas County Central ought to be ready for deep playoff run in 2015.
---
Thomasville
Coach Ryals: '2014 was disappointing, we could have done something special'
A quick look at the Thomasville Bulldogs' 2014 record hides some surprising facts. At first glance, the 6-5 mark looks very atypical for a Thomasville team. A 2A school with five state titles, 21 region titles, and eight NFL players rightly expects to do better than 6-5. And when you talk to head coach Leroy Ryals, you get the idea that he is unimpressed with how last year turned out. "Yeah, it was disappointing. I thought we had a chance to do something special. We play a tough schedule and we had some injuries. When you're a 2A school, you've got to stay healthy," he says.
The Bulldogs started out the season with three straight losses – to West Laurens, Cairo, and Valdosta. The Valdosta game in particular was a tough pill to swallow. The mighty Wildcats edged Thomasville 10-0 in Valdosta. After that loss, the Bulldogs won five straight games before losing by 10 to Brooks County with the region championship on the line. Had Thomasville won the game, the Bulldogs would have taken the region championship. With the loss, however, Thomasville ended up in a three-way tie for first with Brooks and Fitzgerald. The Bulldogs lost the tiebreaker and had to travel for the first round – to Savannah to play eventual state champions Benedictine. "We just didn't play well enough to win against Brooks. And that put us on the road against Benedictine," says Coach Ryals.
The Bulldogs are left with a lot of question marks heading into 2015. Graduation decimated the offense, leaving just two returning starters. But they're good ones and they're in key positions – the offensive line. Senior Mason Hodge (6'3", 265) and junior Thomas Rayburn (5'9", 260) are big, strong kids who can move well and keep defenders at bay. They will play a vital role in leading the rest of the line and protecting the skill guys behind them. Under center this year will be a sophomore – J.T. Rice (6'2", 180), a talented young man who has a very bright future ahead of him. Coach Ryals will use several different running backs but all are fast, powerful runners.
The defense, however, is another story. The Bulldogs have some depth on that side of the ball. All the linebackers are back and the line is solid. The secondary is where the trouble spots are. The entire secondary is gone and Coach Ryals and his staff will have to "be creative" when filling those positions. Key defensive players include Gavin Hiers (LB, 5'10", 190), Tyler Lowe (LB, 5'11", 185), Jacobi Hayes (LB, 5'11", 200), and Tahja Porter (nose guard, 6'1", 270). "The rest of the front seven got a lot of playing time last year so we should be OK there. The secondary? That's where our question marks are. But it's up to us as coaches to answer those questions," says Coach Ryals.
This year, Coach Ryals expects his team to work hard and be in the mix at the end of the season. Since he's been at Thomasville, his teams have lost just two region games – both times against Brooks. They need to figure out a way to beat Brooks County without overlooking anybody else in the region. "There will be no excuses. Not here at Thomasville. We've got to find a way to play well. And we play in a tough region. There are no gimmes here," he says.
Academic players: Mason Hodge. A straight-A student with Ivy League schools after him.
---
Tift County
Tift Rebounds in '14, Gets New Coach for '15
The Tift County Blue Devils enjoyed their first winning season and first playoff appearance last in six years in 2014. It was a long time coming for a program that fairly recently – 2006 – went all the way to the semifinals. Former head coach John Reid made steady improvements to the program during his three years in Tifton. After last season, though, he left for Rome, Ga., leaving an opening for Ashley Anders, Tift's assistant head coach since 2013, to take over the program.
Anders is a tremendous coach with an impressive resume. According to a press release issued by the Tift County School System upon Anders's hiring, he has served as the defensive coordinator at Murray State University (2010-2013), Georgia Southern University (2007-2009), Valdosta State University (2002-2007), and Holmes Community College (2000-2002). The Tift position is his first as head coach.
Along with a measure of inexperience at the head coaching spot, the 2015 Blue Devils are an inexperienced team as well. They've got 96 total kids and just 19 seniors.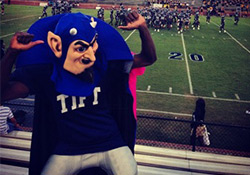 "We're young. But we're working, we have goals, and we want to go back to the playoffs," says Coach Anders. Things won't change much for the Blue Devils scheme-wise. Some of the offensive terminology will change but they'll still run a spread attack and be as multiple as possible. The defense will be the same as well. "It ought to be an easy transition," states Anders.
Tift will rely heavily on running back Barry Bennett, a 5'10", 180-pound bruiser who rushed for over 1,000 yards last season. Bennett holds a 3.9 grade point average and is being heavily recruited. The Blue Devils are strong at wide receiver, with four starters coming back plus a playmaker who transferred in from Irwin County. Senior Quay Duggins (6', 175, seven touchdown catches in '15), senior R.J. Merriweather (5'11", 175), junior Tyberus Polk, and senior Malik Johnson (5'7", 160) all give Tift a measure of depth at the receiver position. Cully Jones, a 6'5", 220-pound senior who came over from Irwin, had a tremendous spring and is expected to be a big playmaker for Tift this season. The offensive line has some question marks with only one returner back – senior guard Cody Tucker. The Blue Devils also have to name a new quarterback. At the time of this writing, two underclassmen were fighting for the job – junior Brant Watson (5'11", 180) and sophomore Griffin Collier (6', 170).
Defensively, Tift has more experience returning. The Devils have four linebackers, three defensive backs, and two linemen back. The linebackers are junior Cody Thompson, senior Geoffrey Davidson (5'9", 170), senior Bobby Miller, and junior Elvin Coney. Two big kids are back to on the line – senior J.T. Graydon (5'10", 200) and senior JuJu Watson (6'2", 307). The secondary has some good athletes who will be starting but there's not a lot of depth should something happen to one of them: junior Brenton Jones (5'8", 170), senior Wendel White, junior Montreal Henry (5'9", 155), and junior Eric Atkins. Tift also has a new punter, senior Drew Harrison, and a great placekicker in sophomore Fernando Ramirez (5'8", 160).
Tift has its work cut out this season. The region is, of course, loaded. Tift has been in a rebuilding period for several years. Now the Blue Devils have to start again with a young team and a new head coach. But the kids are hungry; they tasted a little success last year and aren't ready to let go of what they accomplished. "Our seniors last year had been through a lot. But they bought in to what we were doing and it paid off. Our younger kids saw that and it made an impression. They want to continue what we started in 2014," says Coach Anders.
---
Tiftarea
Panthers Look to Build on First Playoff Berth
The 2015 Tiftarea Panthers look to continue their winning ways this season, and they have good reason to be confident in their abilities moving forward. Last year's team accomplished what no other had done in the school's history: making the playoffs in GISA Region 3-AAA.
"We go hard, no matter the location," said newly appointed head coach, Tully Payne. "Last season was a great momentum change for this team, and I believe this team will do great things this year."
The team will be fairly fresh, returning only three starters (one on offense, two on defense), but Coach Payne believes that, with determination and community support, the Panthers can return to the postseason once more.
"We have great support from administration, our athletic director, our booster club, and others," he said. "We have added several people to our coaching staff. All I ask is that our boys play hard, play fast, and have fun. It is my job to personally motivate them in any way that I can."
Leading the way under center will returning quarterback Logan Carswell. Although he will be commanding a virtually brand-new offense, Coach Payne is convinced that the perseverance of his locker room will carry the Panthers a long way.
"As long as our players do the best they can, the season is a win," he said. "I want them to do their best, and I want them to expect to win. It's all about confidence."
Quick Facts
Tiftarea Panthers (Chula, Ga.)
Classification: GISA Region 3-AAA
Home Venue: Chula Dome
Capacity: 2,000
Head Coach: Tully Payne
2014 Statistics
Record: 7-4 (3-3 in Region 3-AAA)
Leading Passer: Logan Carswell
Leading Rusher: Ethan Mims
Leading Receiver: Charlie Massey
Top Academic Players (According to GPA):
Conner Kozma (DL): 3.5+
Caleb Palmer (OL): 3.5+
College Prospects:
Cam Baker (DB)
Logan Carswell (QB/DB)
Cam Cobb (WR/DB)
Logan Conger (LB)
Monday West (WR/DB)

---
Valdosta
Wildcats need to answer the bell this season
The 2014 season started out so well for the Valdosta High Wildcats. The most storied football program in the state won its first seven games then dropped two of its last four. After winning nine games and finishing second in the region to eventual state champion Colquitt County, the Wildcats yet again suffered a first-round loss in the playoffs, this time at home to Newton. It was the fourth straight first-round loss for Valdosta and it has everyone – players, coaches, and fans alike – ready to exorcise those game 11 demons.
There is some urgency this year for the Valdosta program. The last time the Wildcats went beyond Week 11 was in head coach Rance Gillespie's first year (2010), when the 'Cats posted an 11-2 mark and advanced to the quarterfinals. That kind of playoff record is uncharacteristic for Valdosta; at no point in the post-Nick Hyder years have the Wildcats lost in the first round four straight seasons.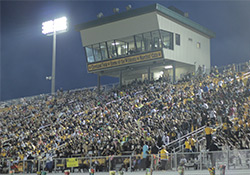 Make no mistake about it – the 'Cats must answer the bell this season. It won't be easy. Colquitt is loaded. Lowndes has re-vamped its program and should be an elite team in Region 1-6A. Lee County is also stacked. Camden won't have the same kind of season it had in 2014 again. So things aren't getting any easier in the region and Valdosta can't afford to have an off-night at any point during the year.
The Wildcats have five starters back on offense and defense, and they've got a good group of younger kids who will be ready to play as well. The Valdosta middle program has been loaded with athletes over the last couple of years, and many of those players are about to step into the varsity spotlight. Among the offensive starters returning are quarterback Seth Shuman, 6'1", 180, and two running backs, the 5'10", 175 Tim Griffin and the 5'8", 178 Deangelo Williams. Shuman is one of the 'Cats' biggest assets. He started most of Valdosta's games as a sophomore and all 11 games last year. "He has a really good arm and is very athletic. He has all the intangibles that everyone talks about in a quarterback," says Coach Gillespie. Three linemen – Zack Lloyd (5'10", 240), Davis McCranie (6'4", 260), and Aaron Graham (6', 225) will protect Shuman and the stable of running backs. One wideout, Jamarcus Tyson, 6'3", 200, saw significant playing time last year and will be a reliable target for Shuman.
Maybe the biggest question marks for Valdosta are on the defensive side of the ball. The returners are spread throughout the defense – two linemen, a linebacker, and a couple of kids in the secondary. That gives Valdosta some experience on each unit but also leaves some big holes to fill, particularly at linebacker. The two linemen are junior Devonnsha Maxwell and senior Tyrese Doe. The lone starter back at linebacker is the 6', 210-pound Todd Bradley, who also doubles as a running back at times. Rashay Marsh (5'10", 180) and Antwon Kincade (5'11", 185) will anchor the secondary.
With 107 total kids and 26 seniors, the Wildcats are in good shape numbers-wise. They've got some talent from their ninth graders up to their senior class. And they've got some elite-level offensive players back. The pressure, however, is on. The Wildcats need a monster season. It won't be easy but they've got the talent, the coaching, and the tradition to get it done.
---
Valwood
Valwood Valiants: Business as Usual
For the 2014 GISA Region 3-AAA Champion Valwood Valiants, this season will be best summed up with three words: business as usual.
"The goal is always the same," head coach Ashley Henderson said. "We are aiming to compete and win a state championship. I have a lot of confidence in our guys. They know what it takes to be successful both on and off the field."
Although team didn't finish the year in the fashion it had hoped, Coach Henderson and the Valiants are anxious for redemption in the upcoming season.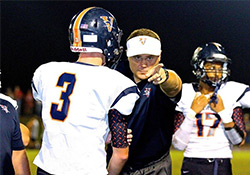 "We came up a little short last year," he said. "We got hit by the injury bug late, but that's part of the game. No excuses, we just came up short."
Coach Henderson and his staff are working to replace a talented crop of 2015 graduates, headlined by Region 3-AAA Player of the Year Parker Bonner and 2014 touchdown and interception leader Marik Merine, both of whom will don the red and black of the Valdosta State University Blazers this fall.
"We have to replace not only good football players, but good leaders and great young men," Coach Henderson said. "We are trying to put our guys in situations where they have to lead. You have some vocal leaders and some leaders by actions. It's good to have a mix in there."
In the eyes of the Valiants, the biggest game on the schedule at the moment is the season opener against Memorial Day Academy on August 21 in Savannah, Ga. And, just like their preparation, their reasoning for selecting this game is simple.
"That's the next one," Coach Henderson said. "You're only as good as your last game…our guys are hungry."
Quick Facts
Valwood Valiants (Hahira, Ga.)
Classification: GISA Region 3-AAA
Home Venue: Goddard Field
Capacity: 2000
Head Coach: Ashley Henderson
Career Record at Valwood: 36-3
2014 Statistics
Record: 10-2 (7-0 in Region 3-AAA)
Leading Passer: Parker Bonner (2,100 yds, 24 TD)
Leading Rusher: Parker Bonner (74 att, 1,002 yds, 14 TD)
Leading Receiver: Maysoe Wiley Jr. (21 rec, 251 yds, 6 TD)
Top Academic Players (According to GPA):
Gahnon Byington (DE/LB): 3.80
Jack Helms (RB/CB): 3.81
Tyler Richards (LB): 3.85

College Prospects:
Gahnon Byington (DE/LB)
Terry Carter (LB)
Rod Hughes (C)
Matt Register (T)
Maysoe Wiley Jr. (WR)
Of Note:
Valwood claimed the Region 3-AAA title after an undefeated 7-0 run.
Valiants quarterback Parker Bonner was named Region 3-AAA Player of the Year.
When the 2015 season begins, Valwood will have 14 football players that have graduated within the last three years that are active on college rosters.
---
Worth County
For the Worth County Rams, Consistency is Key
Entering his third season over the Worth County Rams, head coach Jason Tone is looking to build on the strong season that the Rams completed in 2014.
"Last season was a turning point for our team," Coach Tone said. "We were fortunate enough to go 6-2 in the region. Although we didn't perform like we wanted to in the playoffs, we are looking to use this momentum to carry us to the next level. We want to use last year to help us compete for a region championship."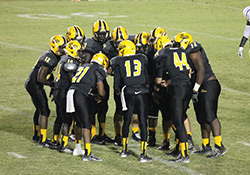 Worth County only dropped two region games, both to eventual region champion Cairo. In order to remain in the hunt for a region title, Coach Tone says that repetition is going to be extremely important.
"Consistency is a big lesson from last season," he said. "We must be consistent week-in and week-out if we are going to step up to the next level in Region 1-AAAA. We stick to the same plan regardless of home or away. The warm up time might change a little as far as pregame goes, but the overall plan is the same."
The Rams have a strong running attack to lean on this year. Last year's running core, which led the region, is returning five key members.
"Offensively, we want to run the football on offense and make them pay with play action passes when they come up to defend the run," Tone said. " Defensively, we want to establish a physicality on defense so that the other offense can't dictate to us what they want."
As with any football program, wins are desired in Sylvester. But Coach Tone knows that victories are gained through much more than the final score indicates.
"You are always defined on wins and losses," Tone said. "That's why they keep score. But I would just like us to get better every week. If I can see improvement from week to week, and we can grow as a team, I will consider that a winning season. A lot of the time, the scoreboard will take care of itself if the players come together and play as one."
Quick Facts
Worth County High School Rams (Sylvester, Ga.)
Classification: GHSA Region 1-AAAA
Home Venue: Worth County Stadium
Capacity: 5,000
Head Coach: Jason Tone
Career Record at WCHS: 9-11
2014 Statistics
Record: 6-4 (6-2 in Region 1-AAAA)
Leading Passer: Gerome Williams (52 attempts, 297 yards)
Leading Rusher: Zytavious Anderson (108 carries, 870 yards)
Leading Receiver: Toddrick Jackson (6 receptions, 175 yards)
Top Academic Player (According to GPA):
Justin Crosby (OL/LB): 3.8

College Prospects:
Zytavious Anderson (RB)
Dontavious Buford (RB/CB)
Eric Burrows (S)
Cameron Farley (LB/FB)
Toddrick Jackson (WR/S)
JeCard Parker (OL, DL)
Of Note:
The Worth County Rams are returning seven offensive starters, including five running backs.
---
https://itgnext.com/wp-content/uploads/web_2015previews_main_SG_0815.jpg
1000
750
South Georgia
https://itgnext.com/wp-content/uploads/ITGNext-logo-Black-and-Cyan-300x186.png
South Georgia
2015-07-28 19:13:19
2016-10-13 16:08:45
2015 South Georgia Previews