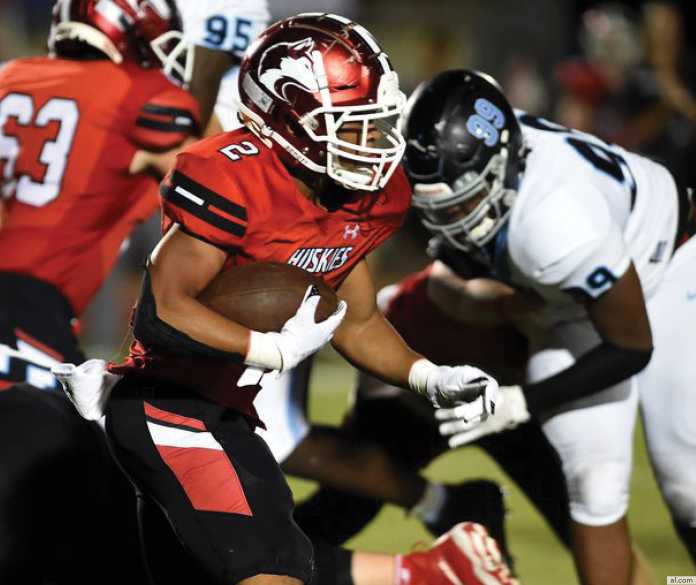 10 Players Who Could Decide the 2021 Alabama 7A Football Playoffs
One of the most anticipated Alabama high school football playoffs to watch in 2021 will come from Class 7A. Not only are many of the state's top teams and players taking center-stage, but it will also feature many key storylines headlined by the quest for a Thompson three-peat.
Obviously no one player will decide the outcome of this season's playoffs, but there is one player for each team that could greatly factor-into how far into the playoffs each's respective team goes solely based on their performance on the field. Here are 10 of those players, each of whom could decide just how-far their team going in this year's Class 7A playoffs.
DE Jeremiah Alexander – Thompson
The state's top overall player, Alexander has been dominant along the Warriors defensive line this season collecting 56 tackles, 20 TFL, and six sacks across Thompson's first eight games. The senior has extensive playoff experience during his high school career, and has the ability to completely takeover a game along the line of scrimmage alongside others from Thompson's talented defensive front.
QB Bennett Meredith – Hoover
Transferring to Hoover from Spain Park during the summer, Meredith has been impressive passing for over 1,600+ yards and 16 touchdowns across the Bucs first eight games. A senior, Meredith does not have much playoff experience as a starter, but is likely going to play a massive role for the Bucs over the next month or two.
QB Caleb Nix – Central-Phenix City
One of the top quarterbacks in the state this season has been Nix who has accounted for over 2,000+ total yards and 31 touchdowns during the Red Devils first nine games of the season. After falling in the 7A semifinals last season, Nix continuing this strong play into the playoffs could find the Red Devils playing for a state championship once again.
RB James Hammonds – Hewitt-Trussville
One of the strengths for Hewitt-Trussville this season has been the ground-game, something that will be important for the Huskies as we inch closer to the playoffs. Leading the charge for the Huskies in the run-game has been Hammonds, a senior who has rushed for 738 yards and 10 touchdowns through eight games so far this season.
QB Evan Smith – Oak Mountain
One of the top overall quarterbacks in the state is Smith, an exciting player who is the focal point of the Oak Mountain offense. Smith can affect a game in many different ways, and will easily be one of top overall players during this year's Class 7A playoffs.
A few other notables that could play massive roles for their teams during the 2021 Class 7A playoffs include Auburn quarterback Clyde Pittman, Fairhope running back Qualin McCants, Theodore quarterback Tametrius Pogue, and James Clemens quarterback Gio Lopez.
Written by: Matt Melton