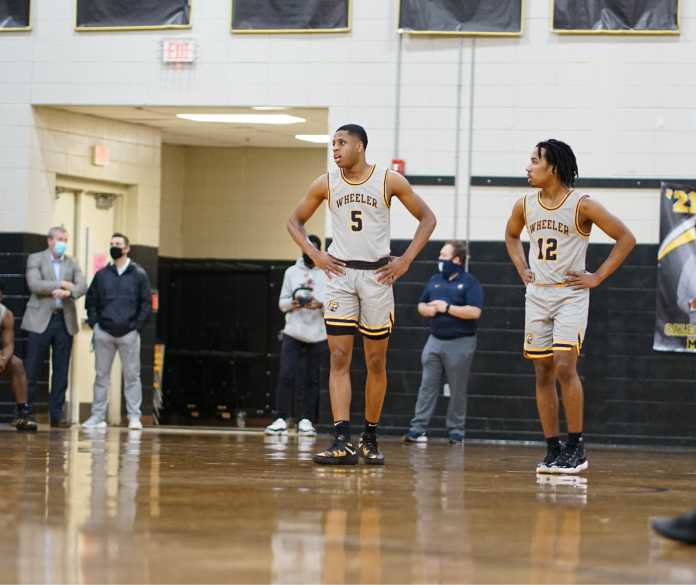 Wheeler Basketball Coach Keeping the Legacy Alive
When Larry Thompson took the Wheeler High School boys basketball head coach job in 2017, he knew he wanted to take his own path.
He didn't want to follow behind legendary coach Doug Lipscomb, who led the Wildcats to six state championships. He wanted to do it his way instead.
Thompson came to Wheeler with a winning pedigree though, capturing two state championships at the GHSA Class A-Private level during his time at Greenforest-McCalep Christian Academy.
The sixth-year head coach would get Wheeler a state championship a season ago in his second season at the helm as he led his team to a 24-7 record and narrow 60-59 victory over Grayson in the Class 7A title.
Coaching is in his DNA as Thompson's mother coached high school sports, making him a natural at calling plays from the sideline.
"It's my passion to be around the kids and teenagers knowing the impression that you can have on them. I think it's truly my calling and I wouldn't to be doing anything else," he said. "My mom was a girls high school basketball and softball coach and taught health and physical education. It's been in my blood and I'm truly passionate about it."
Thompson has been around basketball since he was a youth and sees it as a rewarding sport as he went to play at South Alabama for college.
It would create a deep love for the hardwood for him as he looks at it as a year-round responsibility.
"If you love what you do, you would never work a day in your life and I truly love the game of basketball because it's been good to me. It helped me be awarded a scholarship to South Alabama to play college basketball and get a free education. The coaches I had growing up are instrumental and key to my development as a coach. I take something from each one of them that I remember from playing for them. They brought the juice everyday and I pride myself on not letting my players have bad energy days. Coaching is 24/7-365-day job and I don't take it lightly. It's challenging but rewarding because when you get that phone call that a kid graduated, it makes it all worth while because of the privilege of helping kids made decisions that will impact the next 40 years of their life. It's not just about teaching them about basketball. They're going to be husbands, fathers, ministers, councilmen, or policemen."
Learn more about the Wheeler basketball team in our Georgia April/May 2021 Magazine for FREE!
Click here to purchase the South Georgia print version to have at home!