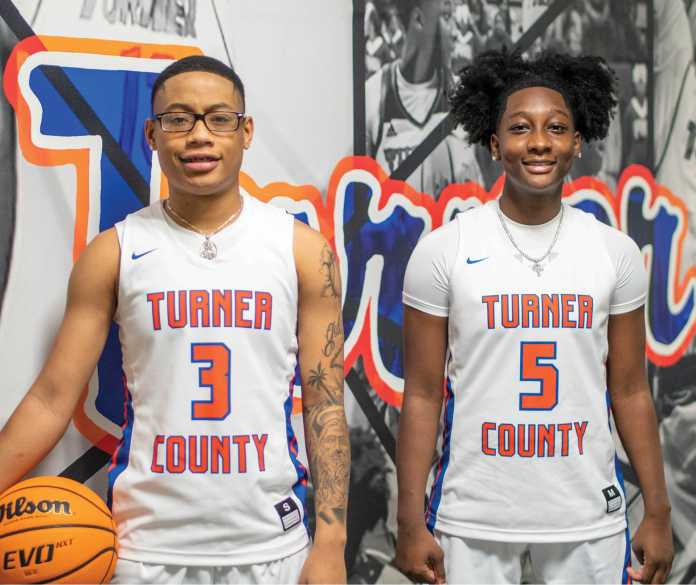 Turner County Girls Basketball: Best Friends On and Off Court
"Where you see one you see the other." 
That's how Turner County Girls Basketball Head Coach Yachika Wilson sums up Turner basketball teammates and best friends Yakia Temple and Jaylasia Office. 
The two seniors are team leaders on the court for Wilson, and are best friends off the court. 
"They're thick as thieves," jokes Wilson.
But, their performance on the court is no joking matter.
The two teammates are a big reason for Turner County's success on the hardwood.
This is Coach Wilson's first season as the head coach of The Lady Rebels (she also serves as the middle school head softball coach at Turner), but she has known about the talents of both Yakia and Jaylasia since they played as freshmen.
"I was the Head Basketball Coach at Irwin County for three years, so I've had to coach against them ever since they were freshman," says Wilson. "Believe me, I knew all about Yakia and Jaylasia before I got here at Turner. I'm just glad I now get to have them on my side," says the coach.
While Coach Wilson knew just how talented the girls were on the court with their pure athletic abilities before arriving at Turner County, it was during one of her first team meetings with her new squad that she discovered just how much of an influence they were with their teammates.
"I wanted to select team captains for this season, so I asked the team if they wanted to talk about who they all felt the captains should be, and it didn't take long at all. The team immediately selected Yakia as team captain and Jaylasia as her co-captain," said Coach Wilson.
Check them out in our Georgia February/March 2021 magazine right here for FREE! This issue features Jabari Smith from Sandy Creek, Matthew Cleveland from Pace Academy, and more great athletes.
Click here to purchase the South Georgia print version to have at home!