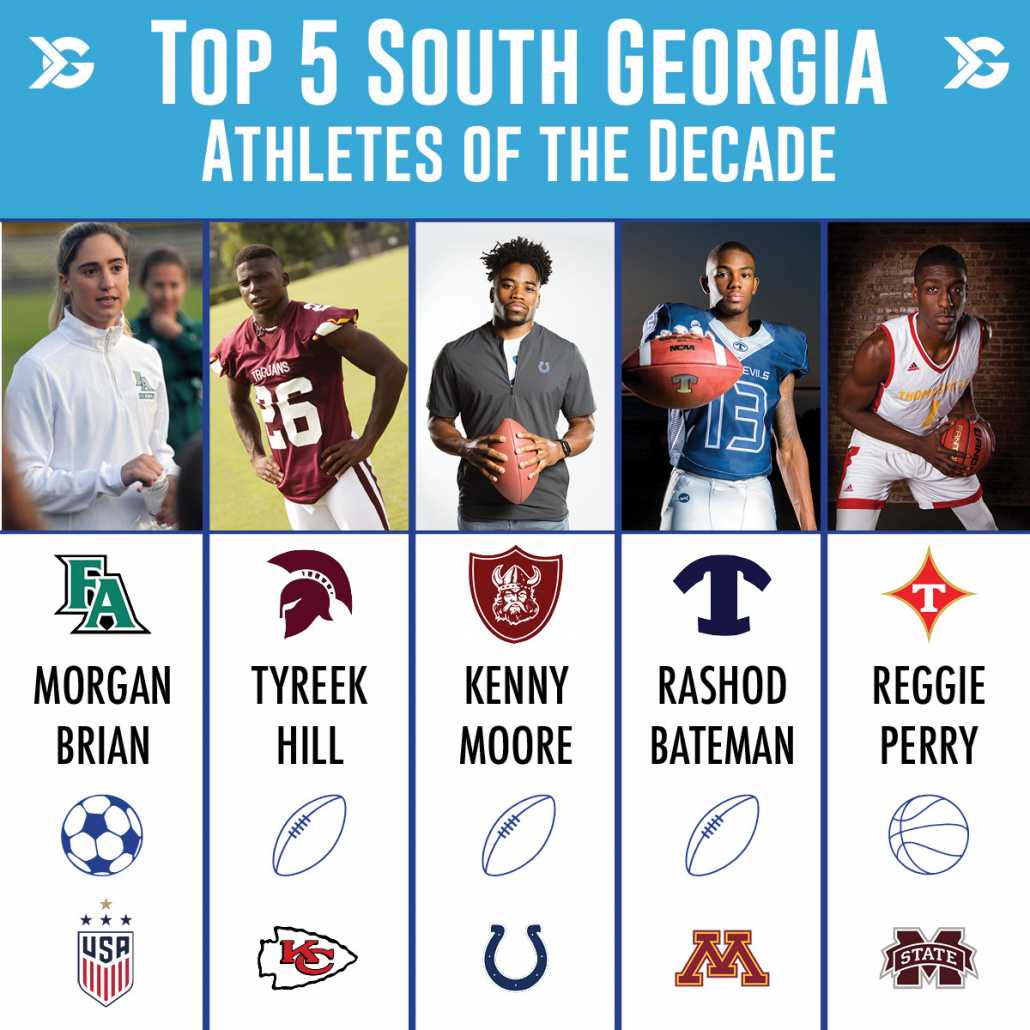 Athletics runs deep in the culture of South Georgia, and these athletes all made their names here during the decade. While many were great during their times at their respective high schools, they've also gone on to make names for themselves on a national scale, ranking as some of the best athletes in their sports. Here are the top five South Georgia athletes of the 2010-19 decade.
1.
Morgan Brian, Frederica Academy, U.S. Women's National Team
She only played two years at Frederica Academy this decade, but during those years, Brian won two of her four state championships, along with taking home the Gatorade Player of the Year award both years, including being named the National Player of the Year in 2011. She finished with 185 goals for her career with the Knights.
Since her playing days at Frederica, her career has been pretty good, to put it mildly. She was the fifth woman to win the Hermann Trophy twice while at the University of Virginia and then went on to the professional level. Brian was the youngest player on the 2015 U.S. Women's National Team at just 22 years-old, and she started in four of the games on her way to her first World Cup. She was also on the roster for the 2019 team, finishing the decade with two World Cup trophies to add to her collection as South Georgia's top athlete.
2.
Tyreek Hill, Coffee, Kansas City Chiefs
Nicknamed "Cheetah," Tyreek Hill was more known for his track accolades at Coffee High School before going on to become one of the top receivers in the NFL. Hill won two state championships in 2012 while also being named to the USA Today All-American Track and Field Team. From there, he hasn't slowed down one bit, becoming one of the most dangerous receivers in all of pro football and the top option for Patrick Mahomes with the Chiefs. He drew attention with his 4.29-second 40-yard dash time and was drafted in the fifth round based on his speed. Hill helped Kansas City reach the AFC championship game in just his third season in 2019. In just four seasons, Hill has amassed over 4,000 career receiving yards, over 30 touchdowns, and a reputation as the best deep threat in the NFL today.
3.
Kenny Moore, Lowndes, Indianapolis Colts
The best slot corner in all of football, Kenny Moore has risen from unknown player from Valdosta State University to one of the top at his position. It's amazing that Moore didn't start playing football until his senior season at Lowndes, but the four-sport star used his natural gifts to stand out and earn a scholarship to the local university.
His 11 interceptions were fifth all-time at Valdosta State, and Moore earned a First Team All-American spot his senior season before signing with the New England Patriots as an undrafted free agent. After being cut, he worked his way up with the Indianapolis Colts and has four sacks, six interceptions, and 171 tackles in just 32 starts. With hard work, determination, and grit, Moore earned his place in the league and more than earned his place among the top South Georgia athletes.
4.
Rashod Bateman, Tift County, Minnesota Gophers
A rising star in the college football world, Rashod Bateman had a breakout 2019 season as the Big Ten Wide Receiver of the Year. Bateman made a name for himself in 2017 at Tift County High School as he set a record with 1,539 yards and 21 touchdowns his senior season. He was awarded First Team All-State for his performance as he went on to play for Minnesota.
He's been a rising star for the Gophers since he arrived, as he set freshman records for receptions (51) and yards (704) to go along with six touchdowns. He also finished as one of the 12 finalists for the Biletnikoff Award for the best wide receiver in the country, as he finished the regular season with 1,170 yards and 11 touchdowns for the season. Minnesota was one of the surprise teams of the season this year and has performed on the biggest of stages, including 203 yards and a touchdown in an upset win against Penn State on Nov. 9.
He'll surely be on NFL Draft boards after his junior season next year, as the standout has the two best receiving games in the history of TCF Bank Stadium.
5.
Reggie Perry, Thomasville, Mississippi State Bulldogs
Perry was a rising star at Thomasville High School, as the McDonald's All-American led the Bulldogs to the 2A state championship in 2018. He averaged 22 points and 12 rebounds his senior season and was ranked as high as No. 16 in the ESPN Top 100.
Perry continued as a Bulldog, where he had a solid freshman season, and went on to win a gold medal at the U19 World Championships. He was the FIBA World Cup MVP, averaging 13 points, eight rebounds, and a block per game. He is rated as a Wooden Award Preseason Top 50 player and is hoping to lead Mississippi State back to the NCAA Tournament for their second year in a row.
https://itgnext.com/wp-content/uploads/decade-web.jpg
2625
6250
Kyle Grondin
https://itgnext.com/wp-content/uploads/ITGNext-logo-Black-and-Cyan-300x186.png
Kyle Grondin
2019-12-17 16:01:36
2019-12-20 13:12:07
Top Five South Georgia Athletes of the Decade