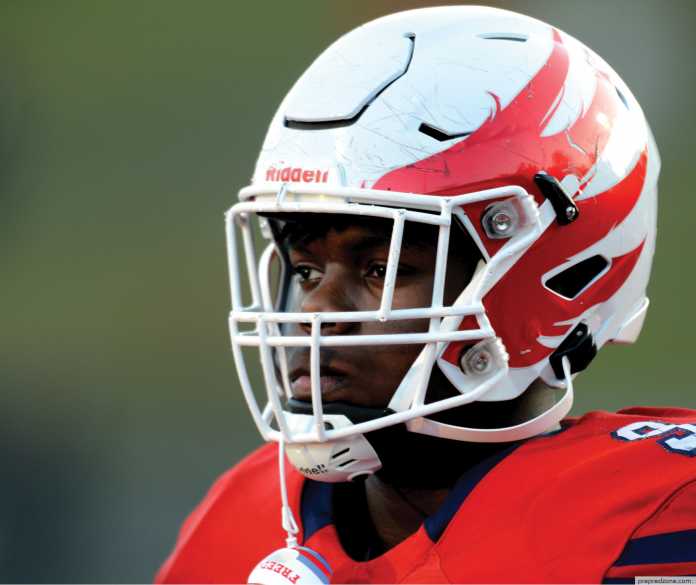 Top 5 Football Recruits in the Class of 2023
As the summer months begin, the 2021 high school football season is right around the corner. With that, the next group of highly rated players are beginning to take center stage. As you'll see, the top five overall football recruits in the Class of 2023 will all be must-sees next season in their own different ways. 
Lebbeus Overton, DL, Milton (GA)
The consensus top recruit in the Class of 2023 is Milton (GA) defensive pass rusher Lebbeus Overton. Playing the past two seasons at Milton and Bessemer Academy (AL), Overton has totaled an extremely impressive 175 tackles and 40.5 sacks. The two-sport athlete has interest from almost every major collegiate program and could be one of the most highly-touted recruits in recent memory.
Peter Woods, DL, Thompson (AL)
Not far behind Overton is Thompson (AL) defensive lineman Peter Woods. Woods has turned in phenomenal freshman and sophomore seasons for the back-to-back Alabama 7A state champions, totaling 84 tackles, 23 TFL, and 10.5 sacks. The versatile defensive lineman continues to improve and will be one of the most dominant defensive players in the country next season regardless of class.
Arch Manning, QB, Isidore Newman (LA)
Odds are you have already heard of Arch Manning, who has been labeled by some as the next great high school QB. Manning started for Isidore Newman (LA) for the previous two seasons, leading them to the Louisiana Division III playoffs. Over the previous two years, Manning has thrown for 4,360 yards and 55 TDs and will only get better from here on.
Malachi Nelson, QB, Los Alamitos (CA)
While Manning may get most of the QB shine in this class, Malachi Nelson is no joke either. Nelson has thrown for 2,396 yards and 31 TDs over the previous two seasons, while also showcasing every reason why he is believed to be the next great college QB. Nelson has interest from multiple schools, with Oklahoma and USC considered as the arguable favorites.
Francis Mauigoa, OT/DT, IMG Academy (FL)
Francis Mauigoa is one of the more interesting players in the Class of 2023. Now at IMG Academy (FL), Mauigoa is a dominant two-way lineman. Receiving interest from numerous top college programs, he might just be one of the top players to watch next season solely due to his versatility.
So, now that you've seen the top five, who do you think is the top overall player? Would you go with one of the dominant defensive linemen; one of the two, clear-cut top QBs; or the versatile, two-way lineman?
Written by: Matthew Melton