Much like the other football teams in the area, the Titletown Titans, Valdosta's Pop Warner football affiliate, are preparing for the upcoming season. The Titans field seven different teams, from Tiny Mite (ages 5, 6, and 7) to Midget (12, 13, 14, and 15). The kids on the various teams in the program play teams from the South Georgia region – Moultrie, Thomasville, Albany (two different programs), and Lee County. They also play teams from outside of the area throughout the season. The players on each of the teams within the Titans organization learn the same principles of hard work, setting goals, working together as a team, and never giving up. In the process, they learn the game of football and prepare themselves to be better players at the middle school and high school level.
Each team is unique and possesses its own set of strengths and weaknesses. The Junior Pee Wee Titans (9, 10, and 11 year olds), however, are a particularly interesting group. These players have a state title to their credit (2013) and many are in their last year of the program. They have truly come together as a team and grown as football players. Here are a few of the kids who will play pivotal roles on the 2015 Junior Pee Wee squad.
Ty Bridges: A 2014 All-American Scholar, Bridges is an 11-year-old quarterback who will be a three-year starter. A coach on the field, Bridges is a tremendous leader with a huge arm. He knows the game, is very elusive, and he is the kind of kid who doesn't come around often. Bridges is also an excellent baseball player and, if he continues to work and further learn the game, will be an incredible high school football and baseball player.
Canyon Hebb: Another 2014 All-American Scholar, Hebb, 11, is a two-year starter at tight end/defensive end.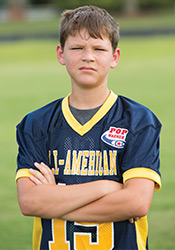 Hebb is a great blocker and the most aggressive offensive lineman on the team. He received the Best Offensive Lineman award at the annual banquet and is a very smart player.
JaDarian Rhym: A three-year starter at running back, the 11-year-old Rhym is the best in a stable of excellent running backs on the Junior Pee Wee Titans. He's fast, quick, and capable of breaking big runs from anywhere on the field. He's also a hard-hitting linebacker on defense. He averages about 10 touchdowns per season and ought to do the same this year.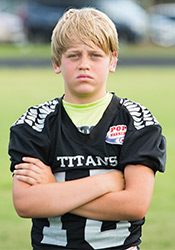 Wyatt Tedder: The Titans' center, Tedder, 11, is another three-year starter. He's a brilliant kid who already knows how to read defenses. Tedder isn't a big player – he's only about 85 pounds – but he moves well and has great footwork. He sets the tone for the rest of the Titans' offensive line.
Kelan Hill: Hill is yet another All-American Scholar. A receiver and cornerback, Hill is lighting fast and can catch just about anything thrown his way; that goes for offense and defense. If the ball is close to him, he's going to haul it in.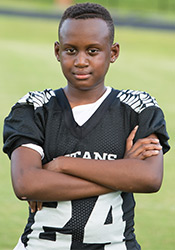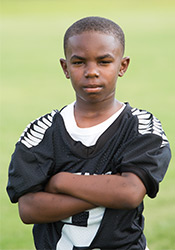 Jordan Gatlin and Alijah McKeithern: A pair of 10-year-olds, both will be expected to play huge roles for the Titans this year. Gatlin, last year's Offensive Player of the Year, is a hard-hitting running back and linebacker. He plays a lot heavier than his 72 pounds dictate. McKeithern is a defensive end/linebacker who impresses coaches and fans alike with his style of play. Last year's Defensive Player of the Year, he is a tremendous athlete who strikes fear in his opponents. Though they are both 10, this will be their third year in the program.
"These kids have played over 24 games together. As a group, they've lost just one game," says James Gatlin, the Titans' president. The Junior Pee Wee Titans play their first game on Aug. 22 in Atlanta.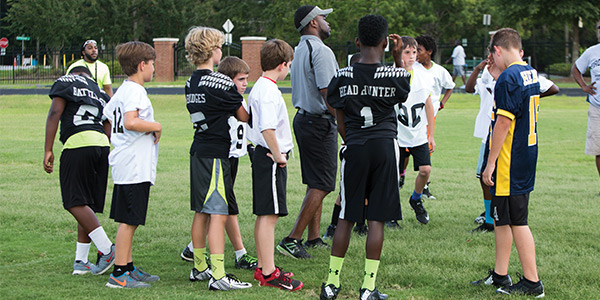 ---
Special Feature/South Georgia/August 2015
Titletown Titans
Valdosta, Georgia
Robert Preston Jr.
Photography by Lindsi Jones
https://itgnext.com/wp-content/uploads/web_titans_main_SG_0815.jpg
1000
750
South Georgia
https://itgnext.com/wp-content/uploads/ITGNext-logo-Black-and-Cyan-300x186.png
South Georgia
2015-07-27 19:32:30
2016-10-13 16:08:45
Titletown Titans Bring Pop Warner Football to Valdosta