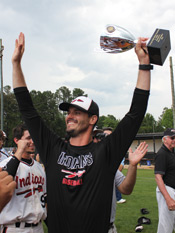 The term "dynasty" to the people of Charlton County, could never be confused with the big-haired women and power-hungry men of the 1980s soap opera, a Chinese all-you-can-eat buffet, or even Phil Robertson and the family from the television show Duck Dynasty.
Gordon Lee lost the Class A GHSA State Championship for a second straight year in the third and deciding game. It wasn't the bats that put the Indians on top; it was one of the most memorable pitching performances in the team's existence. Richard Dasher, battling through the South Georgia weather and Gordon Lee hitters, tossed 119 pitches, giving up one run off of four hits.
Charlton County coaches, athletes, and fans certainly know what a dynasty is. They have a firm understanding how only those truly special teams can achieve that status.
Just as the Indians established a football dynasty a decade ago, the Thad Marchman era for Charlton County Indian baseball is paying dividends higher than the price of gold. The hard work and true understanding of the game of baseball under Marchman's tutelage is the currency that keeps the Indian baseball boom flowing.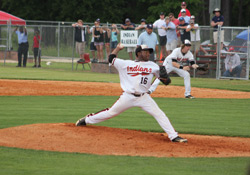 Though not exactly ancient history, no one really remembers that Marchman's first season at the helm was only a five-win season. However, Marchman got the team going in the right direction, still pursuing a trophy which would provide the opportunity to garner a state championship ring if successful.
Athletes from Charlton know a thing or two about championship rings. Last year when the baseball booster club was helping Marchman find the perfect ring for his first state championship, he was examining the multiple rings that Indians earned during the dynasty run of Coach Rich McWhorter.
"We started the season defending champions, and it was kind of hard at first. That was a very tough task at first; our players had kind of a 'we are all that attitude' to start the season. My assistant, Coach Thomas Brooks, and I were very tough on them at practice to prepare them for more challenging games down the road. To their credit, they really began to work, and they wanted to make some more history in Charlton County," Marchman said.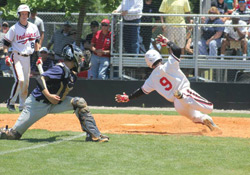 Gordon Lee, a Georgia high school baseball powerhouse, knows well the 400-mile journey from Chickamauga to Charlton County. After the Trojans (28-6) went home with silver, it wasn't apparent that the two teams would meet again this season, but fate stepped in the last part of the regular season.
Charlton worked through the bracket, sweeping Johnson County and ECI. Indian slugger L.J. Talley was one of the offensive forces for the Indians which Gordon Lee would attempt to neutralize in the championship series.
Gordon Lee dominated the first game of the championship series, routing Charlton, 13-7. The Trojans looked like they had unfinished business at the swamp, but as Marchman's Indians had other ideas.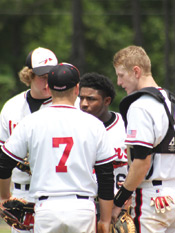 "Game one they came out and shocked us. They got to our pitcher Jesse King. Going into that game, King had not allowed an earned run for the entire season. I know how crazy that sounds, but it is true. They were able to earn a couple off of him, we made some defensive mistakes, and our bats did not come alive until late in the game. They just played better than us; that was our third and final loss of the season," Marchman said.
Charlton County junior pitcher Talley struck out eight Trojans and only allowed two earned runs from ten hits for a 7-3 win in game two. Talley also helped his own cause with an RBI single. Gordon Lee left ten base runners stranded in the loss.
The Indians lost King in game two when he got kneed in the face breaking his jaw in two places. After coming back from a broken wrist his sophomore season, King pitched in a limited role in the 2012 championship. King's unique submarine-style delivery has made him one of the most relied on pitchers for Charlton. He was the winning pitcher in the state championship game last season, and this season he had an 11-1 record with a startling 0.3333 ERA. King also was the co-leader with eight homers and led the Indians with 42 RBIs.
Marchman certainly knew about game three. He had been through two of them the past two springs, losing to Providence Christian in 2012 and then earning Charlton's first baseball title last May.
"We came into game threre with fire and intensity that we hadn't shown before. Dasher was our region (2A) pitcher of the year. He had thrown well all season except for his last start at ECI – he was leaving pitches up, having a hard time changing speeds in the strike zone, and they hit him pretty well that day – but he had been pretty dominant. We actually considered throwing Scott Birchall in that game, because we were not sure if Richard Dasher had mentally bounced back from that loss at ECI. But after a team meeting and talking with Dasher, we were sure he was our game three guy. Obviously, he did not disappoint," Marchman said.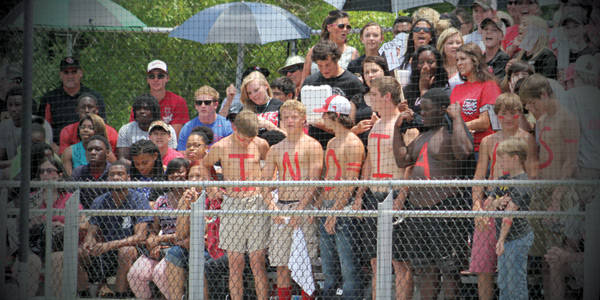 ECI behind him, Dasher battled the Trojans but kept his fastball down and threw his curve ball for strikes which kept Gordon Lee off balance.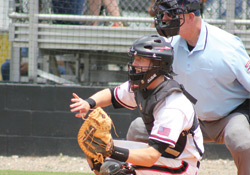 Gordon Lee took a fourth inning 1-0 lead off of a bases loaded single, but the lead would be short lived.
Trojan freshman Chaney Rogers kept the Indians bats at bay until the fifth. Derek King was walking leadoff hitter, and then Talley put runners on first and second. Both advanced into scoring positions from a wild pitch. It would only be four pitches later that the two most important RBI's of the season would score when junior left-fielder Scott Birchall hit a deep drive to left field just out of reach of Trojans left-fielder Will Goodman. One hit, two runs plated, and the Indians were up 2-1.
Though the Trojans continued to battle, Dasher simply persevered. Though injured teammate King couldn't smile because his jaw was wired shut, his presence gave an infectious energy to his teammates.
Dasher struck out the final hitter in the sixth inning, and great defense coupled with an amazing performance on the mound by Dasher sealed the deal in the seventh inning, retiring the Trojans in order.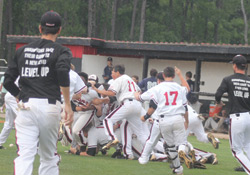 Charlton County played for its third-straight state championship game in what will certainly be remembered as one of the best games played on any diamond. Thad Marchman and his Charlton County baseball program are certainly one of the best high school baseball programs out there. However, it accolades and winnings aren't everything for Marchman.
When Charlton lost its first state title three years ago, there wasn't much time for tears because Marchman ended his post-game speech with the uniform that Indians would wear the next day when the month-long summer baseball season started, just as he would have if they'd won. "This team is simply a group of winners. Before all those seniors were starters, they competed hard in practice every day, so each day they were making us better while getting better as individuals. One of the biggest reasons for our success is the fact that roles were accepted, but they worked to improve their roles. What they leave behind for our younger players is practice intensity. Bring the heat every day is what they did. And it's what our younger players have seen and what will be expected out of them every day. I am proud to have had the opportunity to be a part of these young men's lives. They have made our community proud. They believe winning is the way and have won a bunch of baseball games for Charlton County because of how they prepare," Marchman said.
No one is sure what 2015 will bring, but if history is any clue, regardless of graduation, broken jaws, or fatigue, the Indians will remain the team that doesn't go away.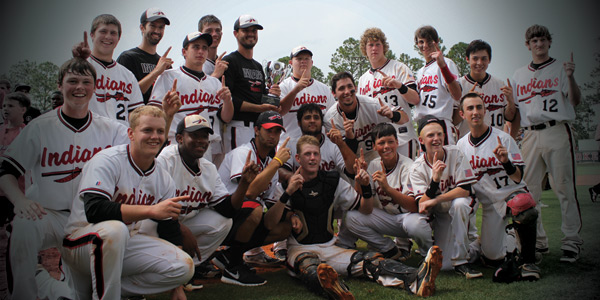 ---
SE-SF-6.14-CharltonBaseballChampionship
The team that just doesn't go away
By John Wood
https://itgnext.com/wp-content/uploads/ITGNext-logo-Black-and-Cyan-300x186.png
0
0
admin
https://itgnext.com/wp-content/uploads/ITGNext-logo-Black-and-Cyan-300x186.png
admin
2014-06-25 15:32:35
2014-06-25 15:32:35
The team that just doesn't go away