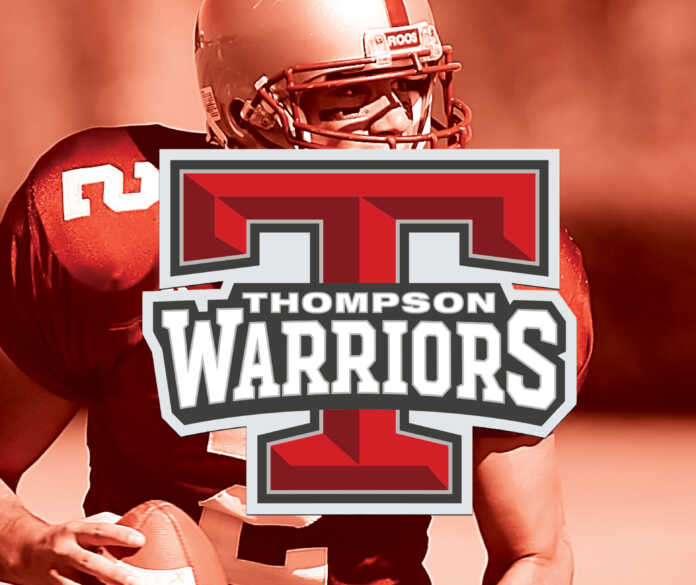 When Thompson High School's eighth-grade quarterback, Trent Seaborn, led his team to the Alabama Class 7A state championship last year, it made national headlines, and for good reason. Most 14-year-old quarterbacks aren't thrust into the spotlight like Seaborn was. Not even close.
You may know the story by now. Seaborn, who had played only sparingly all season, mostly when games were well in hand for Thompson, suddenly found himself on the hot seat. When starter Zach Sims went down with a concussion in the Warriors' last regular-season game, Seaborn had to take over. There he was, playing in Alabama's largest classification, in the state playoffs, against the toughest competition.
The young signal caller responded like a seasoned veteran, leading Thompson to five playoff wins, including the state championship game. In the Alabama Class 7A final, he completed 12 of 14 passes for 207 yards and 5 touchdowns to lead his team to victory over Auburn High.
From Colorado to Alabama
Thompson head coach Mark Freeman says the path that brought Seaborn to Alabama was not what anyone expected. But it all was meant to happen for a reason.
Freeman says he's known Trent since Seaborn was in the third grade, when he was living out west in Colorado and training in Hawaii.
"Trent had been training with Galu Tagovailoa and his son Taulia in Hawaii, and I first met him over Zoom," recalls Freeman, who is well known for his work with quarterbacks.
Freeman says Galu decided he wanted to move to the mainland and enroll Taulia at Thompson.
"We were honored and blessed that Galu put Taulia in our school system with me," says Freeman. "My niche is working with quarterbacks, and my role is to prepare them to play, to read coverages and react to certain situations. Galu does drills with them, but my approach is a little different."
Freeman says Trent began visiting Thompson to train with Galu and Taulia. That's when he really got to know the youngster.
"I would throw the ball around with him and could see how good he was, even then," Freeman says.
The Warriors head coach had known Trent's father, Jason, for years. He says the two were talking about trying to find Trent a good school in California, where Trent's grandfather lived, and where Trent and his family planned to live.
"I made a call to a friend of mine who was the offensive coordinator at Arizona State," Freeman remembers, "and he gave me a list of schools in California where Trent's granddad lived, and where Trent was going to move."
Freeman says he had set up visits to schools in California for Trent and his family. Then tragedy struck and everything changed.
"Trent's granddad died in January," Freeman says. "It was totally unexpected."
That was when Jason and his wife, Jewel, made a call to Freeman and told him they would not be moving to California. They were coming to Alabama.
"I had never thought or expected Trent would move to Alabama," Freeman says. "But they called me and said this was where they knew people, and I have enjoyed a wonderful relationship with them and the family. They are tremendous people, and they know working with quarterbacks is kind of my thing, so they decided to move here."
And just like that, Trent was on his way to Alabama and Thompson High, where Freeman has fostered a family atmosphere that welcomed the youngster with open arms. Freeman's wife, Vicki, is a staunch supporter of the Warriors, and their daughter, Kori, is married to defensive coordinator Shawn DeFoor.
Into the Spotlight
Although Trent was already a special player, Freeman also knew the reality of the situation.
"He is an eighth-grader, and our region here is the top football in the state," the coach acknowledges.
But Thompson had an established quarterback in Sims, which would give Freeman the chance to bring Trent along slowly and let him learn the offense.
"We had a plan to bring Trent along with Zack, and we have a pretty good system for quarterbacks here, with four or five of our last quarterbacks nominated for All State," Freeman says.
Then, once again, the plan changed for Trent Seaborn: Sims' suffered a concussion in the last game of the regular season and the eighth-grader was called into action.
"When Zach got his concussion, we had to move the schedule up for Trent," Freeman says.
What did the Warriors head coach tell his young quarterback?
"I told him just go be a quarterback and do what quarterbacks do," Freeman remembers.
Of course, the best quarterbacks win games, and that's exactly what Seaborn did. He came in and led the Warriors through the state playoffs, throwing for 1,180 yards and 14 TDs, and into the state title game, where he never flinched, earning MVP honors.
Freeman said as good as Seaborn's performance was on the field, it was what he did afterward that really showed the kind of person his parents raised.
"Trent received the MVP award, and after it was handed to him, he took maybe 10 steps and handed it to Korbyn Williams, our wide receiver," Freeman says. "That's Trent Seaborn. That's from the raising he got from his mama and dad. That's an eighth-grader giving away his MVP award. What a great person I get to spend my life with for a few more years. He's a young man of faith, and he handles himself so well."
Like Freeman, we can all look forward to seeing Trent Seaborn in action for Thompson in the coming years.
His grandad would be proud.