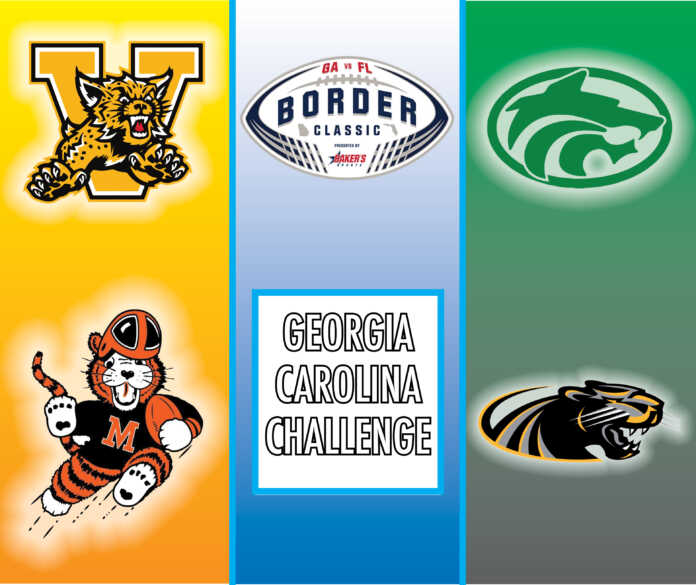 Several of Georgia's Top Teams Open with Out-of-State Opponents
It wasn't long ago when Georgia high school football fans had to wait until their team's region schedule began to watch competitive football. Many teams' non-region schedules were littered with matchups that were over by halftime. Teams played each other that really had no business being on the same field. While a few of those games remain, they are few and far between, thankfully for the fan. Replacing those snoozers are games featuring top-caliber teams facing off in showcase football events. That's exactly the treat that awaits many fans of Georgia high school's top programs in 2023.
Week One's showcase football events include one of the most successful teams in GHSA history taking on a team nationally ranked year after year. The Buford Wolves will host St. Frances Academy in a marquee matchup that will feature two high school football heavyweights against each other to start the 2023 season. 
Buford head football coach Bryant Appling talked about the challenge as well as the opportunity of playing a game of this magnitude so early to start the season.
"Games like this will let you know right off the bat what kind of team you're going to have, and that prepares you for the rest of the season" Appling said.
The Wolves head man said this will mark the third straight season that his Buford team has scheduled a formidable out-of-state opponent to start the season, and he feels it has helped his team, win or lose.
"Everyone knows about Thompson [Alabama] and Coach Freeman with the success that they've had [including winning the Alabama Class 7A state championship last season]," Appling said.
In addition to opening against Freeman's Warriors last season, Buford scheduled Florida powerhouse and state champion Chaminade Madonna in the opening month of the prior season. Although the Wolves dropped the defensive battle 7-0, Appling said it helped his team tremendously. Buford would go on to win its third straight state title that year.
"Hey, we know we're going to have to play tough teams at the end of the season, so why not play tough teams at the start of the season?" he said.
While that game will be an attractive standalone affair, one of the newest large-scale showcase football events, the Georgia-Florida Border Classic, will return for a second season at Glynn County Stadium in Brunswick. This will be a multi-team showcase featuring a total of 14 teams, with seven apiece from Georgia and Florida.
The event is the brainchild of Glynn County athletic director Steve Waters, who said, "It's always been in the back of my mind to do something like this, and I felt with us here in Glynn County being on the state line, it would make sense to get teams from the two states together. But we had to have the right venue to make it happen."
Glynn County Stadium certainly made sense from a fan support standpoint, with a seating capacity of 12,000. But there was more that needed to happen to make it worthy of hosting a true showcase event.
"In the last five years, we added new turf, built new locker rooms, and added an area in the end zone that includes a VIP area, along with offices," Waters said.
Other renovations included new lighting and a new scoreboard, all of which has made Glynn County Stadium one of the nicer venues in the state – one fitting of hosting the very event that Waters had envisioned.
"Everything we did with the renovations was done with hosting an event like the Border Challenge in mind," he said.
The event will return in 2023 with all 14 teams returning, also. They include Georgia teams Brunswick, Charlton, Fitzgerald, McIntosh County Academy, Glynn Academy, Richmond Hill, and Coffee. Waters said he fully expects to renew the event while adding even more teams in years three and four.
"I'd like to see us add more South Georgia powerhouse teams, because these are the teams that need an event like this," he said. 
Perhaps two of those teams that could be future participants in Waters' event will be participating in the all new Georgia-Carolina Challenge. Lowndes and Colquitt County will each host teams from North Carolina and South Carolina, respectively, to start the 2023 season, and the games will be played at Mack Tharpe Stadium in Moultrie, home to the Packers.
This will be the back end of what started as the Georgia-Florida Challenge last season, with the Vikings and Packers facing teams from Florida, but those two teams elected not to play this year, opening the door to rename one of the newest of the showcase football events.
Colquitt County will play South Carolina traditional power Dutch Fork, while the Lowndes High Vikings will open the event by hosting Christ School from Arden, NC. Adam Carter, the new Vikings head coach, told ITG Next that big games like this one creates more of a sense of urgency in the offseason preparation.
"Playing on a big stage to open the season gives summer so much more to work towards," he said. "It's a great opportunity for our kids and the community."
Packers head coach Sean Calhoun, who is entering his second season at Colquitt County, said when athletic director Cleve Edwards asked him about playing the game, he was all for it.
"I was excited when Cleve asked me about playing Coach Knotts and Dutch Fork," he said. "He has won a lot of games and championships there, and it's going to be a great test for us to kick off the season."
Valdosta will travel to Northeast Ohio to start its 2023 season, taking on the Massillon Tigers in the inaugural Northeast Ohio vs. America Showcase Event. The Tigers are No. 4 all-time in wins nationwide, while Valdosta remains the winningest football team in the country. The Wildcats and Tigers are two of the eight teams that will take part in the event at Paul Brown Stadium in Massillon, Ohio.
Tigers head coach Nate Moore told ITG Next Georgia that the game is an attractive matchup on several fronts.
"With the University of Georgia and Ohio State playing in the College Football Playoff semifinals, I feel that adds a bit of intrigue to our game with the whole Georgia versus Ohio thing," Moore said. 
Valdosta head coach Shelton Felton told ITG Next that he also likes that aspect of the matchup, especially at their stadium.
"We are looking forward to the challenge of representing Georgia in this game and at their place," Felton said. "It's going to be great for our kids to go up there and play."