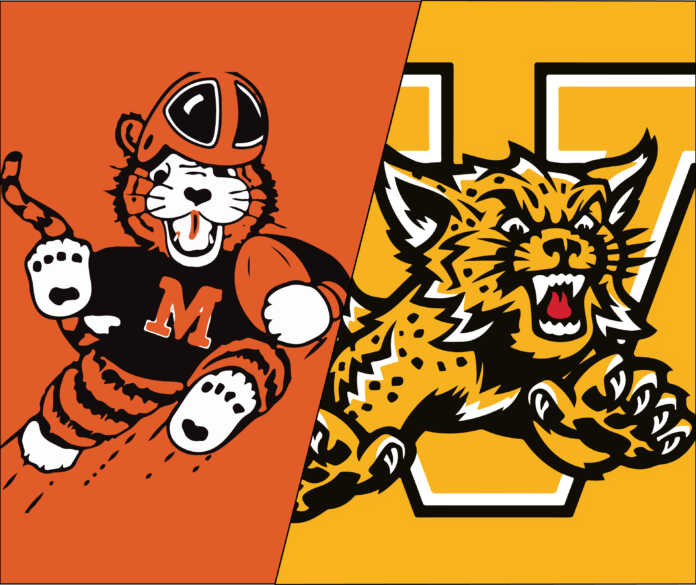 Two of the nation's top high school football programs will finally play each other as part of a 2023 season-opening showcase event in Ohio. The Massillon Washington Tigers will take on the Valdosta Wildcats in one of four games that will make up the Northeast Ohio vs. America Showcase on August 18 at the Tigers' home venue, Paul Brown Tiger Stadium.
The schedule for the remaining games includes Ohio's Archbishop Hoban, St. Edward, and Glenville High. Their opponents are yet to be named, but it's likely the Valdosta vs. Massillon game will be the headliner, given each team's win totals are among the top five in the country.
Valdosta remains the winningest high school football team in America, although the exact number of all-time wins is disputed. The Massillon Tigers website credits Valdosta with 944. Most other "official" sites, including the Valdosta High Wikipedia page, shows the Cats with 941. What everyone can agree on is that Valdosta has the most wins of any high school football program in the country. Massillon ranks No. 4 with 932 wins.
Clearly both schools have a long history of fielding winning football teams, and each side is glad to see this game finally see the light of day.
"We've been trying to play this game for a while now," says Massillon Booster Club president Rob Maylor.
Indeed, the teams were close to securing an agreement to play back in 2007 as part of the Kirk Herbstreit Challenge, according to a story that appeared in the Massillon Independent, a daily newspaper serving Massillon and the surrounding area. The story said the schools were close to finalizing a contract to play each other, but it never materialized.
Johnny Holcombe, a longtime Valdosta booster who serves on the Board of Directors for the Valdosta Touchdown Club and as manager of the David Waller Valdosta Wildcat Museum, says the subject had been raised almost every year, but had lost steam recently.
"In the past, we had tried to make this game happen multiple times," Holcombe explains. "But for the past four or five years, I hadn't really heard anything about it."
Then, he says, at the team's December booster club meeting, head coach Shelton Felton dropped a hint that "something big may be coming" with the 2023 schedule. A January 21 announcement from the group organizing the four-game event, NE Ohio Big School HSFB, confirmed via its Twitter account that the two teams were finally going to play.
Holcombe says he's glad to see that the game is finally going to happen.
"I'm excited about it, because Massillon is one of the top teams in the country, and of course, so are we," Holcombe says. "This will be one of the biggest games we've played against an out-of-state team since Jordan, Utah."
That was a two-game agreement between Valdosta High and Jordan High in 2006 and 2007. The Beat Diggers traveled to Valdosta and defeated the 'Cats 22-13 in the 2006 game. Valdosta turned around and evened things up the next season, defeating the visitors from Utah by a 23-21 final.
Maylor, a longtime supporter and booster of the Tigers, says the Massillon fan base is excited to play Valdosta. A few of the booster club members made scheduling the game a top priority.
"We talk about this game every year," he says. "We had some guys get together and I believe started reaching out to the folks down there, and we weren't sure if it was going to happen or not."
Maylor says that the Tigers' head coach, Nate Moore, made the announcement at the most recent Tigers booster club meeting.
"We were really excited when the game was finally confirmed," he says. "Everyone at the meeting was cheering."
Maylor says keeping up with the Valdosta win total has become an annual ritual at the Massillon booster club meetings.
"At every one of our first booster club meetings of the year, we post the win totals for Valdosta and the top five teams in the country," Maylor admits. "We could see that the number between us and Valdosta was getting a little closer, so at least we were getting within striking distance."
Maylor says the win totals at this year's first booster club meeting showed the following and were from Massillon football team's official website:
Valdosta: 944
Male (KY): 937
Mayfield (KY): 933
Massillon (OH): 932
Ft. Thomas Highlands (KY): 920
Mt. Carmel (PA): 890
Despite the many years of trying to match up these two nationally known high school football programs, credit should be given to the organization that finally played a big part in making it happen. NE Ohio Big School HSFB is a nonprofit organization and recruiting brand that is primarily dedicated to promoting high school football programs and prospects in Northeast Ohio, according to the group's founder, Matt Hankins.
Hankins told ITG Next that just about everyone surrounding the Massillon program talks about playing Valdosta every year, so he decided to give it another shot.
"I went to coach Moore and asked him if there was one team you'd like to play, who would it be?" Haskins says. "I knew he would say Valdosta, which he did, so I started making some phone calls to the folks down there."
Hankins says he called someone with the Valdosta program every day for at least a month until things finally began to materialize.
It has not been announced whether Valdosta and Massillon will make this a two-year, home-and-home arrangement or if this is a one-year-only agreement.
Last season, just as they have done many seasons before, both Valdosta and Massillon did well. Valdosta finished with an 8-3 record after an 8-0 start. The Wildcats lost in the first round of the GHSA state playoffs. Massillon finished with a 12-2 record, advancing to the semifinals of the Ohio Division ll state playoffs. Moore became the school's all-time winningest coach, passing legendary coach Paul Brown.
Valdosta has won 24 state titles, with its most recent coming in 2018. The Wildcats also have won six national championships, although there is no contest to decide a true national champion. Massillon has won 24 state titles.
We'll have to let this game be as close as we can get to deciding who the best high school football team in the country is. Until then, Valdosta can continue to claim supremacy as the top team in the country with its overall win total.
But lookout Valdosta. Massillon is gaining on you.