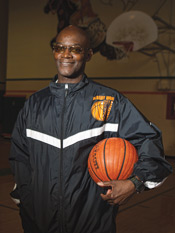 Archie Chatmon's Hall of Fame coaching career is one built entirely in the city of Albany. For the most part, it's been constructed entirely within the walls of Albany High School – which is a bit ironic, considering Chatmon is a graduate of Westover High School, one of Albany High's fiercest rivals.
Chatmon, a standout athlete who played basketball and ran track at Westover, always knew he wanted to coach. He had set his sights on a coaching career long before he graduated from Westover. He figured he would play his chosen sports for as long as he could then turn to coaching. After graduating from Westover, Chatmon headed to Georgia Southwestern University, where he played basketball, ran track and played on the tennis team. His goal was to return to Westover High and coach at his alma mater. A couple of years after graduating from college, his dream came true.
But it only lasted a few months.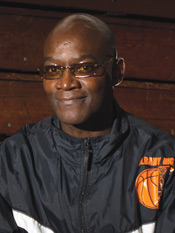 Chatmon's first job was at Pelham, where he coached and taught for one year. Then he returned to Albany where he taught at Dougherty County's in-school suspension program. In the spring of 1984, an opportunity opened up at Westover when a coach left the school mid year. Chatmon came over as an assistant football and basketball coach. Not long after Chatmon went to Westover, the program hired another assistant football coach. Chatmon wouldn't be able to coach football though he would still have the opportunity to coach basketball as an assistant under the late Willie Boston.
Then came a call from crosstown rival Albany High School. The Indians needed a coach and they figured Chatmon would be interested. The most attractive part of the deal was the chance to become head basketball coach after just two years. Chatmon knew if he stayed at Westover, he wouldn't have an opportunity to be head coach for many years. Boston was already a legend and he wasn't going anywhere any time soon. (Boston coached for 17 more years at Westover). Chatmon thought Albany High's head coaching job might open up in as few as two years. It was an easy decision. He made the move to Albany High.
After serving as an assistant basketball coach for two years, he got the chance he was looking for and became head coach of the Indians. "I think it's worked out well," he laughs.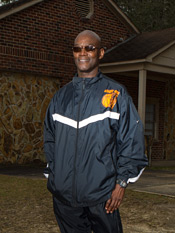 Indeed it has. He is one of the state's most decorated basketball coaches, has been named region coach of the year on several occasions, Georgia basketball coach of the year four times, and he's a member of the Albany Sports Hall of Fame. Chatmon has won more than 300 games and he has played for two state titles (losing both to Westover during what he calls the glory years of Albany basketball in the early 1990s). His Albany High teams have also won numerous region and sub-region titles. "Those years in the early '90s, we played some great basketball here. Everybody was good. Westover won four straight state championships. They beat us in the first and last games of those runs, so we bookended their streak. Those were my best teams as well – mine just came along at the same time as those Westover teams," he says.
As he looks back on his career, he notes how times have changed. The way players learn the game, the influences of the AAU scene, and a lack of work ethic and toughness on the part of the athletes have forced him – and every other old-school coach in the country – to change the way he approaches the game. In particular, he laments the lack of basketball instincts players developed as they learned to play the game in backyards and playgrounds throughout the city. Now, he says, students start playing in organized youth leagues and stay there as they age up. Everyone plays against their own age groups and it's always very controlled. That's not necessarily a bad thing, but athletes who grew up playing on playgrounds or in pick-up games at the Albany State gym against older players developed an edge and instincts that youngsters today lack.
"Used to, kids played against grown men who wouldn't hesitate to throw an elbow or get physical. They had to man up on the court and get tough. Used to, kids learned basketball at the school of hard knocks. Now, they learn it in organized leagues," Chatmon laments. The result has been a deterioration of the game at all levels, all the way up to the NBA. "Our players watch those guys and try to emulate them. And they aren't as good as pro players of the past."
As a result, Chatmon has had to alter his coaching philosophy a bit. He says he's softened up over the years, though his players don't think so. He still maintains his basic system, but within that system, he has made a few tweaks to address the differences in today's players. "Yeah, they still have to do it my way but I've made some adjustments. You have to make adjustments over time," he says. Former players will approach Chatmon and tell him that he would have never let them get away with some of the things he lets slip by now. "I just laugh," says the coach. "They're right but my players today don't think I'm soft. They think I'm a monster."
After all these years, how much longer does Chatmon plan to stay on the job? He says he's taking it year by year but he's still looking three or four years down the road. He has a young team this year and he'd like to see those kids graduate. But he has also been in this profession for a long time, and the grind can take its toll. In addition to basketball, he is also Albany High's athletic director, so there is a lot on his plate that keeps him going. "I don't feel like I've completed everything. I have a great group of teachers, coaches, and administrators. When you feel like retiring there's always one kid who comes along who just grabs at your heart strings. I'm going to take it year by year," he says.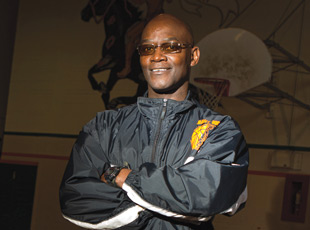 When he was in high school, Archie Chatmon played a little recreation tennis but he never took the game too seriously. He didn't play at Westover because he wanted to run track, and track and tennis season took place at the same time. When he went to Georgia Southwestern, however, he came along at the right time and competed in tennis and track. As a small NAIA program, Georgia Southwestern needed athletes on its teams. And it needed runners and tennis players. "I went out for the tennis team and made it. I was also able to run track," he says. As a result, Chatmon played basketball, tennis and ran track all four years he was in Americus.
Coach's Corner/South Georgia/January 2014
Archie Chatmon
Albany High School
Albany, Georgia
Robert Preston Jr.
Photography by Micki K Photography
After more than 30 years of coaching, Hall of Famer Chatmon not slowing down
https://itgnext.com/wp-content/uploads/ITGNext-logo-Black-and-Cyan-300x186.png
0
0
admin
https://itgnext.com/wp-content/uploads/ITGNext-logo-Black-and-Cyan-300x186.png
admin
2014-01-15 15:10:27
2014-01-15 15:10:27
After more than 30 years of coaching, Hall of Famer Chatmon not slowing down