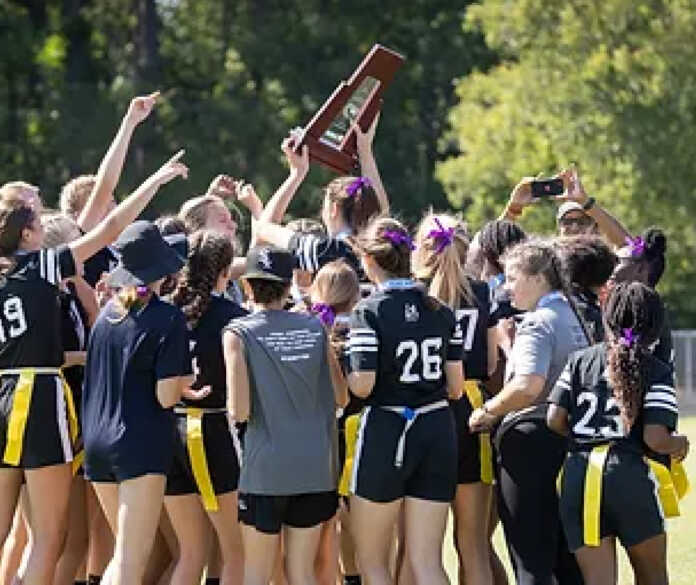 In a sport that is continuing to grow day-by-day at the high school level, there might not be a greater example of success in Florida than Robinson flag football. Led by long-time head coach Josh Saunders, the Knights have won seven state championships dating to the 2014 season, as well as six consecutive 1A titles since Florida switched to two classifications for flag football in 2016. (2020 spring sports championships were cancelled.)
Simply put, Robinson has dominated flag football in Florida throughout the last decade and is one of the state's most successful programs, owning the most titles of any team. Only one program is close to the Knights: Seminole Ridge has five total state titles, all from 2010-16.
Just what has made the Robinson such a successful flag football program in such a short amount of time? A variety of factors, according to Saunders, including a big one that began in 2011.
"There was a big change for us in 2011," Saunders said. "We started to put more time in, basically treating it like a boys [football] program with doing stuff in the summer and offseason, and shockingly, if you practice more, you tend to get better. It's not a big secret. We just do things a lot, and that helps.
"Basically, we saw what Seminole Ridge was doing, because they were winning at that time," Saunders added. "That put us in a position to go to the state tournament in 2012-13, and we lost in the quarterfinals both of those years to Dr. Phillips, and in 2014, we beat Seminole Ridge in the state finals, and that stopped their winning streak of 45 straight games. They then beat us in 2015 on the way to winning 53 in a row."
Another prominent moment that led to this stellar run for the Knights came in 2016, when Florida switched to two classifications for flag football.
"Right after 2015, we split classifications," Saunders said. "We went from one classification in 2015, to two classifications. So in 2016, both of us won the state title, and we just didn't play each other."
Still, the Knights' success has not come without playing some of the top competition Florida has to offer. In Hillsborough County, Robinson is right in the middle of some of the state's best, including Alonso, Plant, and more.
"Our area won both state titles in 2017, 2018, 2019, there was nothing in 2020, and 2021," Saunders said. "We had four consecutive years where Hillsborough County won the state title in both [classifications]. Part of that was because of the summer stuff. We play each other all the time in the summer, and we're just doing more. We play as often as you could probably play."
Based on past success, Robinson enters 2023 as Florida's preseason No. 1 flag football team. There are, however, some key losses from last year's team, which included a prominent name at quarterback, Brianna Stearns, who threw for 3,728 yards, a 65:12 TD:INT ratio, and a 64.4 CMP%.
Among other key losses, arguably the biggest is the wide receiver trio of Jaylen Stasio, Christal Rolack, and Haley Magin, who combined for 25 touchdowns a year ago. Stasio and Rolack  made key impacts on defense as well. Sydney Hall and Lindsey Chadwick also will have to be replaced from last season's title-winning team.
As for the 2023 version of Robinson flag football, one particular position will certainly differ for the Knights than previous years.
"Our last six state titles have been done with six different quarterbacks, all seniors," Saunders said. "We have a pretty solid system in place, and they build up through that system, and all of them only started one year, their senior year, and they won the state title."
Taking over as the Knights quarterback this season is Haidyn Spano, a sophomore who, despite having big shoes to fill, is certainly more than capable of running the potent Robinson offense without it skipping a beat this spring, according to Saunders.
"Haidyn [Spano] is a sophomore quarterback, as well as a volleyball player, who is uber competitive, and has a very good arm, is pretty athletic, and very smart," Saunders said. "Those are all things we're looking for at quarterback."
Alongside Spano this season will seniors Katejion Robinson and Adriana Williams, a duo that combined for nearly 3,000 yards of offense and 52 total touchdowns a year ago.
"We have three First Team All-State kids that are returning," Saunders said. "Adriana [Williams] is a rusher/running back who is probably the most electric kid in the state. Katejion [Robinson] is a receiver/safety, and is as good as anybody out there at those positions."
On defense, Julia Guillermo returns for her senior season after a phenomenal year in which she had 98 total tackles and 39 sacks.
"Julia [Guillermo] is our main rusher, and she was First Team All-State last year; she's pretty good," Saunders added.
In addition to those three key seniors, the Knights will count on a few others to take on larger on-field roles this season. That group includes the aforementioned Spano at quarterback and Manasvi Vijayaraghavan and Tammy Jerson, both juniors.
"Manavsi [Vijayaraghavan] is a linebacker/inside receiver who was a JV player last year, and she had the interception in the state finals that ended the game," Saunders said. "She's obviously being counted on tremendously. Tammy [Jerson] is a junior who is the fastest player on our team, which is impressive because we have some kids that can go. She was a JV player last year. This group has a chance to be one of the best we've had, just because they're so loaded."
Is Robinson flag football set to add yet another state title to the trophy case later this spring?